Foundation Awards Funds to Veterans Club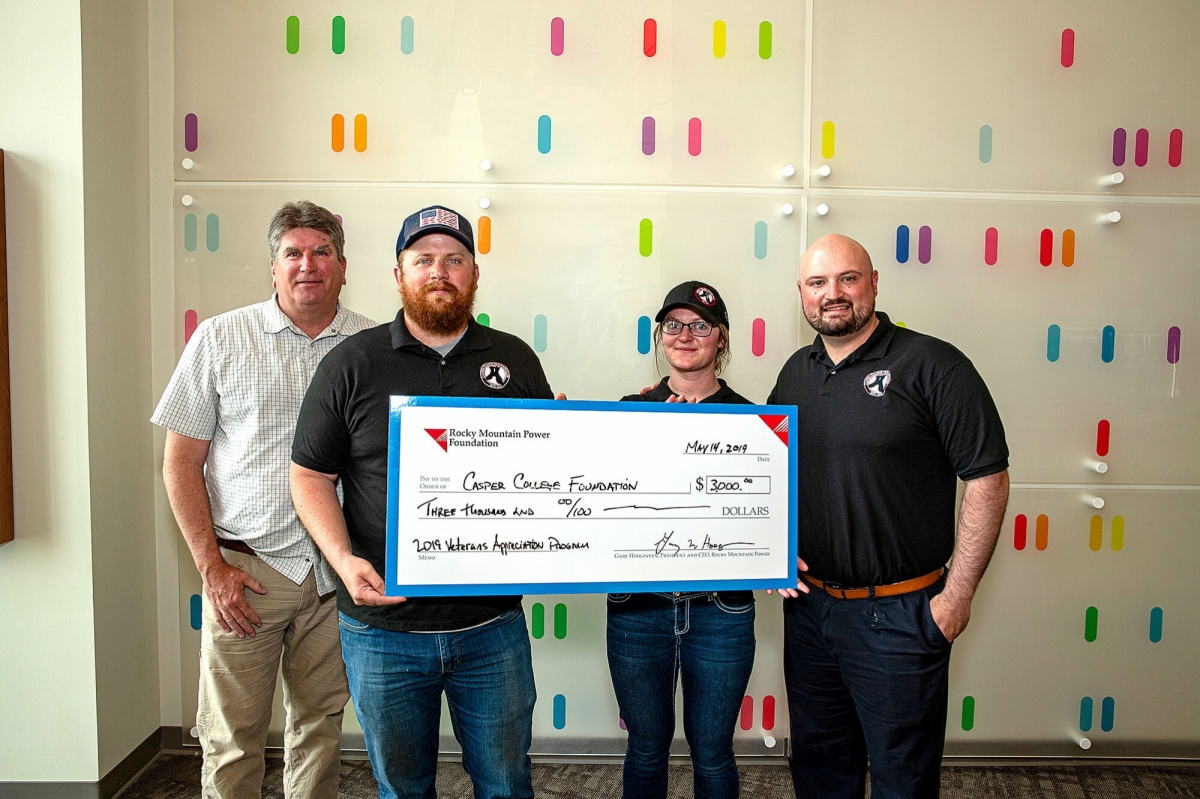 Members of the Casper College Veterans Club receive an award of $3,000 from the Rocky Mountain Power Association. From left, Mike Morrissey, U.S. Navy veteran and regional business manager at Rocky Mountain Power; Jordan Janski, Casper College Veterans Club president; Tyolene Allen, VISTA intern at the Casper College Veterans Center; and Nicholas Whipps, special population coordinator at Casper College. (Casper College photo)
The Casper College Veterans Club recently received an award of $3,000 from the Rocky Mountain Power Foundation.
In partnership with the Rocky Mountain Power Foundation and the Casper College Grants Office, the Casper College Veterans Club was awarded the $3,000 to be used for the annual Veterans Appreciation Week activities held each October at Casper College, according to Nicholas Whipps, special population coordinator.
"It is wonderful to see the commitment and dedication our community partners have to the success of our veterans and the programming we provide here at Casper College. We plan on developing a lasting relationship with Rocky Mountain Power, and they are committed to a continued relationship with Casper College and our military-affiliated students," said Whipps, adding, "The Rocky Mountain Power Foundation is committed to helping further the success of the Veterans in the state of Wyoming, and this is just a small piece of that commitment."
The Casper College Veterans Club is a student-led organization that supports active military and veteran students and their dependents through empowering them and their families to foster collective success and positive campus and community interactions. The Casper College Veterans Club is a partner with the Student Veterans of America. Check out the club on Facebook at facebook.com/CasperCollegeVeterans.
Subscribe
If you enjoyed this story, receive more just like it: