Fifth Time in Seven Years, CC Men's Rodeo Team Heads to CNFR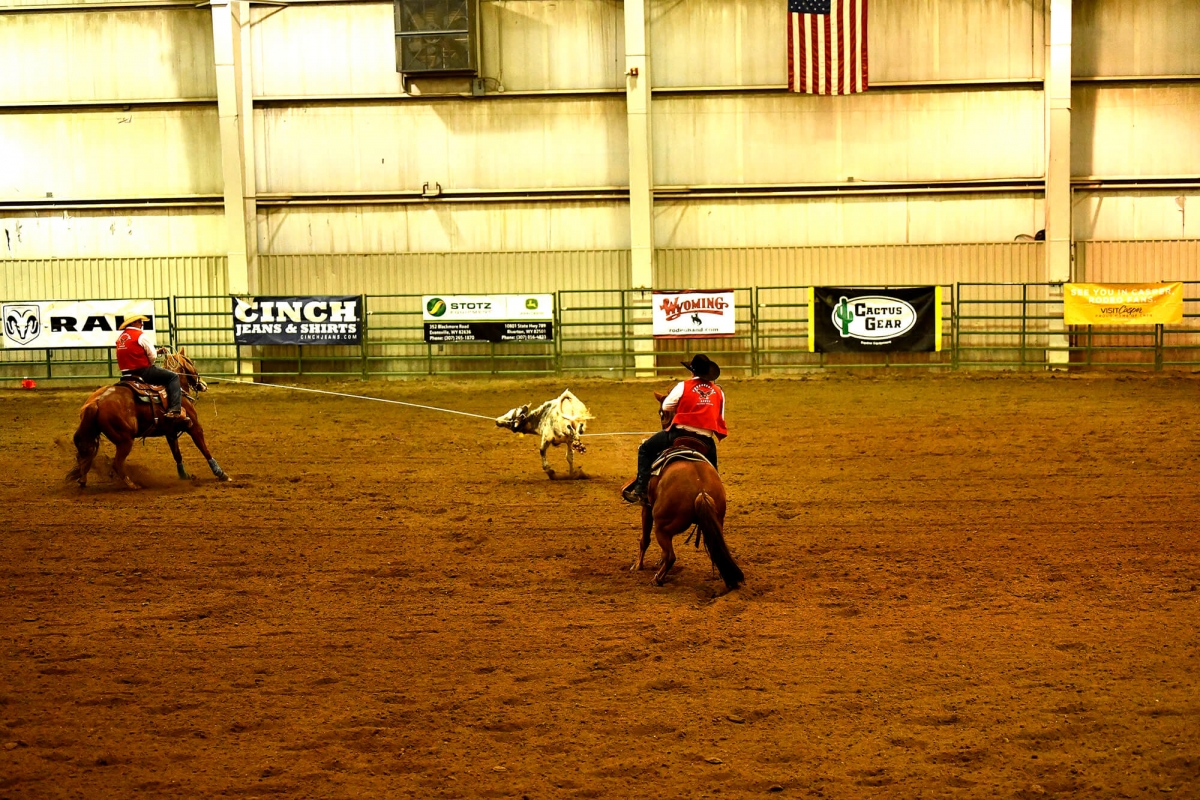 Casper College team ropers Wade Monnens and Owen Wahlert rope a steer during the 64th Annual Ropin' and Riggin' Days Rodeo in April. Casper College photo.
For the fifth time in seven years, the Casper College men's rodeo team will return to the College National Finals Rodeo in Casper, June 9-15 at the Casper Events Center.
The team finished second in the Central Rocky Mountain Region thanks to an impressive 770 points at the final college rodeo held in Laramie, Wyoming, where they took first place beating out second place Laramie County Community College by 76.67 points. Going into the Laramie River Rendezvous, the T-Birds stood fifth in the region. "This was a tremendous win for the team," said Jhett Johnson, head coach.
At the start of the spring season, the T-Birds stood at seventh place in the region following a dismal fall season that saw them scoreless after the first rodeo, and then ninth and sixth twice. The one shining moment came at Lamar Community College's rodeo in early October when the team took first.
The Birds saw a change in their fortunes when four Sheridan College cowboys decided to transfer to Casper. According to Johnson the four: Ian McGivney, Kaycee, Wyoming; Cole Reiner, Buffalo, Wyoming; Lane Schuelke, Newell, South Dakota; and K's Thompson, Okatoks, Alberta, decided to come to Casper in the spring to be coached by first-year assistant coach Sandy Bob Forbes.
Casper is known as a roping school (thanks to Johnson, who won the Professional Rodeo Cowboys Association world championship in 2011 as a heeler), but with the addition of Forbes, a former PRCA bronc rider, the word is also getting out that Casper has a roughstock program as well.
Since the four joined the team for the spring rodeo season, Casper College scored more points in just the first three spring rodeos – 460, 550, and 453.33 respectively – then it did over the five rodeos in the fall. "Let's face it, we had definitely dug ourselves into a hole entering the second half of the season, and these three guys just enhanced an already good team," Johnson noted.
This year's CNFR men's team includes Schuelke and Garrett Buckley, Craig, Colorado, in saddle bronc; Jerron Johnson, Casper, Wheaton Williams, Sheridan, Wyoming, and Cash Hetzel, Lemmon, South Dakota, in team roping; and Reiner in bareback. CC Rodeo team member Makayla Seely, Riverton, Wyoming, will also be representing Casper at the CNFR in barrel racing.
The top two schools in each of the National Intercollegiate Rodeo Association's 11 regions send full six-man and four-woman teams to the year-end CNFR, but the top three scorers in each event are also sent to the CNFR to compete for their school.
Subscribe
If you enjoyed this story, receive more just like it: