Two Volleyball Players Sign Letters of Intent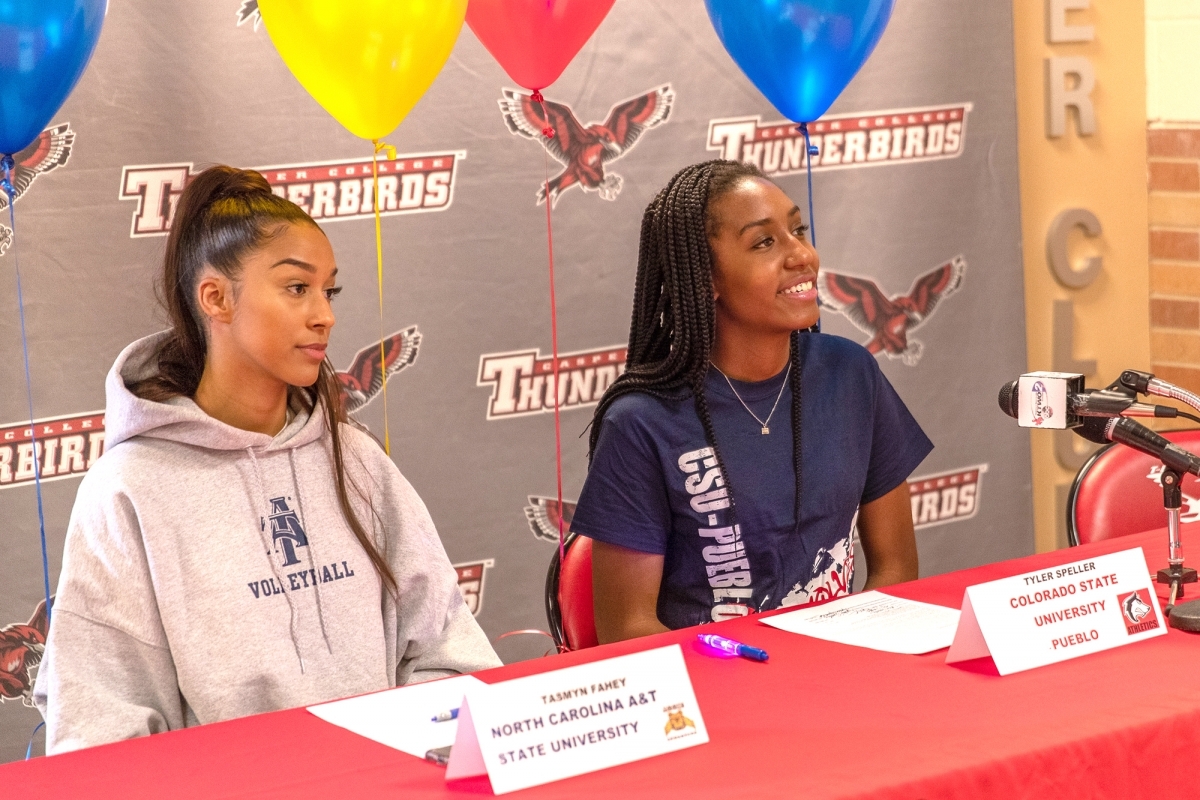 Tasmyn Fahey, (l) and Tyler Speller (r) answer questions from the local media after signing their letters of intent to play volleyball at four-year schools. Casper College photo.
Casper College volleyball players Tyler Speller and Tasmyn Fahey signed their official letters of intent to play volleyball at the next level on Thursday, May 9. Both Speller and Fahey played as middle hitters for the T-Birds during a season that saw the team go 13-20.
Speller at 6' 0" will join the Colorado State University-Pueblo Thunderwolves, who went 5-22 in the NCAA Division II Rocky Mountain Athletic Conference. The team is coached by new Head Coach Austin Albers who began his duties on January 1. A public university, CSU-Pueblo is located in Pueblo, Colorado.
"Tyler Speller is a very athletic player that has more potential at the next level. She overcame an injury that set her back and was able to come back from it and help this team compete. It is going to be great to watch her grow even more. I have enjoyed working with Tyler, who is very coachable," said Thunderbirds Head Coach Angel Sharman.
Fahey will join the North Carolina Agricultural and Technical University Aggies. The Aggies play in the NCAA Division I Mid-Eastern Athletic Conference where they compiled a 14-12 record for the 2018 season under Head Coach Hal Clifton. Clifton will enter his ninth season in 2019.
"Tasmyn Fahey has improved a lot since she has been here. That is due to her hard work and dedication on making herself ready for her next journey. Tasmyn can play middle or right side which makes her even more versatile on the court. She will do great things at the next level, and I am very excited for her," Sharman said.
Subscribe
If you enjoyed this story, receive more just like it: