Six Thunderbirds Sign Letters of Intent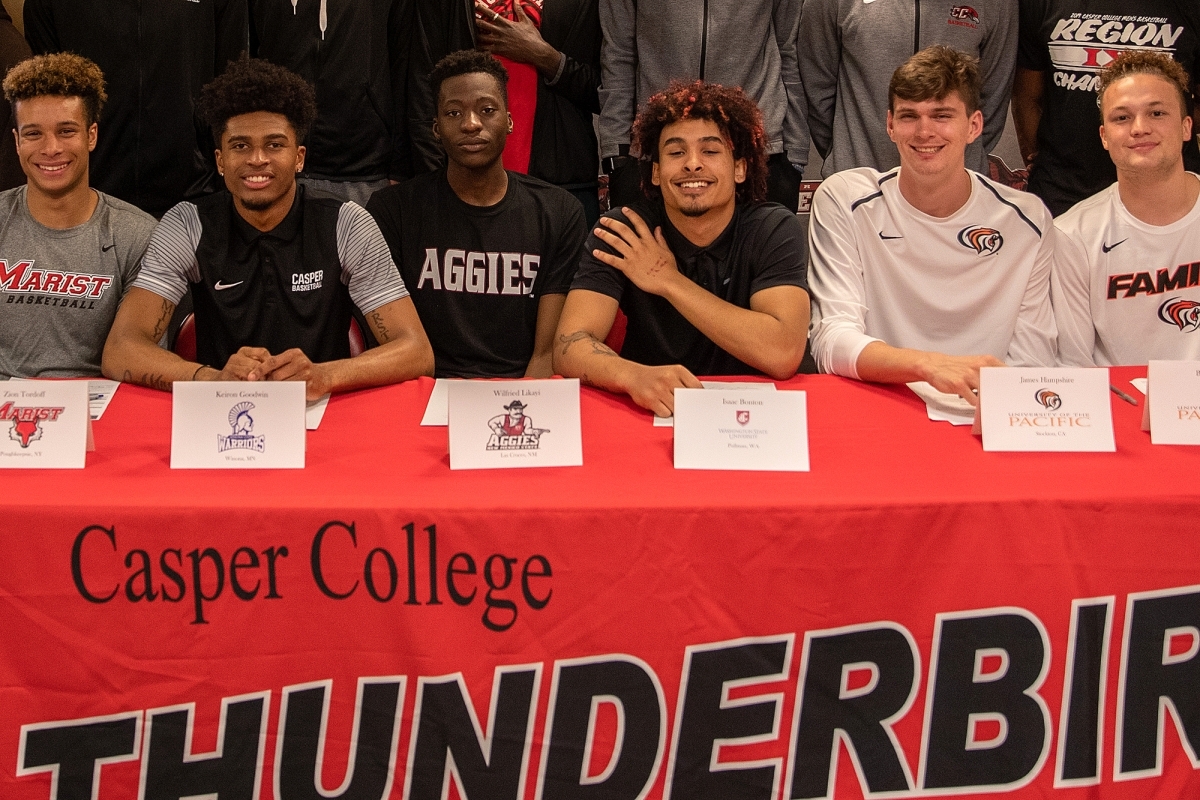 Six sophomores from the Casper College men's basketball team are all smiles after signing their letters of intent to play basketball for NCAA college and university teams. Pictured (l-r) Zion Tordoff, Bradford England; Keiron Goodwin, Seattle; Wilfried Likayi and Isaac Bonton, both from Portland, Oregon; James Hampshire, Flagstaff, Arizona; and Broc Finstuen, Pine Island Minnesota. Casper College photo.
Six Casper College sophomore men's basketball players signed their official letters of intent today, Thursday, May 9. The six players are Broc Finstuen, James Hampshire, Keiron Goodwin, Wilfried Likayi, Isaac Bonton, and Zion Tordoff.
Finstuen, a 6'5" guard from Pine Island, Minnesota, has committed to play for the University of the Pacific Tigers in Stockton, California. Pacific is an NCAA Division I program in the West Coast Conference. "I believe Broc is going to have a very productive and successful two years at Pacific for many reasons. His ability to be a multi-dimensional player is going to give him a tremendous advantage at the next level. His willingness to do the little things will help provide a lot of victories for the Tigers," said Shaun Gutting, assistant coach.
Pacific picked up another T-Bird with 7'1" center Hampshire from Flagstaff, Arizona. "I believe James has amazing upside when it comes to this game. His ability to run, jump, and catch gives him even more of an advantage to go along with his length. As a player who is consistently getting better, he is just scratching the surface of his potential and will be able to help Pacific compete against some of the best big men in the country," Gutting said.
Winona State University will be the new home for 6'4" guard Keiron Goodwin of Seattle. Winona State is an NCAA Division II program out of Winona, Minnesota. The Warriors compete in the Northern Sun Intercollegiate Conference. "Keiron has the ability to jump right into an already prestigious program like Winona's and produce. His ability to shoot the ball will make him a tremendous asset to their style of play. His positive attitude and work ethic are contagious and will undoubtedly spread amongst the community at Winona." Gutting noted.
Likayi, the 6'10" forward from Portland, Oregon, will take his talents to New Mexico State University in Las Cruces, New Mexico, where he will play for the Aggies. The NCAA Division I Aggies compete in the Western Athletic Conference. "Wil's basketball ceiling is as high as anybody can imagine. His best days of basketball are in front of him as he has the attitude, desire, and work ethic to reach his potential. His natural ability to run, dribble, and shoot at his size will make an immediate impact for an already NCAA Tournament program in the Aggies," Gutting said.
T-Bird guard Bonton, also from Portland, Oregon, will head closer to home as he plays for the Washington State University Cougars. The 6'3" Bonton "… has an extremely bright future playing in one of the more prestigious conferences in all of college basketball (the Cougars compete in the NCAA I Pac 12 Conference). Isaac was one of the more premier playmaking guards in the whole country this season, and I expect that to carry over to the next level. He has an exceptional ability to dribble, pass, and shoot at all angles on the floor," said Gutting, adding, "All of us are excited to watch his growth and success against great competition these next few years."
The final T-Bird to commit to an NCAA Division I team is Tordoff, the 6'8" forward from Bradford, England. Tordoff will be playing for the Marist College Red Foxes who compete in the Metro Atlantic Athletic Conference. The school is located in Poughkeepsie, New York. "It is going to be great to see the success Zion has both athletically and academically at Marist. The Red Foxes are getting a consistent producer that can defend multiple positions and is very physical. He has a natural feel for thinking the game and making the right plays for himself and his teammates. His teammates love playing with him because of his unselfishness and willingness to do whatever it takes to win," said Gutting.
The 2018-2019 Thunderbirds went 32-3 overall, won the Region IX championship, finished No. 6 in the final regular-season rankings, and made an appearance at the NJCAA National Tournament for the first time since 1996.
Subscribe
If you enjoyed this story, receive more just like it: