Four Lady T-Birds Commit to Next Level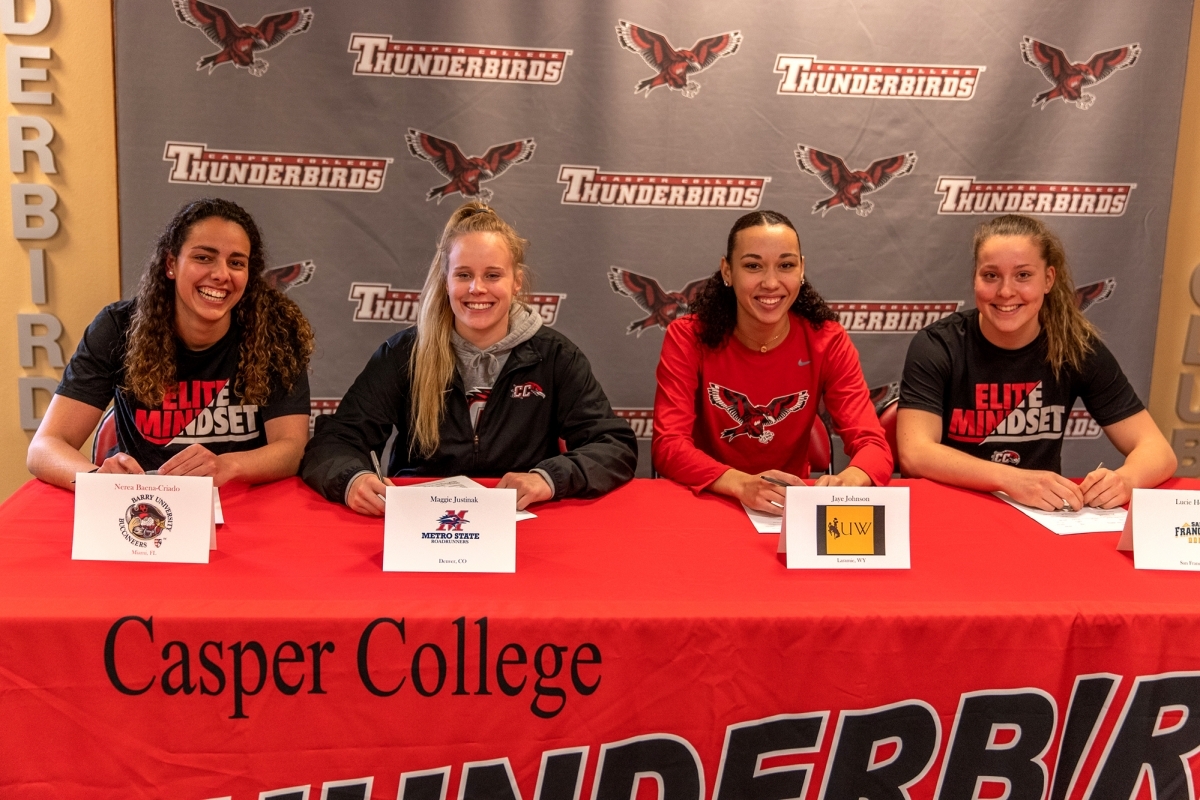 Four Casper College women's basketball players finish signing their letters of intent to play basketball at the next level. Pictured (l-r) Nerea Baena-Criado, Barcelona, Spain; Maggie Justinak, Rock Springs, Wyoming; Jaye Johnson, Casper; and Lucie Hoskova, Brno, Czech Republic. Casper College photo.
Dwight Gunnare, head coach of the Casper College Lady Thunderbirds women's basketball team, announced on Thursday, May 9, that all four sophomores from the team have committed to play at various universities in 2019-2020.
Nerea Baena-Criado, a 6'0" post from Barcelona, Spain, has committed to play for the NCAA Division II Barry University Buccaneers. The Bucs, who went 10-19 under 21st year Head Coach Bill Sullivan, play in the Sunshine State Conference. "I believe Nerea is going to have a very successful two years at Barry University. Nerea has been working hard on developing her perimeter game to go along with her strong interior skill set. Her versatility should be a great asset for the Buccaneers."
Lucie Hoskova, the 5'10" forward from Brno, Czech Republic, will play ball for the NCAA Division I Dons of the University of San Francisco who play in the West Coast Conference. Last year under third season Head Coach Molly Goodenbour, the Dons went 7-24. "I believe Lucie will have a huge and immediate impact for the Dons. She is leaving Casper College as the number two all-time leading scorer and is third in career rebounds. Accompanying that with her tireless work ethic indicates a very bright future for Lucie and the University of San Francisco," Gunnare said.
Casper's own 5'10" guard Jaye Johnson has signed an NCAA Division I scholarship to play for the Wyoming Cowgirls next season. The Cowgirls had an impressive season last year going 25-9 in the Mountain West Conference under then Head Coach Joe Legerski. "I believe Jaye has the athleticism and skill set to contribute to the Cowgirls continued success in the MWC. It will be fun for me to follow her career as she is the first player I've coached to go on and play at the University of Wyoming," noted Gunnare.
Maggie Justinak, the 5'7" guard from Rock Springs, Wyoming, has committed to continue her education and collegiate basketball career at NCAA Division II Metropolitan State University of Denver. "The Metro State Roadrunners are getting a skilled, competitive, basketball player who has a high passion for the game. I am confident that Maggie will have a very impactful two years for the Roadrunners." Under ninth season Head Coach Tanya Haave, the Roadrunners posted a win-loss record of 16-13 for the 2018-2019 season.
Under Gunnare, the Lady Thunderbirds went 27-7 for the 2018-2019 season and for the second year in a row were the Region IX North sub-Region Champions.
Subscribe
If you enjoyed this story, receive more just like it: