Vietnam Wall at Casper College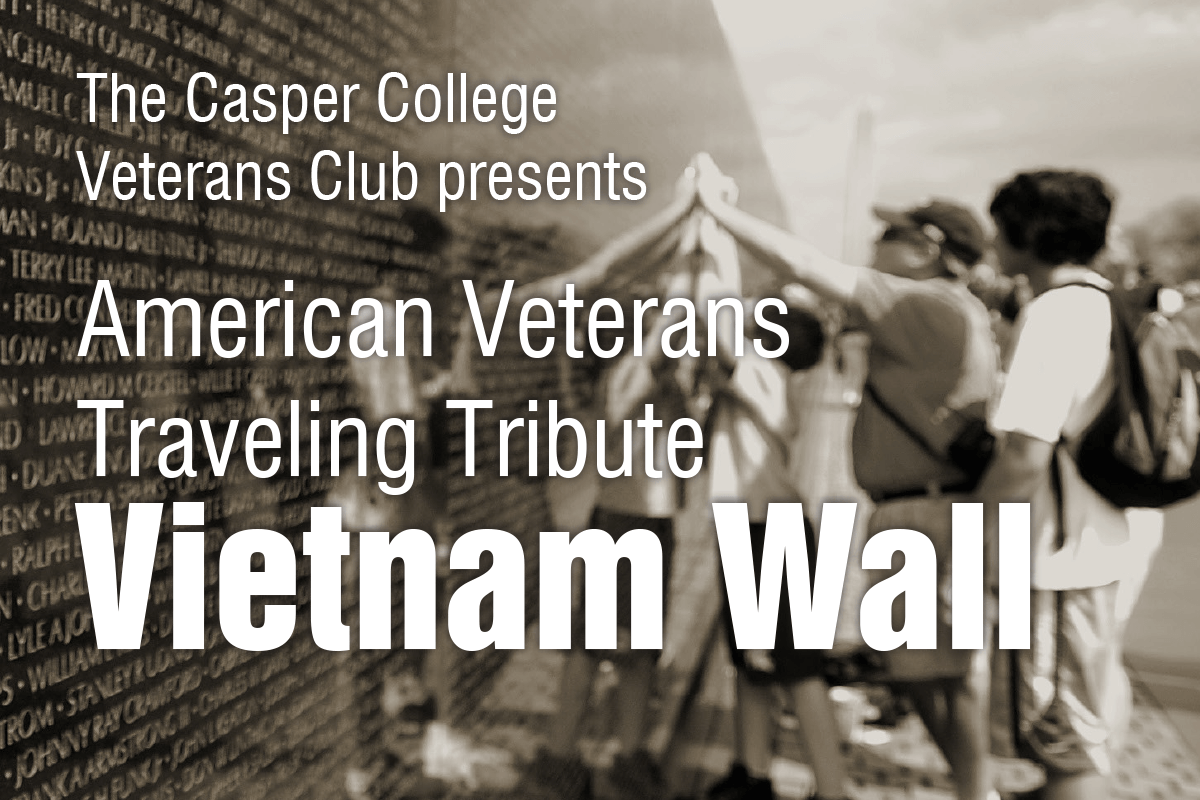 The American Veterans Traveling Tribute Vietnam Wall will be on display at Casper College beginning on Thursday, May 2, with construction of the wall starting at 9 a.m. The opening ceremony will start at 5:30 p.m.
"We are humbled and honored to get the opportunity to host the American Veterans Travelling Tribute Vietnam Wall. It will be on display out in front of the Walter H. Nolte Gateway Center surrounding the lower parking lot. I want to personally invite everyone to all of the events that will be associated with the wall," said Nicholas Whipps, special populations coordinator.
The opening ceremony at 5:30 will feature Casper Mayor Charlie Powell, Casper College President Darren Divine, Ph.D., and Governor Mark Gordon. The keynote address will be given by Eric A. Distad, a Vietnam veteran from Casper.
On May 3, a folding of the flag ceremony will be held featuring trumpet players from Casper College. A closing ceremony for the wall will be held on Sunday, May 5 at 3 p.m.
The wall replica is the largest traveling Vietnam Wall replica and is 80% of the size of the actual wall in Washington, D.C., and stands 8 feet tall and 360 feet long. The wall is engraved with the 58,318 names of those lost in the Vietnam War. In addition to the wall, 123 flags will be posted in honor of the 123 from Wyoming lost in the Vietnam War. An interactive and educational name finder associated with the wall will be available that Whipps said, "… will be very engaging and informative for all who come."
The wall display, which is presented by the Casper College Veterans Club, will be open all day and night from the opening to the closing ceremony. "We will provide security and representatives will be on site at all times to help bring some context and educational background about the wall, which will be well lit at night," noted Whipps.
Prior to the construction of the wall, on Wednesday, May 1, over 100 motorcycles and vehicles will escort the wall to campus. According to Whipps, those wishing to escort the caravan should meet at the Broken Wheel Truck Stop in Douglas at 3 p.m.
According to the American Veterans Traveling Tribute, "This memorial creates a platform to forever remember those who gave the ultimate sacrifice along with the ability to teach future generations that freedom comes at a price. And that price is written on the wall."
All events and viewing of the wall are free and open to the public.
Subscribe
If you enjoyed this story, receive more just like it: