"Around the World" Focus of Festival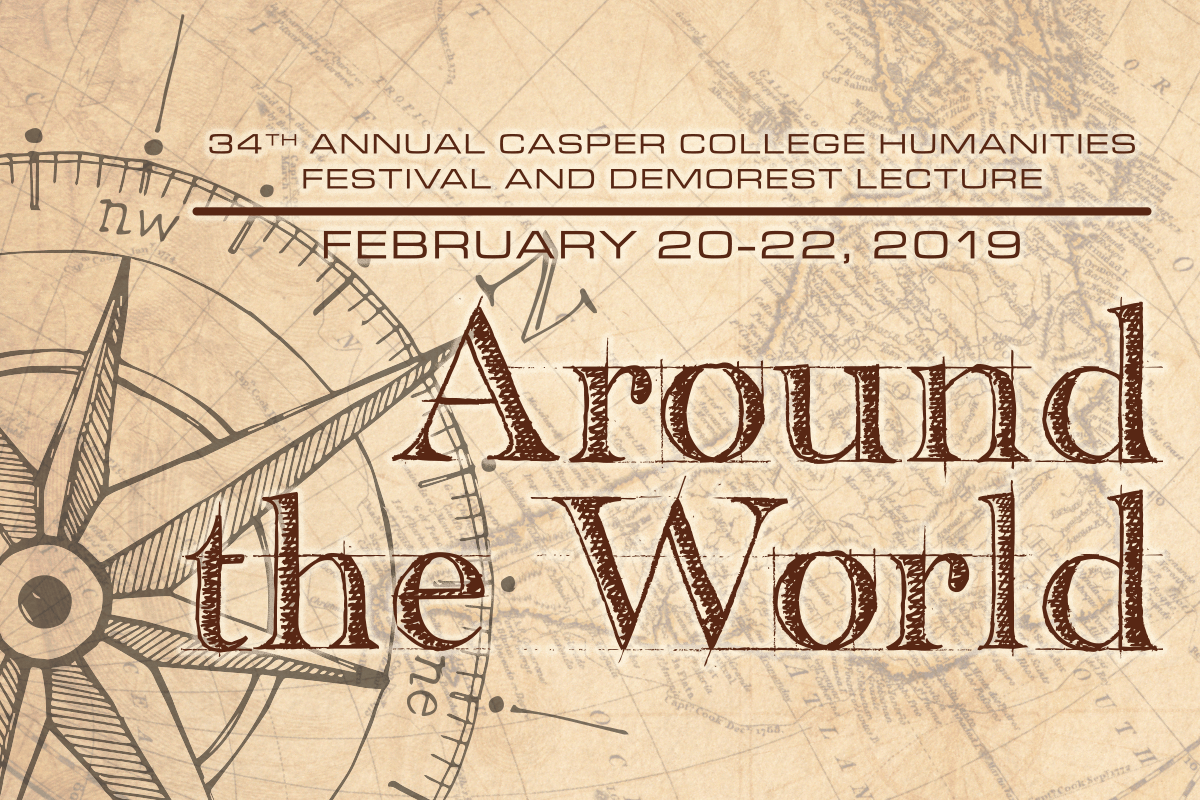 The focus for the 34th Annual Casper College Humanities Festival and Demorest Lecture is "Around the World." The festival will take place on February 20-22.
This year's Demorest Lecture will be presented by Barbara Mueller, Ph.D., Casper College professor emeritus. Mueller will speak on "Exploring the Seven Wonders of the Modern World." According to Mueller, millions of voters in 2007 selected the new seven wonders of the world: The Great Wall, China; the Taj Mahal, India; Petra, Jordan; the Colosseum, Italy; Christ the Redeemer statue, Brazil; Machu Picchu, Peru; and Chichen Itza, Mexico. "Dr. Mueller has personally visited each of these sites, and will take attendees on a photographic journey to explore why these 'wonders' were chosen and how their current popularity and environmental degradation may jeopardize their survival," said Valerie Innella Maiers, festival director. Mueller's presentation will take place on Thursday, Feb. 21 at noon.
The festival will begin on Wednesday, Feb. 20 with the Living Library at 9:30 a.m. Here, participants "… will borrow a person and have a conversation about their story. The purpose of the Living Library is to promote conversation, encourage understanding, and foster a culture of inclusivity," said Innella Maiers.
At noon, in the Goodstein Foundation Library Classroom, Lance Jones will speak on "Missus Victoria's Sons: Around the World with the British Army 1837-1901." Jones' presentation will look at the lands and wars of the Victorian era, and the attitudes of the British soldier of the time.
Jones will be followed at 1 p.m. with a workshop by Casper College costume instructor Darrell Wagner titled "Avoiding Cultural Appropriation." Wagner will begin with a definition and examples of cultural appropriation, followed by a walk-through on how this concept applies to the arts, and end with a Q&A.
On Thursday, Feb. 21, the festival will move to the Wheeler Concert Hall. College President Darren Divine, Ph.D., will open at 9:15 a.m. and the first presenter, Veronica Turner, Casper College music instructor, will present "Traveling with Puccini: A Look at the Settings from Puccini's Operas." "We will explore the world through Puccini's operas," said Turner.
At 10:30 a.m. Will Robinson, Ph.D., will look at the worldwide cultural significance of bees and honey, which he says is "vast," in his presentation titled: "Buzzin' Around the Sugar: Cultural Significance of Bees and Honey from Mesoamerica to Mesopotamia."
Audrey Cotherman, author, will give a Demorest Acknowledgement and Presentation at 11:45 followed by Mueller's talk at noon.
At 1:30 p.m., 19th-century British literature scholar Caroline McCracken-Flesher, Ph.D., will present "Writing the Way West: British Authors on the Union Pacific." McCracken, who teaches at the University of Wyoming, will explore what British authors Robert Louis Stevenson and Oscar Wilde saw and experienced as they "… rode the rails through Wyoming" on the newly completed Union Pacific Railroad 150 years ago.
Casper College dance instructor Aaron Wood will present "Michio Ito's Living Legacy" at 2:30 p.m. "With the Ito Foundation's permission, the session will include a historical overview of this forgotten pioneer of American modern dance as well as a performance by Casper College dance majors," said Wood. That performance is the premiere of an original work by Wood.
At 7:30 p.m. the premiere of the Casper College Theatre and Dance Department's production of "Rashomon" will take place in the Thomas H. Empey Studio Theatre under the direction of William Conte, Ph.D. "This English adaptation of a classic Japanese film will be staged in the vibrant, colorful style of Kabuki. The stories of a murdered samurai, his victimized wife, and a roving bandit collide in court, as each version of the crime is played before the audience," said Innella Maiers.
Friday, Feb. 22 is the final day of the festival and will begin at 9 a.m. with "One Pilgrim's Progress on the Camino de Santiago" by Holly M. Wendt, Ph.D. Wendt, director of creative writing and assistant professor of English at Lebanon Valley College, "… will explore the rich tapestry of history, art, and cultural exchange on the Camino de Santiago and reflect on her personal experiences as a pilgrim, scholar, and writer," noted Innella Maiers.
Teague Bechtel, a main stage performer at blues festivals, will speak on "African Roots: The Blues in American Music" at 10 a.m. Bechtel will discuss the origins of the music, how it was preserved in African-American culture, the development into modern music, and finally its impact on the genres of American music.
At 11 a.m., Eric Atkins, Casper College Spanish instructor, will present "La Muerte: Death and Life in Mexico." "Through a journey that will highlight the origins, practices, and symbolism of the holiday, this lecture will bring death out of the shadows and embrace the beauty of la muerte as a part of life," Innella Maiers said.
The festival will conclude at noon with a reception and artist's talk by Casper filmmaker and photographer Jacek Bogucki at the artist's exhibition "Three Continents" in the Mildred Zahradnicek Gallery. The exhibit features images from Bogucki's travels to Poland, Peru, (Amazon and Colca Canyon, both sponsored by the National Geographic), and Casper and its environs, according to Innella Maiers.
"As we all consider our place in the larger world and hear about political relationships, we are given a fortunate opportunity to learn more about others, in a global context, through this event. I am looking forward to learning in a variety of platforms from dance to music" noted Innella Maiers.
Wednesday, Thursday and Friday lectures are free and open to the public. Tickets for the Thursday night production of "Rashomon" are $12 for adults and $10 for students and can be purchased online at www.caspercollegearts.cc. A complete schedule for the festival can be found at www.caspercollege.edu/events/humanities-festival/schedule. All venues are located on the Casper College campus.
Casper College and the Wyoming Humanities Council are partners in presenting the Humanities Festival along with major funding from the Casper College Foundation and the Margaret Demorest Endowment.
Subscribe
If you enjoyed this story, receive more just like it: