Fall 2018 Dean's Honor Roll at Casper College Announced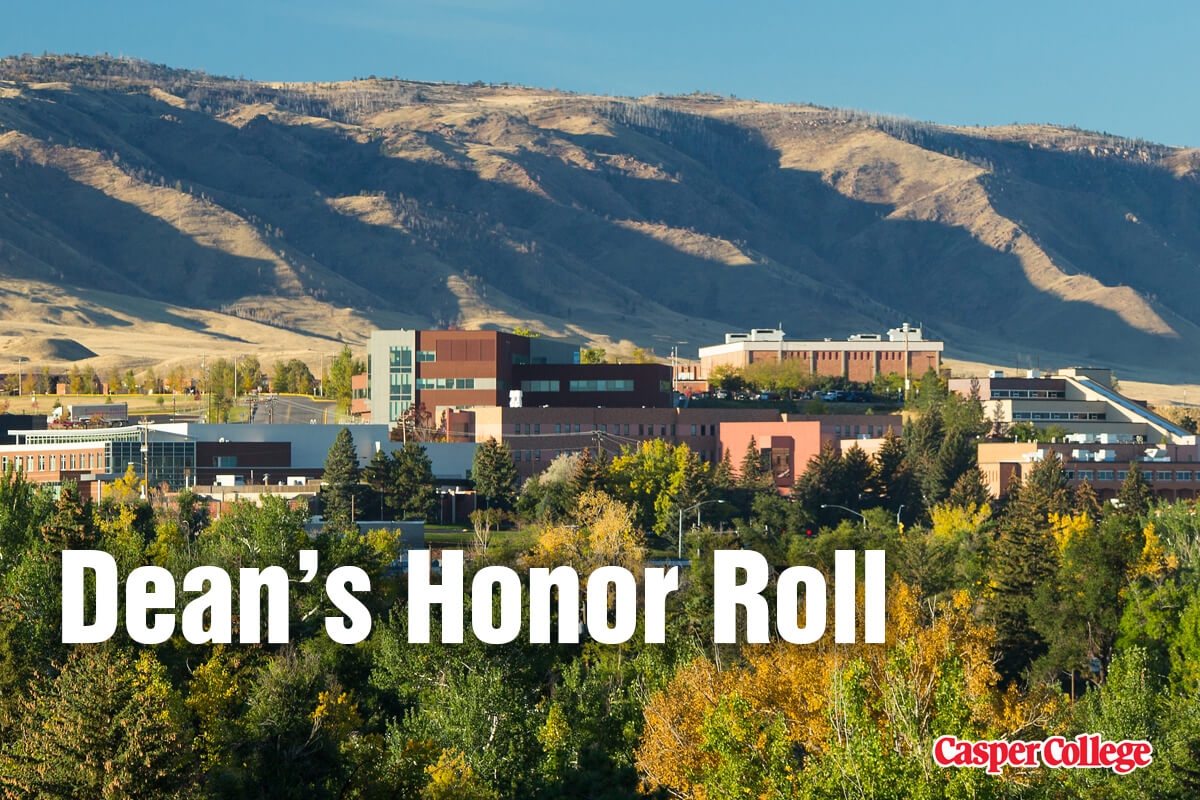 Casper College officials have released the names of students who made the Dean's Honor Roll at Casper College for the 2018 fall semester. To qualify for the award, a student must have a semester grade point average of 3.5 or better. The recognition is for part-time degree-seeking students (those taking six to 11 credit hours per semester) and nondegree-seeking full-time students taking a minimum of 12 credit hours.
United States
From Colorado: Thomas Wallace, Firestone.
From Florida: Jane Slee, Tarpon Springs.
From Idaho: Jaxson McPherson, Paris; and Corey Eckert and Shane Evans, Victor.
From Montana: Ashlley Nelson, Billings and Rebecca Papineau, Sidney.
From South Dakota: Andrea Duffield, Rapid City and Joshua Jones, Spearfish.
From Texas: Galvin Snyder.
From Washington: Soren Engstrom, Dupont.
Wyoming
From Bar Nunn: Kyle Davis, Jolene Deal, Rylee Ivie, Jenifer Nicolae, Alexis Palmer, Morgan Pemble, Todd Plunkett, and Rachel Wright.
From Buffalo: Kaylee Crosby, Cadence Johnson, and Jessica Misslin.
From Burns: Jacob Cuccia.
From Casper: Staci Alvey, Cayley Anderson, Alexis Andrews, Allison Ashburn, Webster Askew, Freedom Authement, Angie Bailly, Ashley Balch, Tatianna Baldwin, Cindy Bannister, Ashley Barkley, Orion Bates, Katilyn Beasley, Kayleigh Beasley, Emerson Beck, Michele Belveal, Joleen Benson, Tess Bjorksten, Laura Black, Vanessa Blank, Maggie Boggs, Mark Brattis, Heather Brewer-Nelson, Colin Brooks, David Bruce, Brandy Bryan, Hannah Burrough, Amanda Campbell, Kyle Christensen, Virginia Christensen, Linda Clark, Sean Collister, Rebecca Conway, James Cooler, Evan Corson, Timothy Coursen, Vincent Crolla, Danica Cross, Cheyanne Dalgarn, Connor Delozier, Janet DeVoogd, Amanda Doane, Sage Dobby, Elisabeth Dooley, Jeremy Duran, Joseph Dutro, Caitlyn Edwards, Erik Ellison, Katelyn Elston, Wylee Esau, Connor Etzelmiller, Katelynd Faler, Amy Fandal, Jamie Ferguson, Zoee Ferguson, Benjamin Flake, Matthew Floyd, Rebekah Foix, Chandra Frank, Abigail Funch, Raeyn Gallegos, Veronica Garcia, Gabrielle Garris, Cory Garvin, Skyler Gassman, Lisa Gentile, Logan Glenn, Lindsay Goodwin, Sarah Green, Cynthia Grieve, Patrick Griffiths, Caleb Haack, James Haack, Chole Haag, Melody Haler, Amanda Haptonstall, Michael Hardy, Amanda Harris, Morgan Harshman, Alexcis Hecker, Cole Hershman, Matthew Hess, Kyle Hessling, Kyle Hickman, Joel Hilde, Gregory Hirst, Tatum Hlavacek, Tiffany Horne, Breanna Hout, Kobie Howell, Maranda Huss, Erick Iribe, Julie Jarrard, Gena Jensen, Leah Jensen, Taylor Jereb, Jayla Johnson, Nancy Johnson, Chase Johnson, Kayla Jones, Neil Kaiser, Rena Kaji, Tyamiekea Kaul, Ty Kennedy, Nathaniel Kimball, Haley Kindel, Donald Klyce, Kathryn Knabenshue, Brenda Koehn, Taylor Kull, Quinn Kurka, Nicole Kurtz, Turner Lack, Maddison Leclair, Jennifer Lessman, Brittany Lewis, Cassie Lifferth, Hadley Lloyd, Hannah Long, Alyssa Louria, Kennedy Maddox, Lindsey Maestas, Kylecia Marler, Elijah, Marlow, Taylor Mason, Tanner Matthews, Jedekiah May, Aaron McAulay, Thomas McClure, Nathan McGregor, Sarah McKinney, Kiefer McLemore, Adrian McNamee, Ethan Mead, Sheri Mead, Landyn Medina, Daniel Meier, Ethan Mesecher, David Miller, Courtney Minsaas, Katherine Moerke, Meghan Moore, Kimberly Moran, Alexandria Morris, Kierra Muehler, Cassandra Munoz, Brennan Murphy, Troy Murray, Skyler Nelson, Fabian Nietert, Megan Odom, Carina Orozco, Tyler Padilla, Thomas Pagel, Christine Palmer, Samuel Palmer, Angela Parmenter, Camilla Patterson-Irizarry, Renee Patzek, Kristin Paulson, Justin Pederson, Mary Perrotti, Chelsea Phillips, Holly Poole, Alicia Pritchard, Natalie Rasmussen, Courtney Raymond, Tristan Redding, Dillon Reed, James Renville, Rebecca Rimel, Yamile Robert Leon, Destry Robinson, Jessica Robson, Jolene Rod, Christopher Rodgers, Julia Rottmann, Johnathon Ruppert, Trevor Salcedo, Haley Sandefer, Colton Sasser, Rachel Savage, Jeston Schneider, Melody Schneider, Tamara Schroeder Crolla, Morgan Schwindt, Amanda Scoffield, Amanda Scott, Lindsey Sharp, Howard Shaw, Kevin Siebke, Merissa Sierra, Amanda Sisco, Katie Sittner, Beth Skidmore, Timberlyn Slaugh, Abigail Smith, Dillon Spaulding, Lacy Spruell, Mala Stagg, Tayler Stephenson, Tanesia Sternhagen, Belynda Stiles, Nicole Stockwell, Jacob Straughan, Wesley Taylor, Dana Theriot, Wilson Toups, Helaina True, Samantha Turcotte, Kylie Turner, Siri Ullery, Tilynn Vega-Rush, Kobie Waddy, Stefanie Warner, Autumn Whipple, Rebecca Wiggins, Danielle Wilson, Kyle Wise, Shandra Wood, Tiffani York, Matthew Yount, and Danielle Zoeller.
From Cheyenne: Nicholas Brown, Russell Dandridge, Michael Deherrera, Jodi Flath, Katelyn Grant, Joshua Jenkins, Sheena Joelson, Cory Kilen, Shelby Leal, Brianna McMaster, Joshua Perez, David Richardson, and Austin Vye.
From Chugwater: Hugh Roberts.
From Cody: Brooke Gordon.
From Douglas: Alexis Edison, Robyn Ferris, Heidi Mason, Cyla Parris, and Shelby Weeks.
From Emblem: Marisela Burgos.
From Evansville: Sarah Baird, Alex Braunsroth, Emily Erdahl, Trenton Hover, Abigail Lankford, Elizabeth O'Brian, David Payne, Angella Perry, Rashelle Schoenleber, Erik Turner, and Brooke White.
From Gillette: Angelic Gill, Rebecca Haskins, Cassidy Koski, Amber MacKenzie, Carlee McClure, Talia Merchant, Sarah Mesa, Cody Okray, and Cassie Watson.
From Glenrock: Coty Beach, Michael Flynn, Andrew Lapointe, Jennifer Parker, Anna Sexson, Erica Stephenson, Roper Taylor, and Amber White.
From Greybull: Autumn Shafer and Brenna Stanley.
From Jackson: Daniel Haskell and Meaghan Wheeler.
From Lander: Sabrina Lawrence, Greta Mills, and Anne Peick.
From Laramie: Samuel Childress and Elizabeth Hiatt.
From Midwest: Kaleb Smith.
From Mills: Kimberly Carter, Caryn Hampton, Paul Jozwik, Angela Mossman, DeDe Sievers, Allison Snider, and Sariah St Clair.
From Pinedale: Bianca White.
From Rawlins: Timothy Sherwin.
From Riverton: Robert Caballero and Karleen VonKrosigk.
From Rock Springs: Linda Clark and Brian Ronick.
From Sheridan: Justin Kremer, Devin Peterson, Ryan Schock, and Morgan Vigil.
From Sundance: Bethany Schurman, Miriam Schurman, and Rachel Schurman.
From Thermopolis: Amy Laster.
From Torrington: Justin Latta.
From Van Tassell: Andie Hubbard.
From Wheatland: Troy Gunter and Roy McGuire.
From Worland: Amber Tibbets.
Subscribe
If you enjoyed this story, receive more just like it: