2018 Fall President's Honor Roll at Casper College Announced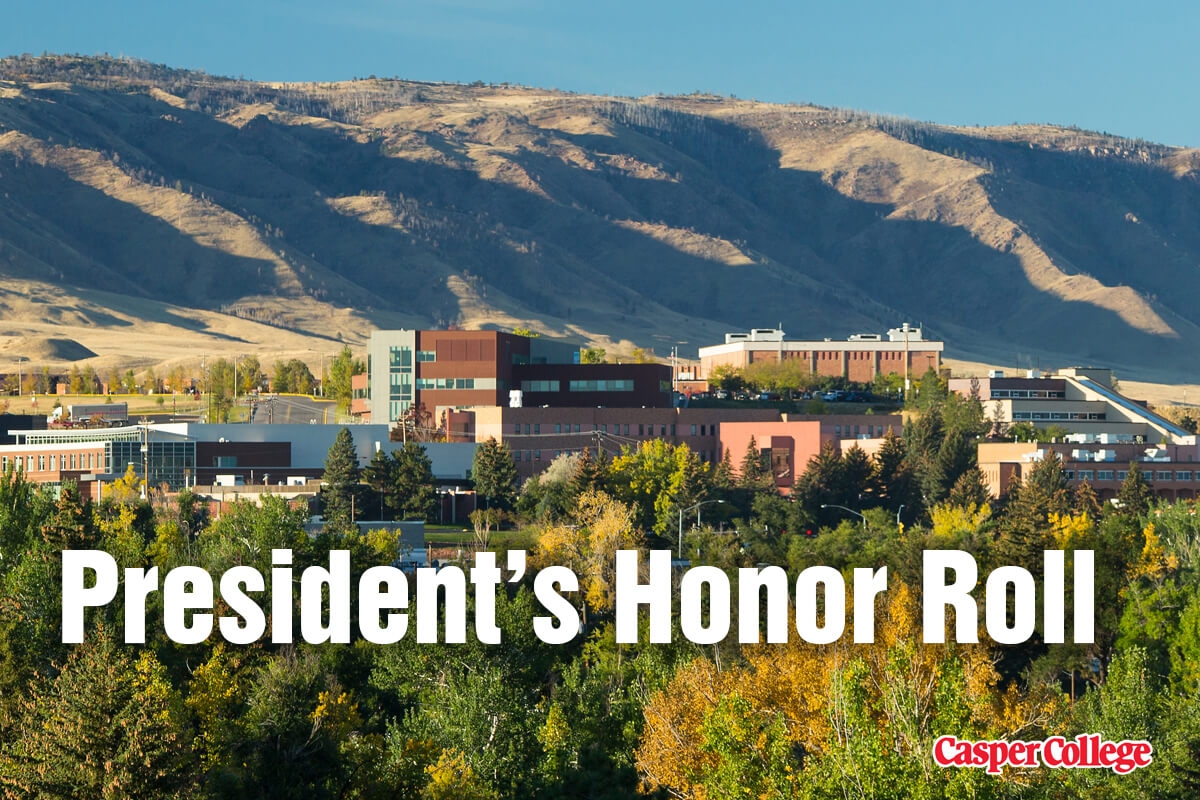 Casper College officials have released the names of the 433 students who made the President's Honor Roll at Casper College for the 2018 fall semester. To qualify, a student must take at least 12 hours and receive a grade point average of 3.5 or better. They are:
International
From Moose Jaw, Saskatchewan, Canada: Milo Laycraft.
From Brno, Czech Republic: Lucie Hoskova.
From Torun, Poland: Julia Kucko.
From Barcelona, Spain: Nerea Baena Criado.
United States
From Arizona: Emma Rogers, Flagstaff.
From California: Jalen Harris, Los Angeles.
From Colorado: Claire Hamilton, Broomfield; Vivica Stewart, Colorado Springs; Megan Humphreys, Holyoke; Levi Gilliland, Kersey; Laurie Mann, Lafayette; Kyle Morgan, Loveland; Emilia Albright, Montrose; Joshua Greene, Penrose; Hallie Myhre, Steamboat Springs; and Nicholas James, Westminster.
From Connecticut: Reka Soos, Torrington.
From Florida: Michael Bennett, Crestview.
From Idaho: Whitney Waddell, Driggs and Samuel McFarland, Homedale.
From Louisiana: Angela Bryant, Shreveport.
From Montana: Taylor Webster, Billings; Kennedy Tooke, Ekalaka; and Kailey Lambert, Great Falls.
From Nebraska; Latisha Gardner, Atkinson; Emily Knust, Burwell; Cindy Mansfield, Harrison; and Racheal Davis, Lewellen.
From Oregon: Savannah Knight-Meigs.
From South Dakota: Kathryn Anderson, Belle Fourche; Chloe Adkins, Box Elder; Natalie Leisinger, Highmore; Allison Goodpaster, Hill City; and Bailey Johnson, Rapid City.
From Texas: Wyatt Corson-Clostio, Hondo.
From Virginia: Cole Reeves, Churchville and Michael Twiford, Falls Church.
Wyoming
From Afton: Kade Smith.
From Albin: Reata Beck.
From Baggs: Skylar Holmquist, Trenton Jeannerett, and Addie Stanley.
From Bar Nunn: Kristen Cooper, Jared Daniels, Juli Fowles, Kiya Guseman, Mariah Hartgrave, Bridgit Hort, Kaycee Hurless, Chloe Huschka, Justin Keller, Edward Miller, Tondra Plunkett, Joshua Robinett, and Adrianna Ulrich.
From Basin: Michael Gesch and Tayla-Jean Stevens.
From Bedford: Judah Hardesty.
From Buffalo: Taylor Rives.
From Casper: Landree Adams, Mason Agor, Andrew Alfstad, Francesca Allen, Karmen Allen, Bailey Anderson, Daphne Anthony, Sean Ash, Clayton Atkinson, Wyatt Atkinson, Matthew Back, Holly Banister, Macy Bates, Jeralyn Baysinger, Gabriela Beach, Breanna Beagles, Michelle Belt, Nalani Bennett, Jeannette Berg, Lindsay Bergman, Brittany Bertagnole, Sondra Billman, Dia Boutte, Riley Box, Chance Brauburger, Nathan Bristow, Katelyn Broome, Casey Brown, Emma Brummer, Angela Brus, Lydia Buckingham, Angel Bueno, Joshua Burd, Caitlyn Burkett, Molly Burns, Gina Cameron, Joseph Casada, Bethany Casali, Caleb Cash, Caitlinne Chenoweth, Kristen Cheser, Sierra Clark, Aaron Clifford, Levi Connell, Eric Conyers, Taylor Cool, Anastasia Corbett, Duncan Cowan, Ginny Cowan, Kellie Crowe, Meghan Cruickshank, Jaycee Curtis, Connor Custer, Levi Darnell, William Defuentes, Laura Delano, Richelle Dietz, Melissa Dimas, Amanda Dinneen, Curtis Divita, Kaitlin Dooling, Kassandra Dutro, David Eastes, Nicole Eckhart, Michaela Eddy, Ericka Elton, Nathan Eshe, Christopher Farley, Holly Farmer, Matthew Frias, Gail Fullerton, Justin Garriott, Benjamin Garvin, Ryann George-Bevers, Ashley Gilstrap, Jaden Gough, Jarred Grant, Tiana Griffith, Jasmin Guarin, Michael Guile, Lisa Gunyan, Cody Hall, John Hall, Matthew Hall, Kaylee Hanisch, Kyllie Harris, Molly Harshman, Haylie Hasbrouck, Harper Hatch, Rebecca Hebert, Lane Hendricks, Brian Heninger, Sarah Henkle, Hannah Henry, Shea Hensley, Dominic Herrera, Michelle Hoffman, Jacob Holz, Tucker Horath, Grant Hosking, Denise Hull, London Hultman, Jessica Hutchinson, Rachel Hutchison, Chelsea Ice, Jordan Janski, Owen Januska, Adam Jensen, Hallie Jimenez, Brittany, Johnson, Claire Johnson, Maddox Johnson, Malea Johnson, Micah Jones, Abigail Joyce, Maggie Justinak, Cory Keating, Michael Keller, Nadine Keller, Makenzie Kirkendall, Elizabeth Kuhnel, Michael Kyte, Bailey Lacey, Von LaFave, Paige Lane, Michael Langmade, Isaac Lee, Daniel Leonhardt, Kassandra Lesco, Craig Linden, Ashley Lundblade, Samuel Mabey, Stuart MacKenzie, James Maddox, Kylee Magee, Maddison Mahlum, Elizabeth Malone, Hannah Malson, Samuel Marsh, Fabian Masis Perez, Savannah Masters, Lucas Mauro, Brandon McCaffrey, Malia McCarthy, Samuel McCarty, Amanda McClain, Eric McClay, Morryah McCurdy, Gregory McDonald, Sierra McOmie, Martin McQueen, Daniel Melton, Arvid Messmer, Seth Meyer, Hannah Mika, Ethan Miller, Kendra Miller, Matthew Miller, Sarah Millers, Alexandra Mills, Angela Mock, Kati Mooney, Maxwell Moore, Sierra Moser, Amanda Mundell, Kelsey Munsinger, Shandi Nacota, Luna Nelson, Natalie Neuenschwander, Michael Ogden, Richard Orndorff, Mark Owens, William Owens, Nichole Pace, Rodney Padilla, Charity Palmer, Kailey Parker, Lucas Patton, Bailee Peterson, Grace Peterson, Devin Pike, Lauren Podjun, Kendall Pollat, Michael Pongah, Beau Porter, Jennifer Prisbrey, Daisy Quesada, Brittney Racki, Traci Raymer, Keith Reau, Wade Reau, Melissa Reilly, Haley Rhyan, Wesley Rice, Katie Richards, Sara Rieker, Aurelius Rizzi, Mattie Robinson, Tanaya Rohrer, Richard Rose, Megan Rossi, Ryan Roth, Ingelin Saestad, Ricardo Salazar, Jennifer Sanchez, Jesse Sanchez, Sarah Saulsbury, Bryanna Schiller, Robert Schlautmann, Robert Schmitt, Lane Shughart, Clacie Simmons, Theresa Simpson, Leslie Sims, Calie Siplon, Haleigh Skiles, Kaelob Smith, Sadie Smith, Jack Spillers, Vanessa Stakes, Dana Starken, Sarah Steed, Clarissa Stephenson, Emily Stewart, Adrienne Stockton, Mark Stokes, Mary-Rose Sweeney, Madeleine Taheri, Allyse Taylor, Zachary Taylor, Aaron Tippit, Cassandra Tippit, Mirella Torres, Rebecca Travers, Kylie Trembath, David Trevino, James Turman, Brianna Turville, Lauren Tyson, Michelle Ukele, Andrew Underwood, Brandon Vega, Michaela Wallace, Kevin Walsh, Kylie Watson, John Webb, Blaize Wegner, Lynette Werman, Bethany Wheeler, William Whyde, Elizabeth Wiand Holly Wilhelm, Connor Wilkinson, Matthew Willadsen, Benjamin Williams, Brian Williams, D'Maerik Wilson, Peyton Wilson, Ale Wilt, Veronica Wilt, Payton Wirtz, Jessica Will, Erin Wnuk, Brienna Wood, Diana Yanez, Traer Young, Aletta Ziehl, Katlynn Zimmerman, and Kirstey Zorbas.
From Cheyenne: Kristin Downs, Aaron Kersh, Kellsey Kimmel, and Kenzie Merritt.
From Cody: Katrina Shiveley.
From Cowley: Kelly Baugus.
From Douglas: Savannah Connolly, Mark Coy, Texi Herrick, Kendra Hinckley, Lane Nelson, Kaelie Oliver, and Nathan Romberg.
From Dubois: Autumn Cummings and Abbigail Hinkle.
From Evansville: Lee Banks, Matthew Bare, Amila Brown, Debborah Martinez, Emmanuel N'tula, Tiffany Sanders, and Anthony Valdez.
From Gillette: Kolton Bartell, Emerald Clark, Wyatt Geis, Abbey Greenwood, Madison Hieb, Alexis Saucedo, Wyatt Tarver, and Delaney Werbelow.
From Glendo: Eric Jamerman.
From Glenrock: Marley Andrews, Ramona Aos, Corbin Blanton, Dalton Davies, James Eisele, Christina Maas, Hezekiah Sexson, and Jacob Urena.
From Greybull: Wendy Araiza.
From Hudson: Ryann Koivupalo.
From Hulett: Austin Butler.
From Jackson: Sophia Romero.
From Lander: Kiley McConnell, Flint Pokomy, and Colby Winchester.
From Laramie: Monica Cossitt and Daniel Dilullo.
From Lusk: Joseph Barcus, Nicholas Johnson, Dylan Miller, Amanda Smith, and Mikayla Vandeberg.
From Meeteetse: Own Burbank, Erica Larsen, and Jamey Olson.
From Midwest: Coulter Anderson.
From Mills: Luke Fenton, Taylor Hatcher Justin Jozwik, Morgan Lipes, Emily Newman, Shannon Patrick, Amanda Rhodes, Krystal Sheets, Alixandra Smith, Charles Wilson, and Chantel Wright.
From Newcastle: Huldah Weeg.
From Pine Haven: Colton Richter.
From Pinedale: Christina Kostelc.
From Powell: Sadie Hogan, Katelyn Lang, and Mariah Lang.
From Rawlins: Shae Belford Lexie Michel, Stacey Michel, Madeline Mika, and Otto Novota.
From Riverton: Aubrey Ducharme Brown, Jana Favela, Emma Mumme, and John Thoman.
From Rock Springs: Larissa Graves and Jessica Hernandez.
From Rolling Hills: Maribel Nunez.
From Sheridan: Makenna Balkenbush.
From Shoshoni: Joshua Pingetzer.
From Sundance: Katie Rathbun and Jaslyn Seeley.
From Thayne: Savanna McLain.
From Thermopolis; Mya Holman and Jared Little.
From Torrington: Andrew Wayland.
From Upton: George Bondora and Isabel Nissen.
From Wheatland: Brady Baker, Alexis Martinez, Rebecca Sowers, and Shannon Wallace.
From Worland: Ravyn Noecker and Hailey Schumacher.
From Wright: Mariana Salas.
Subscribe
If you enjoyed this story, receive more just like it: