Casper College Students Host Community Dinner
By: Casper College staff and Casper College student Tayler Stephenson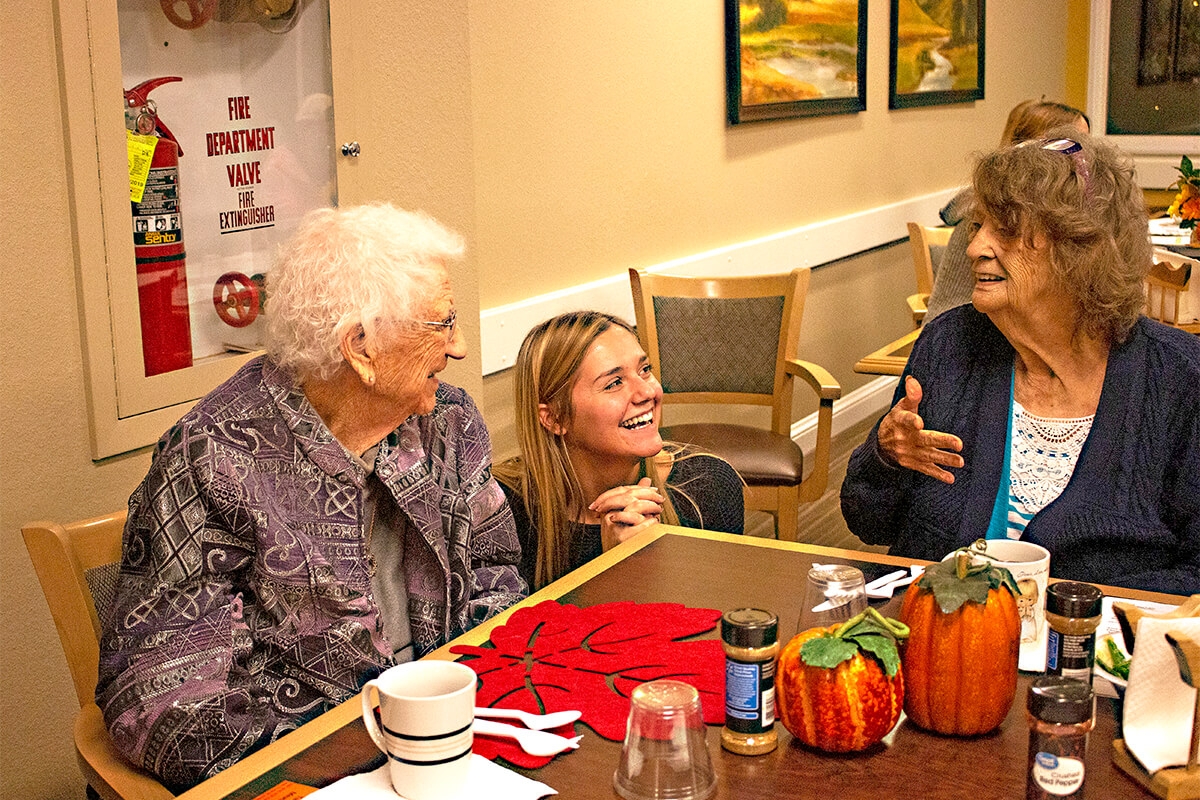 St. Anthony's Manor residents, Rachel Allen (l) and Linda Miller (r) visit with Casper College student 
Aleana Fowler. Fowler is a sophomore pre-physical therapy major from Bar Nunn, Wyoming. Casper College photo by Casper College student Brianna Goodell. Goodell, a freshman pre-pharmacy major from Douglas, Wyoming, is The Campus Kitchen at Casper College's social media coordinator.
On Monday, Nov. 19, the Campus Kitchen at Casper College celebrated their third year of programming by hosting a Thanksgiving-themed banquet at St. Anthony's Manor. Casper College students provided 20 seniors with dinner, conversation, nutritional education, and a musical performance.
Jolene Rod (sociology major), coordinated the dinner, which included recruiting her son's fifth-grade class at Lincoln Elementary School to make placemats and centerpieces which were gifted to the seniors. Rod also recruited fellow students Rebecca Hebert (music performance major) and Kiara Smith (music major) to play Christmas carols. As part of a service-learning project, students from the "Principles of Nutrition" course shared budget-friendly tips for healthful eating and provided a hands-on demonstration for making a healthy Dutch apple pie yogurt dessert.
When asked about how the Campus Kitchen at Casper College has impacted her life, Mary, a senior resident, said, "Campus Kitchen has given us the opportunity to have companionship, food, and a healthier lifestyle … without this charity, I and the others would not be able to eat, and it wouldn't be healthy if we did manage to get food."
"It gives me great joy to be a part of such an amazing team. A team that cares about others and the bigger picture of going beyond the meal. It not only fills a belly but also builds relationships and educates in so many different capacities," said Rod about her experience coordinating the dinner.
"My goal is to empower my students by charging them to find innovative ways to reduce the environmental impact of food waste, while simultaneously addressing food insecurity and working to target the root causes of food insecurity. We are humbled to be able to serve our community," said Kelsey Phillips, Casper College earth and environmental sciences instructor, and the Campus Kitchen at Casper College project coordinator.
Founded in 2001, The Campus Kitchens Project is a national organization that empowers student volunteers to fight hunger and food waste in their community. On over 65 university and high school campuses across the country, students transform unused food from dining halls, grocery stores, restaurants, and farmers' markets into meals that are delivered to local agencies serving those in need. By taking the initiative to run a community kitchen, students develop entrepreneurial and leadership skills, along with a commitment to serve their community, that they will carry with them into future careers. Each Campus Kitchen goes beyond meals by using food as a tool to promote poverty solutions, implement garden initiatives, participate in nutrition education, and convene food policy events.
Subscribe
If you enjoyed this story, receive more just like it: