CC Employees Dance for Mercer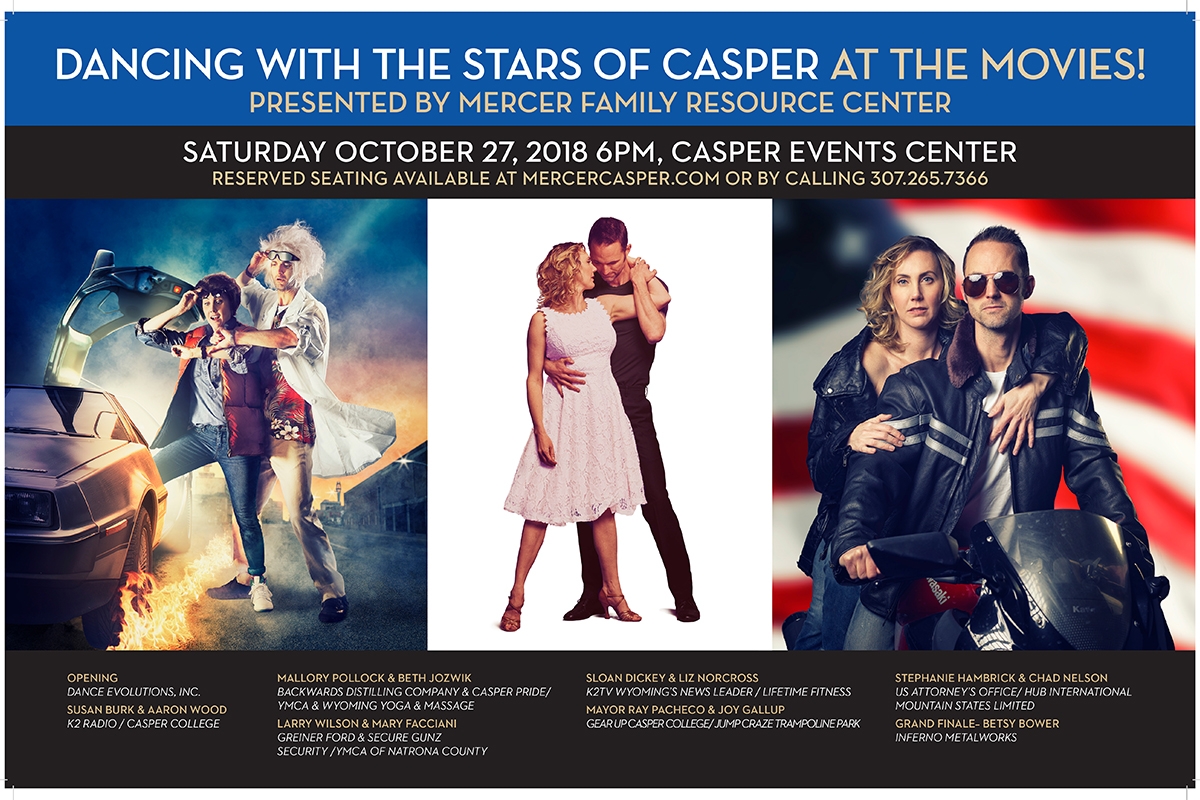 Casper College employee Aaron Wood and GEAR UP at Casper College employee Ray Pacheco have donated their time to dance in Mercer Family Resource Center's" Dancing with the Stars 2018." This year's contest-fundraiser will be held on Saturday, Oct. 27 at 6 p.m. at the Casper Events Center.
"When I was first approached about being a part of Dancing With The Stars Of Casper, I was hesitant, and they didn't have a partner chosen," said Burk. So, she struck a bargain with Mercer FRC; if they could persuade Wood, dance instructor and choreographer at the college, then she was in. "I've always admired him and been very impressed with Aaron's fantastic talent and work," Burk said.
"I decided to say yes because the Mercer House does incredible work within our community. I saw DWTS last year and had a blast, then to have the opportunity to work and dance with Susan I couldn't pass it up," said Wood.
Rehearsals began in June and Burk and Wood have " … been meeting regularly every week. Our schedules have been a little hectic, but we've managed to get into the studio," Wood said. It hasn't been easy: According to Burk the two have "… spent a fair amount of time over the summer making sure we had the 'bones' of the piece before school started up in the fall. We generally schedule two to three rehearsals a week, knowing something can change. We've spent a LOT of time practicing," Burk emphasized.
The two collaborated on their dance number. "I love collaboration," said Wood. "Aaron is very collaborative in his work, and so we have worked together to create every aspect of the dance," noted Burk. During the rehearsals, the two bounce ideas off of one another, changing what doesn't work and refining what does. "His expertise leads the way, of course, when it comes to choreography and technique, he's the one who takes our ideas and vision and translates them into the dance," Burk said. "I can't say too much, as it's a surprise, but let's just say we have a few tricks up our sleeves," added Wood.
Even though it has been a lot of work, it has also been a lot of fun for both Burk and Wood. "When you get to work with someone like Susan, you can't help but smile," said Wood, adding, "I'm grateful to have such a fabulous dance partner!"
"Working with Aaron has been a joy. He's so talented and supportive," said Burk. Wood, according to Burk did "nudge" her along the way to "… stretch me to do more. Aaron knows my limitations, but he's allowed me to reach back and recapture some of my dancing life from my professional theatre days, and feel good about doing it," she noted. Though they have known each other for a while, Burk said that the process "… has strengthened our relationship and led us to become close friends. We have been having a blast."
The two do see things differently when it comes to the most challenging aspect of participation. For Wood, it will be the actual performance in front of a live audience on Saturday night. "I hope people enjoy what Susan and I have created and vote for us as their 'People's Choice,'" he said.
For Burk, the actual physical process of rehearsal several times a week has been the most challenging. "My body doesn't work the same way after many years and a couple of kids. Sometimes that 'time' jumps into my knees, feet, or something else and they start yelling at me that I'm not a spring chicken," Burk said. "Since the experts so far say I'm not damaging anything by continuing, I break out the ice, ibuprofen, knee braces, and just keep on," she said, adding, "It's all to raise funds for the Mercer Family Resource Center, that's the goal I keep in mind."
Pacheco, director of GEAR UP at Casper College and current mayor of Casper, is a former Mercer FRC employee. "I have a special place in my heart for Mercer," he said. "I worked for Mercer for almost seven years including running the Youth Empowerment Council," he added. Pacheco, who jokingly refers to himself as a "dancing machine" noted that anytime a song comes on "I'm ready to bust out my crazy-mad skills."
He has been partnered with Joy Gallup of Jump Craze Trampoline Park. Gallup is also no stranger to DWTS Casper as she has previously been involved as a professional dancer, choreographer, and dancer for the reunion year. "It is an honor to support them and help them make a difference in our community and is a huge supporter of the Youth Empowerment Council," said Pacheco.
The funds raised at "Dancing With The Stars Of Casper" go toward program and operating costs at Mercer Family Resource Center, and allows the organization to " … continue to provide quality services to those who need it most. Seventy-five percent of their clients meet federal and state guidelines for poverty," said Cori Cosner-Burton, executive director of Mercer FRC.
To vote for your favorite and help support Mercer FRC go to https:bidpal.net/dancing2018 or call 307-265-7366 to donate.
Subscribe
If you enjoyed this story, receive more just like it: