Volleyball 2018 – Q&A: Meet Tyler Speller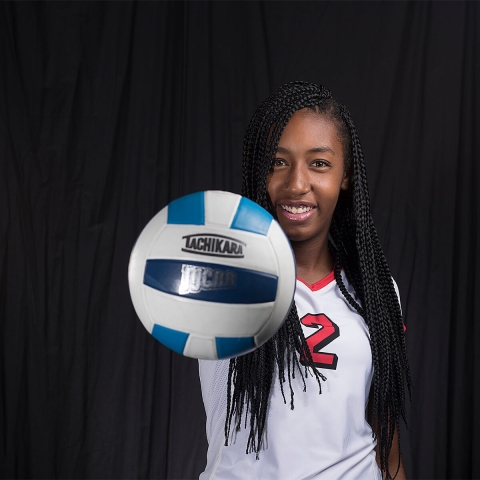 One of five sophomores on this year's Thunderbird Volleyball team, Tyler Speller is 6' and a middle hitter who can also play the outside and right side when needed. She hails from Aurora, Colorado, where she played ball for the Rangeview High School Raiders.
As a freshman, Speller played in 102 games, had 208 kills, and served 275 times with a completion percentage of 93.
Speller's favorite food is fettuccine alfredo, her favorite movie is "Star Wars," her favorite hobby is playing Uno, and her favorite sports figure is NBA basketball player Stephen Curry. When asked, Speller said the one-word description of herself is "extra." Speller is also " … a huge animal activist and a vegetarian. I love paddle boarding, snowboarding, ice skating, and my boots!"
Q: Why did you choose hospitality management as your major?
A: I chose my major because I love to serve people.
Q: What are your plans after you graduate from Casper College, both in the near term and for the future?
A: My plan is to move onto a Division 1 NCAA school and play volleyball and get my bachelor's in hospitality management.
Q: What are your goals for this year, both academically and athletically?
A: My goal is to make academic honors and go to Hutchinson, Kansas, (for the national tournament) and make some noise!
Q: Why did you come to Casper College, what drew you to Casper College?
A: I came to Casper because it has a family feel and it is close to home.
Q: What do you think of Casper College as a school and overall experience?
A: I love Casper College because it honestly is like a mini-university and everyone is always so nice to me.
Q: Would you recommend Casper College?
A: Definitely!!
Subscribe
If you enjoyed this story, receive more just like it: