Volleyball 2018 – Q&A: Meet Tasmyn Fahey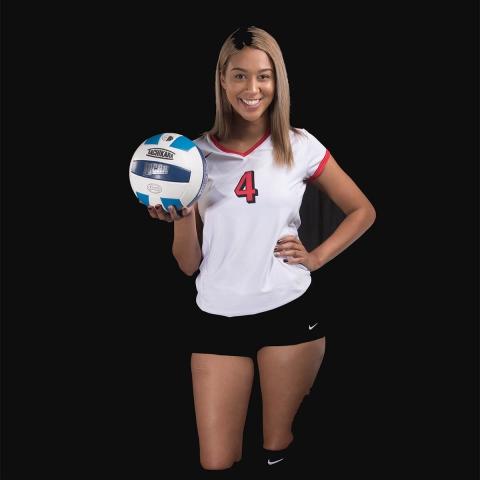 One of five sophomores on this year's Thunderbird Volleyball team, Tasmyn Fahey is 6'1" and plays middle block and right side. She hails from Christchurch, New Zealand, where she played ball for Burnside High School.
As a freshman, Fahey played in 41 games, had 52 kills, and 33 triple blocks.
Fahey's favorite food is pizza, her favorite movie is all of the "Harry Potter" movies, her favorite hobby is writing, and her favorite sports figure is American indoor volleyball player Destinee Hooker. When asked, Fahey said the one-word description of herself is "sassy."
Q: Why did you choose your major?
A: I chose social work because I feel a strong need to help others and I have an interest in social justice.
Q: What are your plans after you graduate from Casper College, both in the near term and for the future?
A: I plan to move on to an NCAA school to play volleyball and get a bachelor of arts in sociology. I have an interest in working for a human rights-based organization such as Amnesty International.
Q: What are your goals for this year, both academically and athletically?
A: My goal this year is to graduate with an associate degree in social work. Athletically my goal is for our team to go to the national tournament, and to be recruited by a Division 1 or high Division 2 university.
Q: Why did you come to Casper College, what drew you to Casper College?
A: I came to Casper College because I felt a great connection with my coaches as they recruited me and because of how great the programs offered here are. I also wanted a more intimate class environment which is offered here.
Q: What do you think of Casper College as a school and overall experience?
A: My experience at Casper College has been excellent. All of my instructors are very helpful and also very understanding when it comes to volleyball-related absences which makes being a student-athlete less stressful! We are very lucky to live in such modern dorms, and the people that live there are so nice, it's a great community.
Q: Would you recommend Casper College?
A: I would highly recommend Casper College, I thoroughly enjoy studying and playing here.
Subscribe
If you enjoyed this story, receive more just like it: