Volleyball 2018 – Q&A: Meet Heather Rubis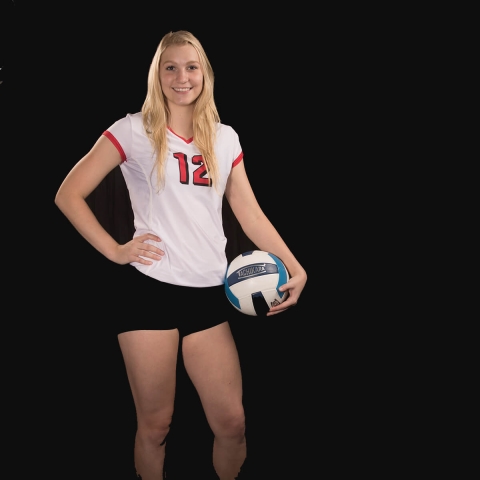 One of five sophomores on this year's Thunderbird Volleyball team, Heather Rubis is a 5'11" outside hitter. She hails from Wright, Wyoming, where she played ball for the Wright Junior Senior High School Panthers.
As a freshman, Rubis played in 104 games, had 174 kills, and served 246 times with a completion percentage of 84.9.
Rubis' favorite food is spaghetti, her favorite movie is "Alice in Wonderland," her favorite hobby is camping, and she enjoys " … playing all different kinds of sports for fun, not just volleyball." When asked, Rubis said the one-word description of herself is "silly."
Q: Why did you choose your major?
A: I chose nursing as my major because I want to help people and find it very interesting and exciting to work in the medical field.
Q: What are your plans after you graduate from Casper College, both in the near term and for the future?
A: I plan to get my bachelor's degree in nursing. I plan to go into the nursing program here in Casper. Once I graduate from nursing school, I plan to start working at a hospital.
Q: What are your goals for this year, both academically and athletically?
A: My academic goals are to not settle for anything less. My athletic goals are to continue to better myself the most I can and to really focus on my weaker skills instead of my stronger ones.
Q: Why did you come to Casper College, what drew you to Casper College?
A: It was close to home and was far enough away from home, but the coaches really drew me to commit to this college.
Q: What do you think of Casper College as a school and overall experience?
A: I love it here in Casper, the teachers are nice, and you can have a personal relationship with them. The campus is the perfect size.
Q: Would you recommend Casper College?
A: I would happily recommend Casper College.
Subscribe
If you enjoyed this story, receive more just like it: