Volleyball 2018 – Q&A: Meet Giuliana Irving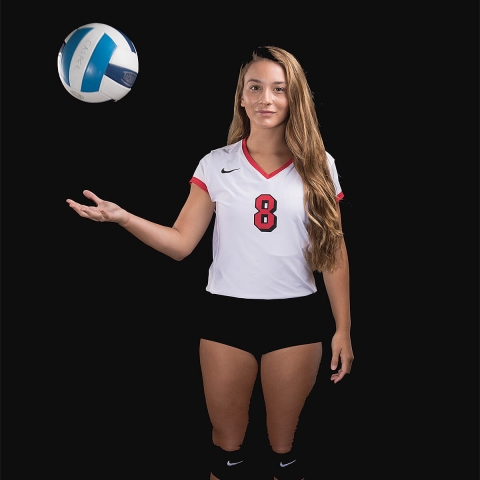 One of five sophomores on this year's Thunderbird Volleyball team, Giuliana Irvine is 5'6" and a defensive setter. She hails from Kailua, Hawaii, on the island of Oahu, where she played ball for the Kalaheo High School Mustangs.
As a freshman, Irvine played in 136 games, had 8 kills, and served 462 times with a completion percentage of 90.
Irvine's favorite food is pizza, her favorite movie is "My All-American," her favorite hobby is paddling, and her favorite sports figure is American professional beach volleyball player Misty May Treanor. When asked, Fahey said the one-word description of herself is "honest."
Q: Why did you choose business administration as your major?
A: I chose business administration as my major because I enjoy the idea of owning my own business.
Q: What are your plans after you graduate from Casper College, both in the near term and for the future?
A: I don't have a plan yet.
Q: What are your goals for this year, both academically and athletically?
A: My goals are to grow as a player and athlete and be the best student and athlete I can be.
Q: Why did you come to Casper College, what drew you to Casper College?
A: Having an opportunity to play volleyball and get an education drew me to Casper. Going to Wyoming and having a change of scenery also compelled me to come to Casper.
Q: What do you think of Casper College as a school and overall experience?
A: I think Casper college is a perfect school for me because classes are not too big and so the teachers are able to pay attention to each student.
Q: Would you recommend Casper College?
A: Yes, I would recommend Casper College for students because they have a wide range of different courses you can take.
Subscribe
If you enjoyed this story, receive more just like it: