Volleyball 2018 – Q&A: Meet Emma Rogers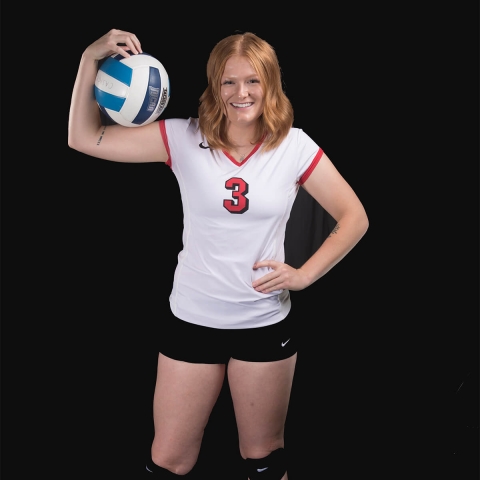 One of five sophomores on this year's Thunderbird Volleyball team, Emma Rogers is 5'8" and a setter. She hails from Flagstaff, Arizona, where she played ball for the Flagstaff High School Eagles.
As a freshman, Rogers played in 136 games, had 19 kills, and served 474 times with a completion percentage of 96.8.
Roger's favorite food is mashed potatoes, her favorite movie is "The Notebook," her favorite hobby is reading, and her favorite sports figure is NBA basketball player Kevin Durant. When asked, Rogers said the one-word description of herself is "hypeman."
Q: Why did you choose your major?
A: I chose my major because political science is truly my passion – I've known that since middle school! Politics is a hobby, lifestyle, and mindset, and I just happen to be lucky enough to study it in school.
Q: What are your plans after you graduate from Casper College, both in the near term and for the future?
A: I don't have a set plan yet, but I'd like to go to a bigger university and participate in the honors program. After that, I am hoping to continue my education in graduate school. The Peace Corps is also a major goal.
Q: What are your goals for this year, both academically and athletically?
A: My personal goals athletically: working as hard as I can to be a good teammate on and off the court, winning, and finishing strong! My goals academically: To earn at least a 3.9 grade point average.
Q: Why did you come to Casper College, what drew you to Casper College?
A: I came to Casper College because I (thank goodness) got picked up by them late my senior year. The volleyball program really did save me from staying in my hometown and just working! I had no plans, and they came along and got me out of a ditch.
Q: What do you think of Casper College as a school and overall experience?
A: Casper College has to be the best junior college in America. The instructors are fabulous – people that really care about your education and you as a whole (and have doctorates and are incredibly smart). The entire faculty and staff are the most helpful and loving people. Even the people in the cafeteria treat you like family (shout out to Celia and Chef and the entire staff there). I am going to miss this school so much; I don't ever want to leave!
Q: Would you recommend Casper College?
A: 11/10 I would recommend Casper College. The volleyball program and education really did give me a wonderful experience.
Subscribe
If you enjoyed this story, receive more just like it: