32nd Annual Casper College Literary Conference "Localvore" Features Five Presenters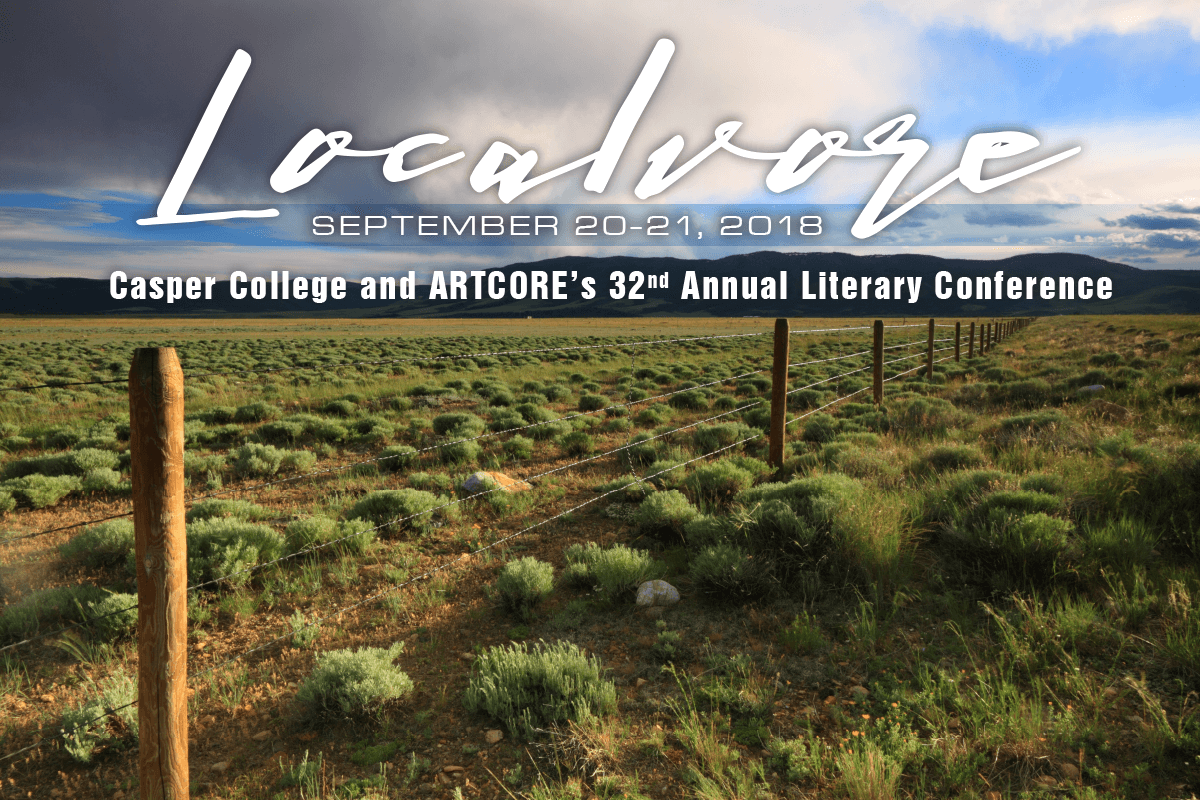 The 32nd Annual Casper College and ARTCORE Literary Conference titled "Localvore" will be held Thursday and Friday, Sept. 20 and 21, 2018. The conference will feature a variety of writers and educators who will give both presentations and workshops during the two-day event.
Thursday morning will feature two speakers: author Matt Daley who will give a poetry reading beginning at 10:30 a.m., followed at 11 by author Samuel Western with a talk titled "How John Barleycorn is Underwriting a Revival of Small Wyoming Towns, Via Craft Beers and Distilleries."
Daly has a book-length collection of poems, "Between Here and Home," forthcoming from Unsolicited Press in 2019. He is the recipient of a Neltje Blanchan Award for writing inspired by the natural world and a Creative Writing Fellowship in Poetry from the Wyoming Arts Council.
Western has been exploring the literary and physical boundaries of the northern Rockies for 35 years. A former correspondent for the Economist of London with an emphasis on hunting and economic history, Western also now writes about community building, behavioral economics, ethics, and local food issues. He is currently at work on two books: a follow up to "Pushed Off the Mountain, Sold Down the River" and a novel, tentatively titled "Katana."
Lunch will follow Western's presentation and feature an artist talk by Daly titled "Poetry as Public Art." Daly will discuss poetry as an art form that creates engagement with residents, visitors, artists, and community organizations.
That afternoon one presentation and one workshop will be held. The presentation titled "An Examination of Small Moments" will be given by Casper College English Instructor Cara Rodriguez at 2 p.m. Rodriguez was recently awarded the 2018 Wyoming Arts Council Fellowship in Poetry. She has been most recently published in Clerestory, The Found Poetry Review, and Inscape.
At 3 p.m. Daly will conduct the first workshop of the conference. Titled "Once Again, Now and Then: Writing Nonlinear Narrative Poems" Daly will show participants how to " … use poetic techniques and structures to break away from conventional linear narratives. We will write poems that tell stories unfettered by the chronological plot conventions of beginning, middle, and end.," he said.
Friday morning's offerings will begin at 9:30 with a reading by Western. At 10 Jamie Purcell will talk on "The Good Food Revolution." Purcell is the co-founder of Food for Thought and works to create ways to connect members of the community to opportunities that can create change.
An artist talk at  11 a.m. will feature Jill Hughes who will speak on "Roots and Recipes: Finding my Voiceplace." Hughes, a storyteller, cook, writer, and Casper College English instructor has lived in Casper for over 25 years but has maintained a strong southern accent and love for the foods of her "voiceplace" – North Carolina.
The conference will begin again at 2 p.m. with an artist's talk by Western titled "Attending the Temple of Slow Food. How Lengthy and Leisurely Meals Keeps Communities Together in Tough Times."
Two workshops will be held in the afternoon, both starting at 3 p.m. Hughes' workshop, "Dora's Sawdust: Pudding and Roxie's Drawers: Finding Writing Inspiration in Surprising Places." According to Hughes, writers and students are often told they should "write what they know," but they often feel their experiences are not exciting enough to write about. "I want to dispel this myth," said Hughes. In this hands-on workshop, participants will complete a "Where I'm From" writing exercise, and then explore various ways to generate writing, including a sawdust pudding prompt.
The other workshop, "Constructive Destruction " will be given by Rodriguez. "Erasure is a poetic technique that creates new poems by erasing or marking out words from an already existing text. This workshop will give some hints on how to go about the process and give participants plenty of time to create their own pieces," she said.
Thursday's presentations, lunch, and workshop will take place in the Goodstein Visual Arts Center, while Friday's presentations and workshops will take place in the Goodstein Foundation Library. Both facilities are located on the Casper College Campus. All events are free and open to the public, but registration is required for all workshops. To sign up for workshops or more information, contact Julia Whyde, literary conference director, at 307-268-2502 or jwhyde@caspercollege.edu.
The 2018 Casper College and ARTCORE Literary Conference "Localvore" is sponsored by ARTCORE, the Casper College Foundation, and Casper College. A complete listing for the conference can be found at www.caspercollege.edu/events/literary-conference.
Subscribe
If you enjoyed this story, receive more just like it: