Casper College to Host Season Opening Volleyball Tournament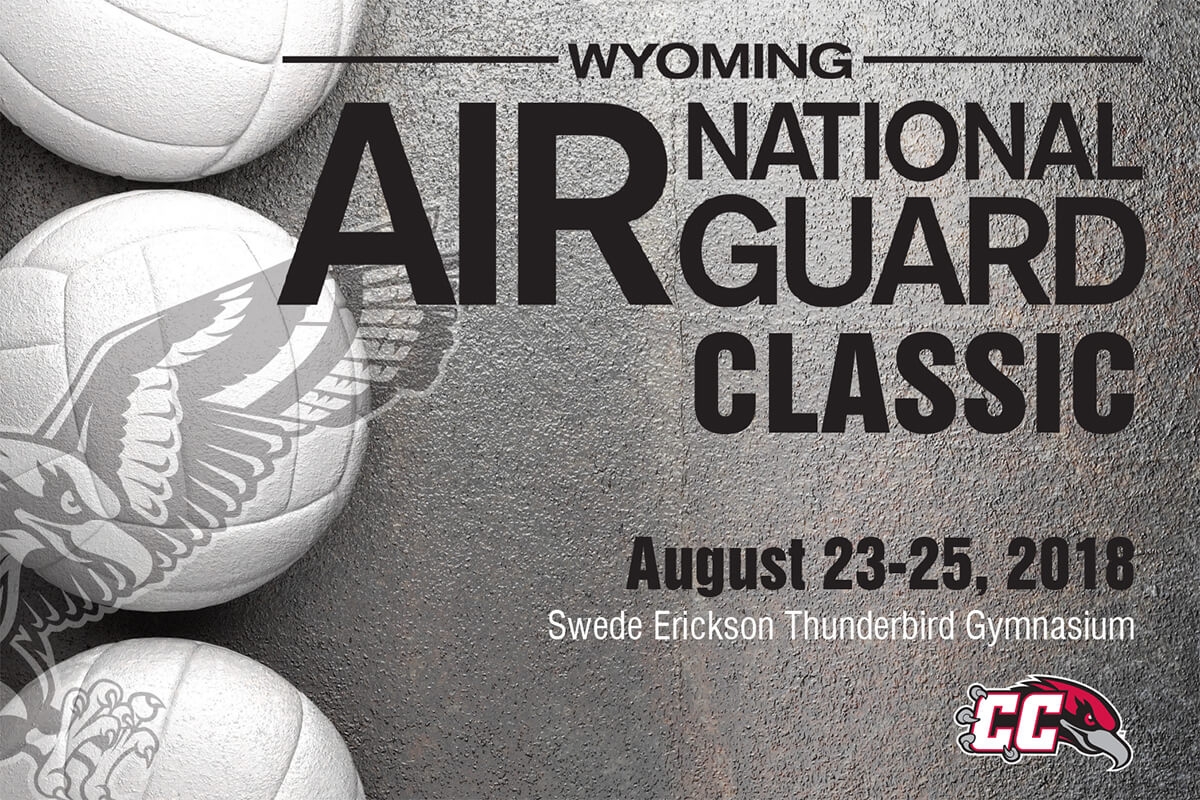 UPDATE: The Thursday evening game has been pushed back to 8 p.m. due to travel difficulties.
The Casper College Lady Thunderbirds will host the Wyoming Air National Guard Classic August 23-25, 2018 at the "Swede" Erickson Thunderbird Gymnasium on the Casper College campus.
Six teams will compete during the three-day tournament and in addition to Casper College include Colorado Northwestern Community College from Rangely, Colorado; Northeastern Junior College from Sterling, Colorado; Northwest College from Powell, Wyoming; Salt Lake Community College from Salt Lake City; and Sheridan College from Sheridan, Wyoming.
The tournament will give volleyball fans a chance to see the 2018 T-Bird team in action. "Hopefully people will see some great defense, teamwork, and grit," said Angel Sharman, head volleyball coach, and athletic director.
The tournament will open with an evening match between the T-Birds and the Northeastern Plainswomen at 8 p.m. on Thursday. The tournament will continue on Friday with five matches scheduled for 11 a.m., 1, 3, 5, and 7 p.m. On Saturday, games will be played at 9 and 11 a.m. and 1, 3, and 5 p.m. All games will be played in the best of 3/5 format, with no cap. The T-Birds will be in action again at 7 p.m. on Friday and 5 p.m. on Saturday.
According to Angel Sharman, this marks the first time that Casper College has hosted a tournament that invited colleges outside of Region IX which includes Division I schools from Colorado east of the Continental Divide, Nebraska, and Wyoming. "Normally we go to the Salt Lake Tournament, but this year they asked if I would host one here. To host a tournament, we need to have a tournament sponsor to help with the cost of putting it on, and this year we were fortunate to partner with the Wyoming Air National Guard," said Sharman, who noted that she hopes that Casper will "continue to have a season-opening tournament in the future."
Ticket prices are $4 for the Thursday game for adults 18 and older, $3 for seniors 60 and over, $2 for students aged 13-17, and free for those 12 and under. Ticket prices for Friday and Saturday are $5 for adults 18 and older, $3 for seniors 60 and over, $2 for students aged 13-17, and free for those 12 and under. Those with a handstamp will be able to attend all games that day.
Subscribe
If you enjoyed this story, receive more just like it: