Bee Keeper, Roper, Renaissance Man – Five Questions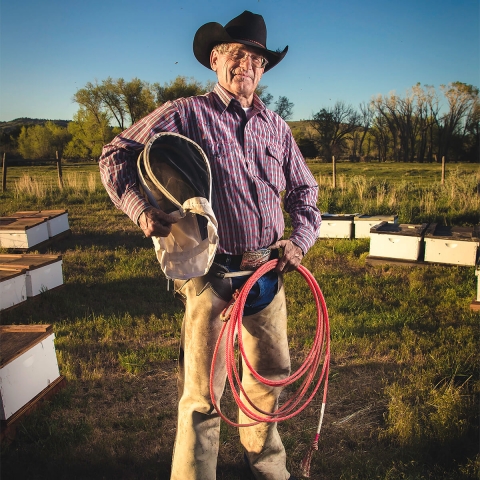 An early evening shot of Casper College alum Derrel Carruth in one of Sunshine Honey's bee yards in the Bessemer Bend area. Casper College photo.
Casper College Alumni Association Board Member Derrel Carruth (AS '65) came to Casper College in 1963 and graduated with an Associate of Science degree in agri-business in 1965. Retiring from government work in 2013, Carruth has not spent time in his easy chair but works part-time for Sunshine Honey, helps his wife with her food concession business, and competes in team roping.
Q:  After you graduated from Casper College, what did you do?
A: I went on to school at the University of Wyoming beginning in the fall of 1965, graduating with a B.S. in agri-business in January 1968. I should have graduated earlier, but I had taken time off to work and then went back after I got married in January 1967 to my wife, June. Marriage settled me down, and I stayed in school straight through spring, summer and fall of 1967 and was able to graduate in January.
Q: Before you "retired" what did you do?
A: When I first graduated from UW, June and I moved back to Sinclair, Wyoming, to live with my folks while I worked for Sinclair Refinery. I was then fortunate to receive a job offer from the United States Department of Agriculture Farmers Home Administration and began working for them in Wheatland, Wyoming, as an assistant county supervisor and relocated June to Laramie, Wyoming, temporarily to have our first son, Mike. We moved around the state some over the years from Wheatland to Riverton to Douglas to Powell back to Douglas, where we had our second son, Brent, to Gillette to Casper in 1977 and here we are.
Through those years I was fortunate to receive several promotions with the end result that I received two opportunities to be state director, 1993-2001 and 2009-2013. I took a break in service in 1979 until 1981 to become a real estate agent. That was not a good time, so I went back to the USDA where I basically started at the bottom of the ladder again. Through the grace of God, I worked myself back up through a variety of positions, and finally retired with a little over 36 years of actual service but with accumulated leave of 38 years total.
Almost immediately after retiring in early 2001, I became the acting director for the United Way of Natrona County through that fall's campaign. I filed for county commissioner in the spring of 2002, though I didn't win in the general election. I've also worked myself into other jobs such as cowboying, construction, shop hand in my son's electric company, ITC, and helping my wife with her concession business.
Q: What do you do with bees?
A: I've worked for James Colva, the owner of Sunshine Honey, off and on since the fall of 2001. I started out helping with extracting honey on a semi-automatic manual extracting system and then stayed on through the winter and spring to help with all kinds of activities such as building beehives, helping establish bee yards in the spring, putting on honey supers, feeding bees, maintenance work, etc. Those first years we fed bees by placing bottles of feed in the lids, then progressed to where today we feed bees in a plastic feeder with totes of feed and pumps.
Through the years I've trained several people on how to extract and work at various other shop responsibilities. Currently, I work five days a week, three to five hours a day, and when we are extracting honey, it can be up to eight hours a day. I keep trying to get James to fire me, but he won't.
Q: How long have you been roping?
A: I started roping as I remember in my junior year of high school using mainly ranch horses owned by an aunt and uncle in Rawlins, Wyoming, where I was a member of a riding and roping club. I taught myself by reading articles from the Western Horseman magazine and watching other ropers. I bought my first real rope horse in the summer of 1963, and things just progressed from there. She was trained for heading, heeling, and calf roping, and in later years she also hazed steers for a roping partner.
As our youngest son got interested in roping, we bought him a calf horse that I used, and as we sent him to roping schools, I'd pick up on some things to improve on. I've won a few team roping and calf roping events over the years. Sometimes you win money and sometimes prizes. This past November my partner and I took first place out of approximately 96 to 100 teams in team roping and won a saddle, cash, and coupons for Fast Back Ropes. I am totally blessed and in the last two years have roped as well as I ever had.
Q: Why did you want to serve on the alumni board, and what keeps you serving?
A: Over the years I had been a member of a variety of boards or associations that I gradually weaned myself from. In 2000 or so I saw an opening on the CC alum board. My first attempt failed, but the second time I was selected. I applied because I felt it was important that I give back in some way to the college that really gave me a chance many years earlier, but that's another story. At any rate, here I am now.
My time on the board has been interesting and rewarding in many ways. Over the years, the selection of the alumni board members changed, and the alumni association became part of the Casper College Foundation. Being on the board has given me the opportunity to become acquainted with a wide variety of people. I've just been truly blessed with the way my life has evolved, and I am grateful for it.
Subscribe
If you enjoyed this story, receive more just like it: