Casper Freshman Heads to CNFR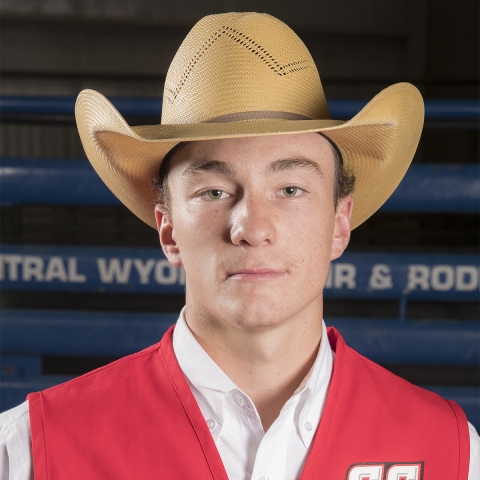 Casper College team roper Jerren Johnson. Casper College photo.
Casper College freshman team roper Jerren Johnson is heading to the College National Finals Rodeo along with his partner, freshman Wheaton Williams of Sheridan, Wyoming. It has been a great first year at the college level for both men as they both finished ranked number two in the Central Rocky Mountain Region which includes teams from Chadron State College, Sheridan College, Lamar Community College, Central Wyoming College, Laramie County Community College, Gillette College, Eastern Wyoming College, Colorado State University, and the University of Wyoming.
Johnson says that he decided to stay in Casper and rodeo for the T-Birds because of Head Coach Jhett Johnson. "I saw it as the best opportunity to further my roping career all while studying a field (engineering) that I enjoy and have been interested in for a while, especially when some other colleges don't offer it," he says.
Thanks to his roping talents, Johnson was able to come to Casper College on a full ride scholarship, allowing him to concentrate his time on studying and practice. He competes in both team and calf roping, but it is his skills as the heeler in the team roping event that has allowed him to compete in the CNFR.
His transition from high school to Casper College was, as he says, "seamless. College is a lot more independent than high school, and I'm an independent person. College is a lot more laid back and self-reliant, and I like that." Of his instructors, he lists Jason Eggemeyer, drafting instructor as a favorite: "He's cool, and he teaches more than one class of mine."
Johnson recommends Casper College, "It is a well-run institution, the coaches are good, and there are lots of extracurricular programs," he notes.
Johnson plans to turn pro, but before that would like to graduate with his bachelor's. "I plan to move down to Texas and chase my dreams of becoming a Professional Rodeo Cowboys Association heeler and rodeo full time. Texas is where everything is happening, so that's where I need to be."
Johnson is the son of Justin and Jodene Johnson of Casper.
Subscribe
If you enjoyed this story, receive more just like it: