"The Eyes of Freedom" Traveling Memorial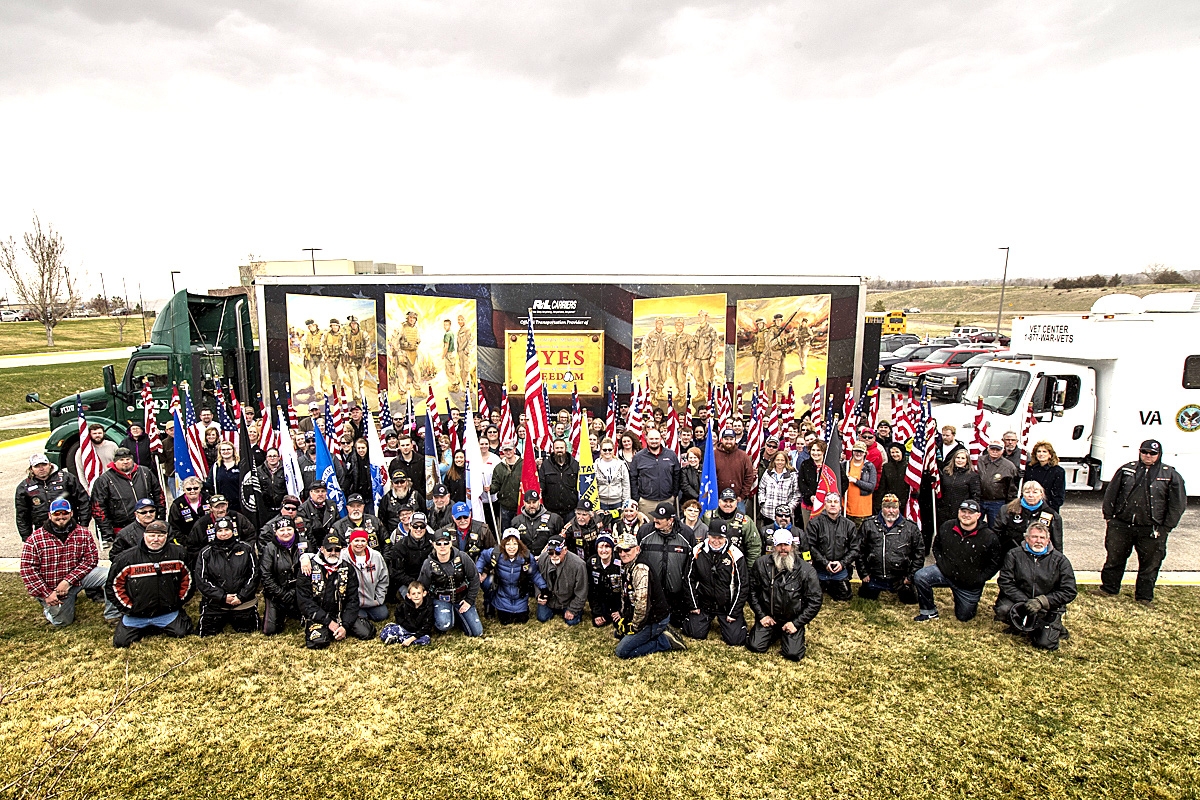 The Wyoming Patriot Guard Riders and Casper College employees gather for a group photo shortly after the "Eyes of Freedom" semi rolled onto the Casper College campus. Casper College photo.
"The Eyes of Freedom" traveling memorial departed on Saturday, April 28 after a memorable week in Casper. What was astonishing to see was the support given to veterans in our community and state. It all began with an idea sprung from the Casper College Student Veterans Club to share the memorial with campus and the Casper community. Little did they know the memorial would join together so many other people from across Wyoming in celebration of veterans everywhere.
It was the Wyoming Patriot Guard Riders that jumped at the opportunity by organizing a procession and escort for the memorial from Cheyenne to Casper. The 180-mile journey was met with people along the route waving flags and hands held over their hearts. Casper College helped organize a 70-person flag line to greet the memorial's arrival to campus. The energy and camaraderie were moving and will certainly be remembered by all that participated. The Lima Memorial Facebook page said it best referring to the procession as a "Hero's Welcome." You can view the video of the procession that was released by the Wyoming Patriot Guard Riders on our Facebook page.
Volunteers spent the afternoon assembling the memorial and soon after, Chaplain Wade Jensen with the Wyoming Air National Guard led the blessing at the memorial's opening ceremony. Jordan Janski, Casper College Student Veterans Club president, welcomed everyone to the memorial. Casper College President Darren Divine spoke of the college's commitment to veterans and the honor in hosting the memorial on campus.
Governor Matthew Mead, one who has been present at every deployment for Wyoming National Guard members and visited them overseas, shared that Wyoming is home to over 50,000 veterans and gave thanks to them for their service and their families that sacrificed.
Col. Daniel Perala, medical group commander for the Wyoming Air National Guard and Casper College alum, spoke to the connections between our military and residents of Wyoming. He shared a story of a fellow Kelly Walsh High School alum living in Italy at the time that helped him get needed medical supplies to his troops in the Middle East.
Mike Strahle, a veteran of Lima Company, delivered the message of the memorial and its meaning. His stories and experiences were difficult to hear, and many in the crowd had tears in their eyes. Patriotism was palpable in the room. He had served with the men of Lima Company and survived a roadside bomb that took the lives of everyone he was riding with. Now he carries their message and the story of their families and their struggles with having lost their sons. The memorial is about honoring "the service and sacrifice of all who answer our nation's call," and Strahle carried that message with dignity.
The memorial stayed in place at the Walter H. Nolte Gateway Center at Casper College throughout the week. On one particular day, Casper College students performed a short dance program in front of the memorial. The performance included music and narration from Wesley G. Davids' letter  (see below) to his family, one of the Marines celebrated by the memorial, that explained his commitment to protecting the United States from future terrorist attacks.
Visitors were asked to sign the "Eyes of Freedom" Memorial flag that was presented to Colton Sasser on Saturday. The Casper College Student Veterans Club elected Sasser for the honor. Sasser, a local hero, is a Wyoming native and U.S. Army veteran, wounded in action in Afghanistan, April 15, 2012. He is also a former Casper College student and the founder of Hunting with Heroes, an organization with a mission to give back to our nations disabled veterans by honoring them with unique hunting, fishing, and other outdoor experiences.
"The Eyes of Freedom" memorial brings with it a powerful message of the price for freedom in America. With it, our hearts go out to the families of these young men, and we celebrate all veterans for their service. I would challenge anyone to hold back their tears in the presence of the boots these young men wore, for they bring clarity to the true meaning of freedom.
The following is a transcript of the letter that Lance Corporal Wesley G. Davids wrote to his family:
Dear Mama, Papa, and Steven,
If you are reading this letter, then you probably already know that the worst has happened. I want you to know that I don't fear death, and while I wish I could live out the rest of my life happily, I am proud to give my life in the name of Freedom. No matter what happens, I wouldn't change a thing that I ever did. I have never been more proud of myself, than I am right now. I think I have finally found the key to happiness. Live your life in a way that you can be proud of everything you do. No Regrets.
I hope that you don't ever have to read this letter. I understand that you are sad right now. It's only natural. I only hope that you can find comfort in the fact that I died for you all, my family, and the country that I love. Don't be angry, I knew the risks and chose to accept them. Nobody made me do it.
Please don't have an extravagant funeral for me. What happens to my body after death is meaningless to me. I know where my soul will be and that is all that matters.
You have all been very good to me. I love you all very much. You did everything for me. I always had everything that I needed. I love you all for that, and can never show you how much I appreciate it.
I apologize for ever being ungrateful towards you. Until recently I didn't understand what true happiness really is. I want you all to know that I love you very much and can never possibly express that to you.
Love always,
Wes
Subscribe
If you enjoyed this story, receive more just like it: