Casper was the Best Choice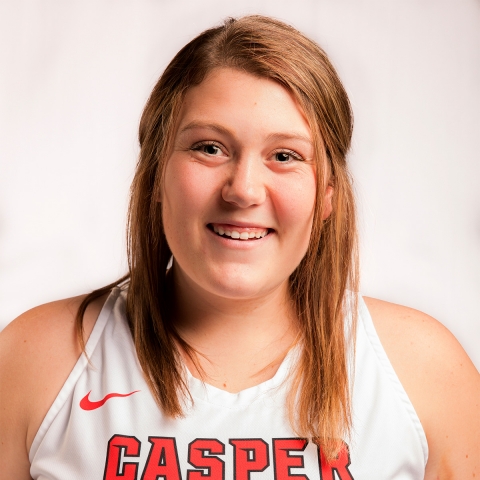 Lady Thunderbird sophomore Emily Robertson. Casper College photo.
For Casper College sophomore elementary education major Emily Robertson, staying in Casper to attend Casper College and play basketball for the Lady Thunderbirds was the best decision she could have made.
"My family is so important to me, the elementary education program at Casper College is so good, and after talking to Coach Dwight Gunnare, I just decided not to risk it and go somewhere else that might not be as good," says Robertson.
The 6'3" post came to Casper College from one of the local high schools, Natrona County High School where she was a star player. Her talent and ability have only grown at Casper College, and she was recently named to the 2017-2018 All-Region Awards North Sub-Region All-Region Team.
Robertson says Casper College has nice facilities and student diversity. "I love the fact that we have people from seven different countries on our team," she says. In addition, Robertson feels both Coach Gunnare and Assistant Coach Nate Macy care about each member of the team. "Coach Macy is fun to work with, he motivates us to want our goals, and you can trust him. Coach G. cares so much about us and wants us to do well and meet our goals. Plus, he has so much knowledge and background in basketball, you can trust him, and you know that he wants you to be a better person. They both want the best for all of us, and no matter what they are always going to support you," Robertson notes.
Upon graduation, Robertson hopes to play basketball at the university level, but if she doesn't find the "right fit," she will continue her bachelor's at the University of Wyoming at Casper. "It's not perfect; I like to try new things and be adventurous, I would like to go on, that's my goal," she says.
Robertson would recommend Casper College, even for those not playing basketball. "I decided to live in the Residence Hall, and you always have support there and fun activities. The elementary education department is great as well as the instructors at Casper College. They are willing to have a connection with you and want to have a connection. You are truly cared about."
Subscribe
If you enjoyed this story, receive more just like it: