The Firefighting Brothers of Casper College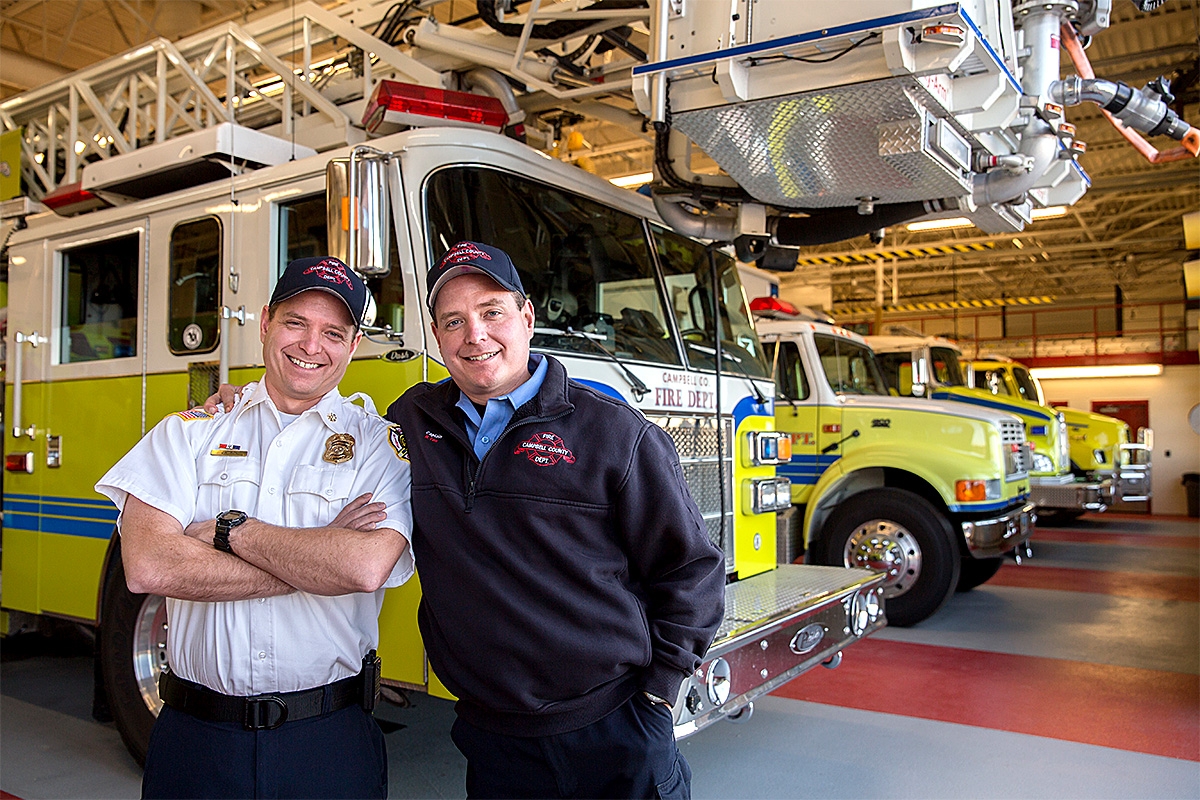 Firefighting brothers J.R. and Ryan Fox, from left to right, graduated from the Casper College Fire Science program. Casper College photo.
There's a popular image of firefighters as bands of brothers; at Casper College, the fire science program features a handful of actual brothers who helped build the program and made successful careers in fire departments throughout Wyoming.
How does it happen that one college program attracts sets of brothers and even identical twins at such a high rate?
"Number one – it's in the family, and they're raised together," said Dale Anderson, (AB, AS, '93) Casper College Fire Science Department chair and longtime program leader.
Ryan and J.R. Fox
Family was certainly the force behind the careers of identical twins Ryan (AAS, '00) and J.R. Fox (AAS, '00) who graduated from Casper College in 2000. Their father and uncle were volunteer firefighters in Campbell County, Wyoming, and the two joined a firefighting cadet program when they were 13.
"Helping others is something our parents instilled in us," said Ryan now a captain at the Campbell County Fire Department. And he cited another major appeal of firefighting. "No two days are the same; you never know what's going to happen next."
The Foxes and two friends from the cadet days in Gillette, Wyoming, Chris Beltz (AAS, '00) and Ryan Warne, (AAS, '00) arrived at Casper College when the program was just getting started in 1998. They proceeded not only to learn, but help build it.
The new program didn't have much equipment then. "We might have had a shovel," laughed Anderson, "but they came in and beat the streets, got donations. They took a 1976 fire engine and refurbished it; it's the one we use in parades." J.R. is division chief for Campbell County Fire Department and an adjunct teacher for the CC Fire Science program. His department hires seasonal firefighters every year, and many of them have come from CC.
The brothers helped build the program and, according to Anderson, gave their teacher grey hair. Anderson recalls when one brother was in trouble and sent the other one in to talk with him. The teacher didn't realize about the switch until they told him later.
Jon and Kristian Bisiar
Jon Bisiar (current) is following in the footsteps of his younger brother Kristian (AAS, '13) in the college fire science department. Jon finished up his time in the Marine Corps where he served four years, including deployment to the Middle East, and decided to go into firefighting. He said the field is like the military because it is teamwork-oriented and "offers a chance to do something greater than myself."
Kristian works at Casper Fire Station 1 on First Street. He said he and his brother are "pretty close, so we're pretty competitive." And firefighting offers lots of opportunities to stay motivated, and in good physical shape, he said, doing the Combat Challenge every year. The Combat Challenge course includes carrying a 40-pound hose up flights of stairs, hitting a beam with a sledgehammer, and dragging a 185-pound dummy backward for 100 feet among other things, all in less than seven minutes.
Ryan and Troy Hieb
Brothers Ryan (AAS, '08, '09) and Troy Hieb (AB, '14) participated in the Explorer Program managed by the Boy Scouts of America when they were growing up in Newcastle, Wyoming. They give their mother credit for being "mom of the year" for driving them to answer fire calls in the middle of the night when they were too young to drive. Their dad Darrel chimed in that both brothers would drop anything to answer a call, to help where they were needed. "If they were being awarded a million-dollar check and got an emergency call, he said, "both would leave the money and go help."
Ryan went on from the firefighting program to study criminal justice and now works on the computer crime team for the Casper Police Department. Troy loves his job at the Casper Fire Department because of the opportunity to help people when they need it most and for the camaraderie.
"I worked other jobs that don't have the bonds you have in the fire service," he said.
Subscribe
If you enjoyed this story, receive more just like it: