From Casper College to the Essence of the Universe: An Update on Marlan Scully
By: Danica Sveda (AA, '09)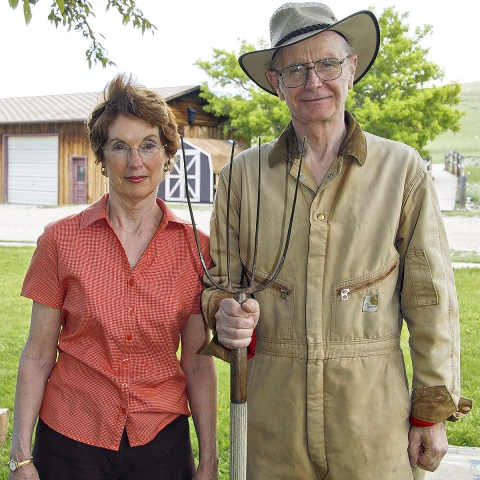 Marlan Scully and his wife Judith Bailey Scully. Casper College photo.
At age 78, Dr. Marlan Scully can't stop thinking about the future.
As Casper College's first distinguished alumni in 1986, the college honored Scully for his pioneering discoveries that have helped to unlock the mysteries of the universe, earning him distinction in his field. He currently works as a full-time tenured distinguished professor of science at Texas A&M and is a visiting professor at Princeton University and Baylor University. He also worked for the Max Planck Institute. His contributions to advance the science of quantum physics have earned him numerous accolades. When asked what keeps him so active in his field when most people would have considered slowing down, he answered simply that his work is fun. He enjoys watching the field grow and sharing in that success.
Scully developed the Scully-Lamb theory with his research partner Dr. Willis Lamb that is used in many applications today including the quantum eraser experiment. This experiment has opened the door to developing new technology that can increase the resolution of advanced microscopes. The technology will enable scientists to observe single molecules under a microscope due to recent advances in the quantum eraser experiments.
Scully believes in finding applications that apply to everyday problems as well as explaining the mysteries of the cosmos. The two items he is currently researching are black holes and black mold. In previous research, he discovered how to detect airborne anthrax endospores when the nation was under threat from mailed packages possibly containing anthrax. Now, through the use of laser detection technology, his black mold research seeks to simplify the identification of black mold in structures. The current process involves sending samples to a lab, requiring a great deal of work to make a positive identification.
His advice to current Casper College students is that they find something that interests them and fall in love with it. Scully epitomizes this advice because his whole career has been based on his love of asking questions and finding the answers to those questions. As an adjunct professor, he teaches a new generation of physics students. With their strong work ethic and creative solutions to problems, his students make him optimistic about the future of physics. One of his graduate students made him particularly proud when he obtained a Ph.D. in six years and received full professorship at Harvard in four years. "By their fruits ye shall know them, and our students are our fruits," Scully said.
Every summer, Scully returns to Casper and Casper College for the Texas A&M – Casper College Summer School on Quantum Science and Engineering that he sponsors. The conference brings world-renowned scientists and graduate students from all over the world to Casper for a symposium focused on finding solutions to complex physics problems.
A young man started at Casper College in 1959 with the idea that a profession in engineering would be a good fit until a calculus class taught by Casper College instructor Norman Ball switched a light on. After graduating from Yale University with his Ph.D. and working with some of the most brilliant minds in that field, he was able to begin his groundbreaking career as an assistant professor at MIT. The rest, they say, is history, and his contributions to the field of laser physics will not be forgotten due to his pioneering research and theories. Scully continues to contribute greatly to his field making new discoveries and enjoying his work along the way.
This is the first in a series of articles on Casper College's Distinguished Alumni. We hope to give readers an updated glimpse into the lives of these remarkable individuals who have gone forth from Casper College and made us proud.
Marlan Scully Accolades and Accomplishments
• Election to National Academy of Sciences
• American Academy of Arts and Sciences
• Academia Europaea
• Max Planck Society
Awards include:
• American Physical Society Schawlow prize
• Optical Society of America Townes Award
• IEEE Photonics Society Quantum Electronics Award
• Franklin Institute's Elliott Cresson Medal
• Optical Society of America Adolph Lomb Medal
• Humboldt Senior Faculty Prize
• Sloan Research Fellowship
• Guggenheim Fellowship
• Harvard Loeb Lecturer
• Universität Ulm, Honorary Doctorate
• Optical Society of America/Deutsche
• Physikalische Gesellschaft
• Hebert Walther Award
Books:
"Quantum Optics"
"Laser Physics"
Published over 700 articles
Subscribe
If you enjoyed this story, receive more just like it: