Casper College Student-led Fundraising Campaign to Fight Hunger Starts at 10 p.m., Friday, Feb. 16
By: Lisa S. Icenogle/Kelsey Phillips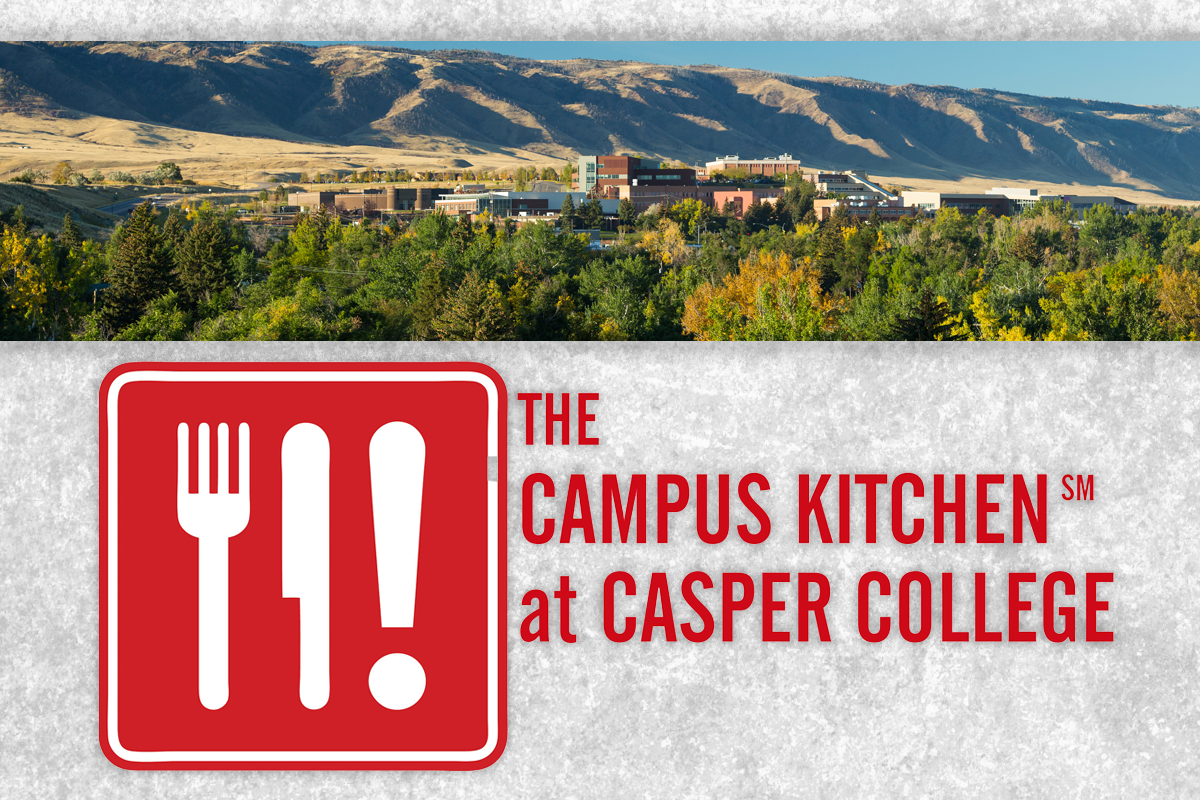 On Friday, Feb. 16 at 10 p.m. student leaders from The Campus Kitchen at Casper College will kick off a week-long "Raise the Dough" online fundraising challenge to benefit hunger relief efforts in Casper. The challenge is hosted by The Campus Kitchens Project, the nation's leading nonprofit empowering students to fight hunger and food waste in their communities, according to Kelsey Phillips, CKCC sponsor and Casper College environmental and natural sciences instructor.
"Since August 2017, The CKCC has saved 781 pounds of food, transforming it into 1,080 meals which were distributed to local residents in need. To continue the mission of reducing food waste and combatting food insecurity in Natrona County, The CKCC needs help fundraising," said Phillips.
During the weeklong "Raise the Dough" challenge, The CKCC will compete against four-year universities and colleges across the nation in two categories including the largest total fundraised, and the largest number of individual contributions. Winners in each category can be awarded up to $1000 in additional funds.
The CKCC is also competing for matching funds. The Craig Newmark Philanthropic Fund has pledged a $15,000 donation which will be utilized to offer a dollar-for-dollar match for donations under $100. Once the $15,000 is reached, matching funds will no longer be available, so early donations are encouraged, Phillips said.
Both students and community members can support The CKCC in one of three ways including online donations starting on Friday, Feb. 16 at 10 p.m. through Feb. 23, at 10 p.m. at https://www.razoo.com/story/Rts18-Ckcc. The minimum donation is $5. "This is the only avenue through which a donation can be matched by The Craig Newmark Philanthropic Fund," Phillips noted. Donations can also be made directly to The Casper College Foundation and specified for The CKCC.
The third way to support the CKCC will occur during the on-campus coin war February 19-23. "Each building will have a collection jar set up to collect change or bills. The building with the largest percentage of contributions in coins will win a cookie platter from Sodexo Dining services," said Phillips. Participants are asked to add coins to the jar of their favorite building, then add bills to the jar in competing buildings to lower their coin percentage. Collection jars will be emptied daily.
"No contribution is too small; 8 cents can provide a local resident with a well-balanced, wholesome meal. A gift of $35 can provide training for a Casper College student to prepare the meal safely by earning the ServSafe Manager certification," Phillips said noting that "Casper College students manage all aspects of The CKCC, allowing them to develop entrepreneurial and leadership skills that will carry them into their future careers."
According to The Campus Kitchens Project, there are 58 Campus Kitchens nationwide where students lead efforts to combat food waste and hunger by collecting surplus food from on-campus dining halls, community gardens, restaurants, and grocery stores and transforming it into healthy meals.
Subscribe
If you enjoyed this story, receive more just like it: