Can't Visit? Take Our Blog Tour Instead!
By: Casper College Admissions Ambassadors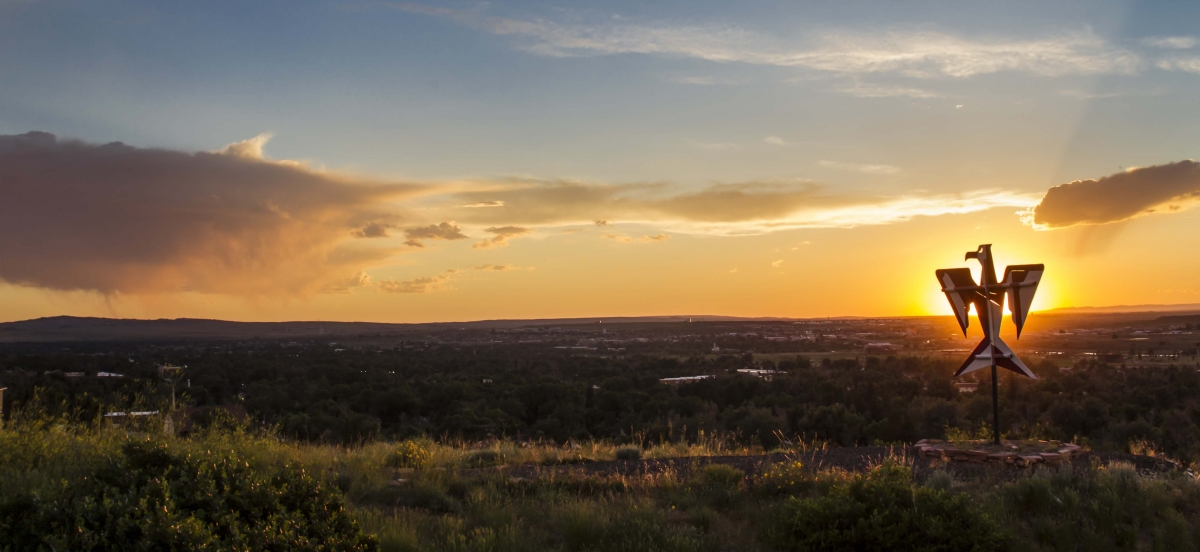 We know that sometimes it can be hard to find time to visit a new place. The Casper College admissions team has decided to bring the new place to you through a blog tour! We've gathered photos from around campus, to show you some of our favorite places and also some places people might not know about.
Enjoy!
First, let's start at the Walter H. Nolte Gateway Center. Monique, one of our campus ambassadors, says she likes that this is a one-stop location to get information about enrollment, financial aid, paying for college, and also get help from a student success coach. Don't forget to grab a cup of coffee from the Starbucks stand, one of many located around campus, or stop by to get some free popcorn on Fridays! The Gateway Center also has some classrooms and even the president's office.
Next, let's head over to the Casper College Student Union and University of Wyoming at Casper Building. This is a four-story building. It is hard to miss the University of Wyoming's brown and gold decor starting on the top floor, and that's because even though Casper College is a community college, students have the opportunity to stay here on site and take specific University of Wyoming classes. This means that, depending on what you are studying, you could get your bachelor's degree. Some eligible majors include psychology, nursing, and education. 
On the third floor of the Union/University Building is the T-Bird Nest. Monique and her friends like to hang out in the lounge area and play pool, watch movies and even partake in Karaoke Nights. All kinds of fun events happen here! In the past, we've had a hypnotist, watched a guy juggle chainsaws, and hosted a killer poetry slam! 
The second floor is home to the Casper College Wellness Center. Come here If you aren't feeling well. The friendly nurse and staff have a variety of medicines on hand to help you back on the road to feeling better. Professional counselors are also available if you need someone to talk to; these services are free and confidential. The CC Wellness Center's web page lists all the different counseling and student health services available.
The first floor of the Student Union has the book store, a dining hall, and a sub sandwich shop. Monique gets books for her classes and shops for Casper College merchandise at the Jack McCann College Store. The Tobin Dining Hall is open seven days a week, serving breakfast, lunch, and dinner. There are five food stations for you to choose from: a salad bar, a specialty bar, a grill, a pizza bar, and deli bar. Monique also enjoys stopping by the Sub Connection to pick up her personally customized sandwich and a Starbucks coffee.
Now let's go check out the Residence Hall, which was built in 2011. Each residence room is furnished and comes with its own bathroom. The rooms all have thermostats so residents, like Monique, can control the temperature. Each floor has four resident assistants who are there to help make residents feel comfortable and more at home! "I love living in the dorms because I have the opportunity to make new friends and I get to partake in all of the activities the resident assistants come up with. There's never a dull moment in the res halls!" says Monique.
The Casper College Student Activities Program coordinates extracurricular activities around campus. This includes individual, dual, and team intramural sports as well as special events like comedians, hypnotists, BBQs, dances, Friday Night Fever, and fun family events for nontraditional students.
Just a short walk from the Residence Hall, the Goodstein Foundation Library is across the street from the Union/University Building. The library is full of great study opportunities and all the resources a student could need. Monique says that she comes here quite often to use the computers and the free printing services. Students also have the opportunity to use individual study rooms. The library staff is helpful and considerate and will even have snacks available during mid-terms and finals! This building is also home to the IT Help Desk, password help, anyone?, the Casper College Western History Center, and the Casper College Veterans Center.
Located just down the sidewalk is Strausner Hall. One of the best parts of this building is the Casper College Writing Center. Students can come here to get help with anything ranging from writing a research paper to poetry to writing a resume. Monique gets help with all kinds of writing projects here thanks to the student tutors and amazing staff members. They do ask that students make appointments before they come in because the tutoring spots can fill up quickly. Did we mention that the English tutoring is free?
Next door is the Saunders Health Science Center. What an awesome place for our health science students, because they have access to the high-tech Health Science Simulation Center! It is equipped with real medical equipment and human patient simulation dummies that talk, blink, and even give birth! This lab helps prepare students for a career in healthcare by simulating real-life scenarios.
Liesinger Hall is the oldest building here at CC. They began building it in 1954. How it's been used has changed over the years, but now this building is home to the education, pharmacy technology, EMS, psychology, sociology, foreign language, addictionology, criminal justice, paralegal, and occupational therapy assistant classes!
The Goodstein Visual Arts Center is just up the road. This is where creativity explodes onto every wall and across the floors. You can find painting, photography, ceramics, and other art classes here. We have two galleries on campus, one here in the Visual Arts Building, and the other in the Music Building. Both show a variety of artists' work throughout the year. Come check out some of the amazing art shows we have!
Don't be surprised if you hear a symphony of instruments and singing voices when walking around the halls of the Music Building. Inside this building is the Wheeler Concert Hall, one of the most beautiful performance spaces you will encounter.
The Gertrude Krampert Center for Theatre and Dance is home to our dance majors, acting students, and technical theater students. It contains three theaters and a dance stage to meet the needs of everyone. It hosts several plays and recitals throughout the year that are FREE with your student ID card. 
Across the street from Krampert Theatre, the Wold Physical Science Center is where Monique goes for her math, chemistry, and physics classes. Other classes found in this building include computer science, engineering, and astronomy. The centerpiece of the physical science building is a Foucault pendulum. The pendulum swings back and forth 24/7, slowly making its way in a circle, following the rotation of the earth. Just don't watch it too long or you'll be late for class!
All those buildings are located on lower campus. If you live in the Residence Hall, it's an easy walk to lower campus. And just up the hill is upper campus …
At the "Swede" Erickson Thunderbird Gym, you can hang out in the student section and cheer on our NJCAA Division 1 basketball and volleyball teams. The games are FREE to students! The fitness gym and P.E. classes are also held in the T-bird Gym.
Classes in the welding shop fill up fast! In case a student is interested in welding but is scared to go into that field or even to just take a welding class because of inexperience, they have a safer hands-on version that is actually just a simulation of welding. Of course, they have the real thing, too!
The Tate Geological Museum is our campus' own geological and fossil museum. The museum is the home of Dee the Mammoth, a skeleton that was dug up here in Wyoming, along with many other fossils and minerals. Just look for the "Essense of Rex" statue out front!
Casper College is also well known for our agriculture programs! Casper College has people from all around the country here taking part in rodeo and livestock judging and studying agriculture, agri-business, agriculture communications, or animal science.
Thanks for checking out our tour! We hope you enjoyed it and will come to see us soon! We would love to have you join our Thunderbird family!
Subscribe
If you enjoyed this story, receive more just like it: