Livestock Judging Team Finds Success in Recent Contests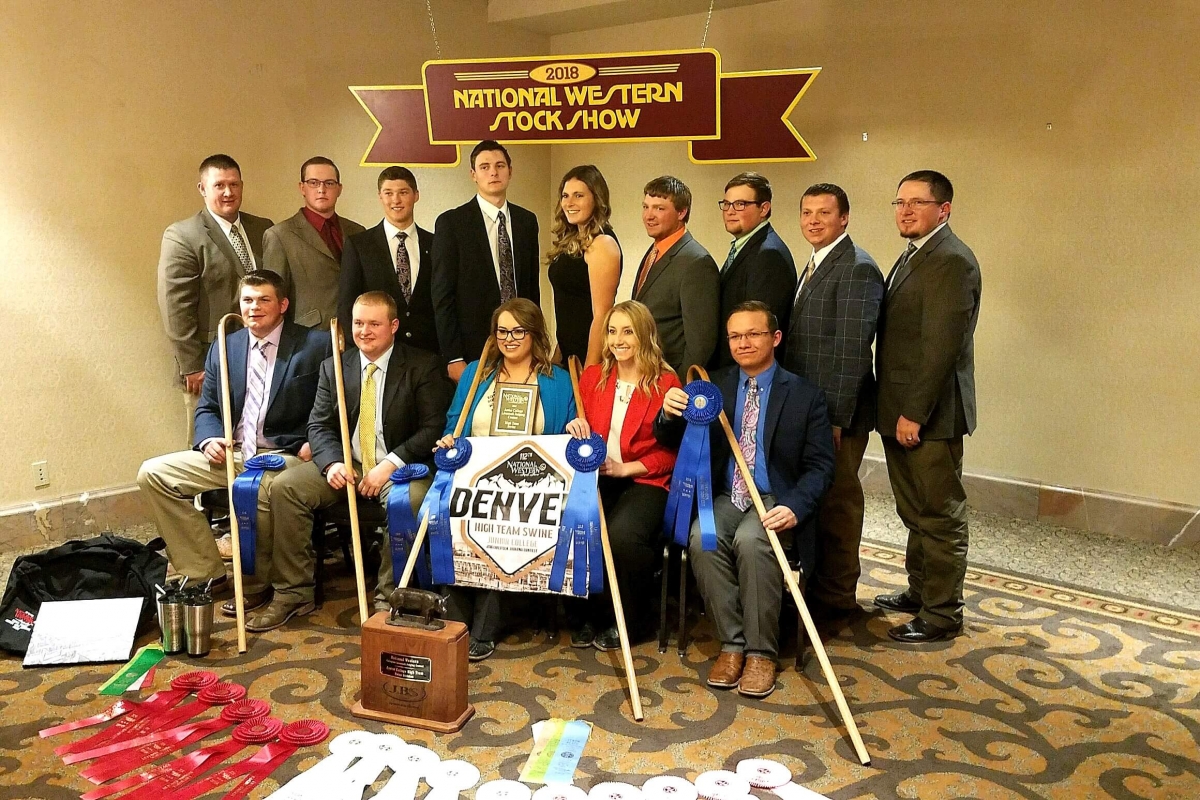 The Casper College Livestock Judging team placed first overall in hogs and won a number of other team and individual awards at the 2018 National Western Stock Show. Pictured l-r back row: Head Coach Jeremy Burkett, Ross Slagowski, Alec Thornton, Justin Terry, Alexis Andrews, Russell Murdock, Blake Turrentine, John Eilertson, and Assistant Coach Jason Johnson. Pictured l-r front row: Logan Despain, Cole McKenney, Alexi Goodnow, Shanan Davey, and Eli Nielsen.
The Casper College Livestock Judging team found success during its two most recent contests.
At the Arizona National held in Phoenix, the team had a top-five finish in cattle, hogs, sheep, and reasons and took fourth place overall. Individually team member Eli Nielsen, Medaryville, Indiana, placed third in cattle while Alexis Andrews, Ellensburg, Washington, took fourth in cattle and eighth overall.
The team next competed at the National Western Stock Show in Denver where they competed first in the Collegiate Livestock Judging Contest against 24 other colleges. The team placed first overall in hogs, reserve overall in reasons, and third overall as a team.
Individually, Logan Despain, Laramie, Wyoming, took second high individual in swine, fourth in reasons, and seventh overall. Cole McKenney, Big Timber, Montana, placed sixth in swine and Shanan Davey, Olathe, Colorado, placed seventh in reasons, eighth in cattle, ninth in sheep and goats, and 10th overall.
The following day, the team competed in the Collegiate Carload Judging Contest and placed fourth overall.
The Casper College Livestock Judging team has a rich history and winning tradition since 1978. The championship livestock judging team competes across the country and ranks among the nation's top junior college judging programs. The team has produced nine academic All-Americans since 2005, including five All-Americans since 2014. Under coach Jeremy Burkett, Ph.D., Casper College has had four National contest wins including the Fort Worth Stock Show, Houston Livestock Show and Rodeo, and the Arizona National Livestock Show since 2009. After Casper College, students are continually recruited to transfer to agricultural universities across the nation.
Subscribe
If you enjoyed this story, receive more just like it: