Robinson Heads to Mexico on Fulbright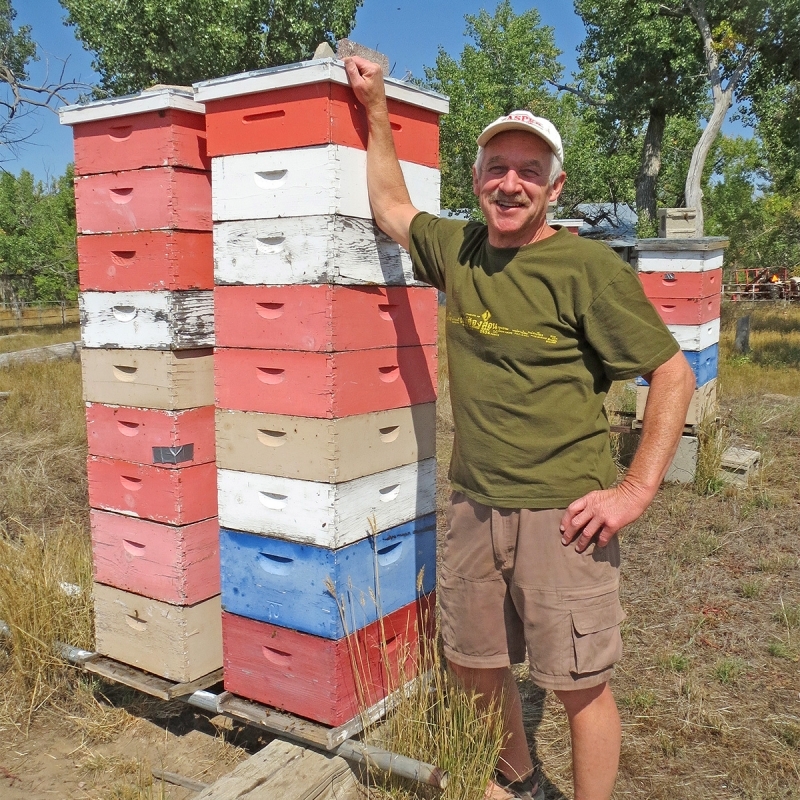 Casper College biology instructor Will Robinson stands next to bee hives on his ranch in Converse County, Wyoming. Photo by David W. Roubik.
Casper College biology instructor and bee expert, Dr. Will Robinson, has left for Mexico to complete a project at Mesoamerican Polytechnical University in Tenosique, Tabasco, Mexico, according to the Fulbright Program. Robinson recently received a Fulbright Specialist Program award.
The project that Robinson will be completing "… aims to educate people about crop pollination needs of important local crops such as citrus, cacao, mango, and squashes, and to review and advise on beekeeping methods of indigenous people, who are keeping both native 'stingless' bees and aggressive Africanized honey bees," according to Fulbright.
Robinson, who has done a lot of beekeeping and pollination development work around the world most notably in Thailand, is looking forward to the adventure. "I know a fair amount about pollination needs of tropical crops, and can share that knowledge with the locals. I'll be seeing a region of Mexico, on the Usumacinta River, that's very rich in biological diversity, and will be working with people who are keeping small, 'stingless' bees that I have never worked with," he said.
Robinson noted that the stingless bees are relatives of honeybees found in North America, but unlike those in the U.S. are not "… introduced honey bees (and) are native to South and Central America. They don't sting. They produce only small amounts of honey, but they have a rich tradition with humans, dating back to the Mayans. And their numbers are dwindling."
Robinson is looking forward to the work, noting that the Africanized honey bees "… will provide quite a contrast to the stingless bees. One thing I want to do is get a sense of whether the two kinds of bees are compatible, or whether the Africans are out-competing the native bees."
According to Robinson, receiving a Fulbright award is both a privilege and honor,"…  but mostly I look forward to the experience, the biological and practical knowledge I'll gain, and the interactions with the people," he said.
According to Fulbright, Robinson is one of over 400 U.S. citizens who will share expertise with host institutions abroad through the Fulbright Specialist Program in 2017. Recipients of Fulbright Specialist awards are selected on the basis of academic and professional achievement, demonstrated leadership in their field, and their potential to foster long-term cooperation between institutions in the U.S. and abroad.
The Fulbright Program is the flagship international educational exchange program sponsored by the U.S. government and is designed to build lasting connections between the people of the United States and the people of other countries. The Fulbright Program is funded through an annual appropriation made by the U.S. Congress to the U.S. Department of State. Participating governments and host institutions, corporations, and foundations around the world also provide direct and indirect support to the Program, which operates in over 160 countries worldwide.
Subscribe
If you enjoyed this story, receive more just like it: