Mad Flatters Bring a Taste of Kenya to Casper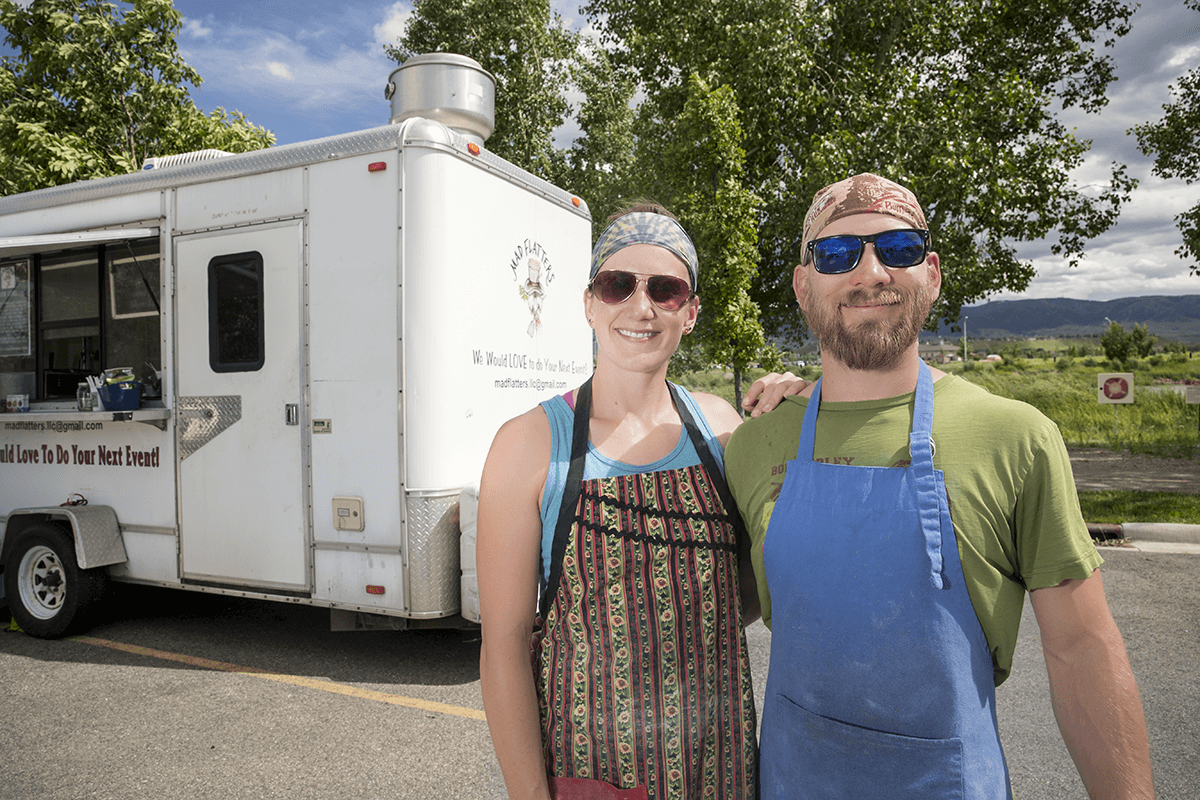 Casper College grads Britnee and Kellen Miller pose outside their Mad Flatters food truck. Casper College photo by Justin Pehrson.
You may be asking yourself, "What is a Mad Flatter?" Well, glad you asked.
Mad Flatters is actually the husband and wife duo of Kellen (AS '06) and Britnee (AA '06) Miller. The two started dating in junior high here in Casper and got married after both received their education degrees from the University of Wyoming/Casper College Center, now known as the University of Wyoming at Casper, in 2009. Kellen's degree was in secondary sciences while Britnee's was in elementary education.
After working as full-time teachers, the two decided they wanted to do something different and left the teaching profession following the 2014-2015 school year. Their careers had taken them to Salmon, Idaho, for four years and Laramie, Wyoming, for two, but they both felt it was time for a change – enter the Mad Flatters food truck.
The two had never "wanted to own a food business," says Kellen, though they had often joked about opening up a coffee shop/bakery, "a pipe dream," he adds. But in September of 2015, they found themselves running their own food business in a food truck that they found on Craigslist.
"We had some long discussions about getting out of teaching and trying to sell breakfast burritos at farmers' markets," says Kellen. "When we found and bought the trailer, which was kind of a quick decision, we basically decided we wanted to take a year and try the breakfast burrito thing," he says. The discussion for the two then centered on what they could make that would set them apart from the rest of the eateries in Casper. A trip to Kenya provided the answer.
In 2008 Kellen traveled to Kenya with a Casper College class. He loved the experience so much that he wanted to return with Britnee to spend some time in the communities and schools in the area where he had been in 2008. "We were originally supposed to teach at Thika Academy in Thika, but due to a miscommunication, we were put in contact with a nonprofit charity school, Tumaini Brooks Center," says Kellen.
"The experiences we had during our time in Kenya helped us to grow as individuals as well as educators. Of the many experiences we had in Kenya, one of our favorites was learning about the culture and its cuisine," says Britnee. While in Kenya, they met a woman who taught them how to make chipoti, a traditional/tribal Kenyan flatbread. According to Britnee, chipoti is made from a base of carrots in the dough with no rising agents. It is this slightly sweet flatbread that forms the base the majority of Mad Flatters' American-styled menu items and sets them apart from dishes featuring tortillas.
All the recipes are unique and created by Britnee. "Britnee has very odd flavor pairings, but people just love them," notes Kellen. Homemade sauces, bases, ketchup, and BBQ sauce help fill out the flavor profile of the burritos, wraps, and tacos that are made and rolled fresh per order.
Currently, Mad Flatters can usually be found on Mondays in the Lifetime Fitness parking lot in the morning through the lunch hour. But the best way to find them is to check out their Facebook page at https://www.facebook.com/madflattersllc.
When asked about their plans for the future, both Kellen and Britnee say they want to continue running their successful business. But as Kellen notes, "We have decided that our plans change every six to 12 months whether we want that or not. We really don't know what our future plans are, but we plan to continue running the food truck for the foreseeable."
In addition to the food truck, Kellen works as a cross fit coach at Lifetime Fitness and Britnee teaches yoga. She is also considering going back to school for a master's degree in speech and language pathology. "We hope to continue to explore in our personal lives as well as our business lives and hope that we can continue to bring smiles to peoples' faces with great wholesome food," says Kellen.
Everyone agrees…
How good is the food from Mad Flatters? Well, pretty darn good judging from the five-star ratings on its Facebook page. Here's a sample of the 55 five-star ratings:
• "Oh my goodness what a great breakfast! I wish I had tried the burritos long before now. Thank you for bringing a great product to Casper!" Maria Shaffer Kellogg
• "Amazing food!! Best burrito in town, and out of a tiny truck." – Kerrie Larson
• "The owners are as wholesome as their delicious food! Eat here." – Dominque Nichole
• "Incredible! So delicious! Nice to have a healthy and delicious option in town!" – Cecilia Marie Foltz
• "Hands down, the best burritos I've ever had! I've never been disappointed! Very friendly owners who take pride in their work! I highly recommend them! The Habari is my favorite!" – Shannan Morris
• "I just had the Chicken Salad Wrap today. It was so unbelievably tasty that I might have to go get another one this weekend. Awesome, awesome, awesome. So happy to have found you guys." – Rebecca Pollack
• "So delicious! I had the Marley today … it is so much better than I even imagined! Even my husband who does not eat this type of food took a bite and said it was good! I will definitely be finding them again!!!!" – April Hanson
Subscribe
If you enjoyed this story, receive more just like it: