Firefighter. Mountaineer. Educator. Five Questions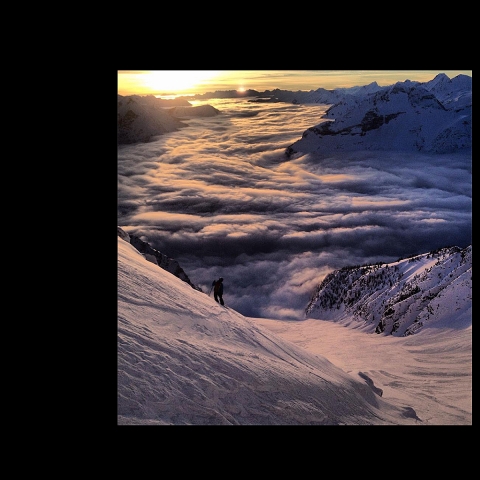 A 2005 Associate of Applied Science graduate in fire science technology, Micah Rush pursues a busy life that includes marriage, children, firefighting, and mountain guiding. A Casper native, Rush has not been content to sit at home but instead has traveled and climbed throughout the United States, Canada, Europe, South America, and Southeast Asia. Oh, and let's not forget that he was also in Thailand when that country was hit by the devastating 2004 tsunami on December 26.
Q: How did you get into mountain climbing?
A: My brother was the first person to take my friend and me climbing in high school because he knew I was interested in it. Then I was able to get into the climbing gym and meet up with one of the owners, Pat Parmenter and his friend Kevin Siebke, who took me under their wings. They showed me the ropes at Fremont Canyon and even took me on my first big wall climbs in Utah. We were a great team because they carried the knowledge and gear I was lacking, and I was able to contribute youthful strength on the harder climbs. From these early days, I went on to buy the gym from Pat; running it for about 10 years. I began some of my early mountain guide training classes, which opened a lot of doors for my current rescue jobs, guiding, and has even helped contribute to certain aspects of my fire job.
Q: You are a firefighter for the City of Casper, an adjunct instructor in the Fire Science Technology and Continuing Education departments at Casper College where you teach everything from backcountry rescue to industry rescue, work for Exum Guides in Jackson as a guide, and also have your own climbing business. How are you able to do all of this?
A: My wife always says that I work hard to play hard. So, I find that firefighting for the city of Casper is the job that comes first in my life, but thankfully has a schedule that allows me to work my other jobs and have fun. I work 48 hours (two days) in a row as a firefighter to have 96 hours (four days) off. Usually, it's during these four days off that I can schedule my rescue jobs and also guide through Exum or my company, Peak Rescue. When I am pulled too thin, I have a few people that I trust, and I hire them to work with me or to help me. The guys on the fire department are also very supportive of each other, so if I need time off to work one of these jobs, I can usually trade days with another firefighter to meet the requirements of both jobs. Speaking of my wife, Kelly and I knew each other when we were kids, but then met again at Casper College through mutual friends and rock climbing. We were able to have a lot of fun experiences climbing together before our little boy, Marcus came into our lives three years ago, and we just welcomed a baby girl to our family!
Q: Tell me a little about your climbing throughout the world, what you consider the toughest mountain you have climbed, and if there is still a mountain you want to climb?
A: The climbing has varied in each location, sometimes climbing mountains, sometimes climbing mountains to ski them, and other times to just explore the local rock climbing that doesn't involve mountains necessarily. I always find that the toughest mountain is usually the one I build up in my head before I do it. Every mountain has its own challenges, whether it's the terrain, time of year, weather, or how I am approaching the route. For example, I've climbed the Grand Teton in the summer, and skied it mid-winter, and both were totally different experiences. I always have a list of mountains and bigger objectives I want to climb.
Q: Why was obtaining the International Federation of Mountain Guides Association status important to you? For the public, say someone considering hiring a mountain guide, why is it important that the guide has this status? How many years did it take you to finish the program and receive this status?
A: Obtaining the IFMGA pin was a goal I had set for myself because there are very few in the United States, and it meets the global guiding standards – there are no higher certifications, and this one is recognized around the globe. Once I embarked on it, as much as I wanted to quit at times, I had to finish it because it was a goal I couldn't abandon. To begin, I had to prepare for the courses/exams. The preparation included completing many different technical aspects of climbing, skiing, mountaineering, alpine, and glacier skills/rescue to fulfill the prerequisites for each course/exam. Depending on a person's successes completing the extensive prerequisites for each course/exam, you decide when it is time to test your abilities within each discipline of 15 different courses required through the American Mountain Guides Association. You have to take a minimum 15 courses from the AMGA and can take up to 22.
There are three aspects of the program: rock, alpine, and ski. If you pass all three, then you obtain your IFMGA status. They all start out with your independent preparation, a basic class, and then you move up into advanced classes and exams. You can take these exams all over the world from France to Canada. I traveled within the United States, and to Canada and Europe. Each class assesses you on your proficiency within many different disciplines including mountain sense, rescue, skills, etc. On average, it takes most people about eight years to finish the program. After each aspect of the program, you are required to have a list of skills/routes done before you can apply for the next aspect of the program. I started pursuing my IFMGA in 2013 and was doing three to four courses a year. This time of my life was extremely busy toggling between different time zones, keeping in top physical condition, and preparing for each exam. I had set this as a goal though and wanted to see it through as quickly as possible. I went through the IFMGA program with a really good friend of mine and fellow Exum guide, Zahan Billimoria. It was great to have someone to train with and go through the program with.
I have taken away many different perspectives from this guiding experience, and one of them is the importance of a guide. People often feel that hiring a guide is either too expensive or is something they don't need – they can do it themselves. But a guide is a huge asset when it comes to unknown terrain, trying to accomplish something slightly outside your independent comfort zone, or going to an unknown place. I have certain clients that call every time they want to climb or ski in a different area – and I consider them much more than "clients" but friends. These people are actually very accomplished skiers and climbers, but recognize the consequences of not having a guide in certain circumstances. Guides don't minimize the adventure; they just help to ensure you can explore and adventure more safely.
Q: Finally, since you set a record not too long ago, what is the Cirque Traverse in the Wind River Range of Wyoming, and do you still hold the record at 10 hrs. 15 min.?
A: The Cirque is a link of 11 summits and includes running from the parking lot, and back to the parking lot. I still hold the record as of right now, although I know a few people want to challenge it.
Subscribe
If you enjoyed this story, receive more just like it: