Johnson Named New Head Rodeo Coach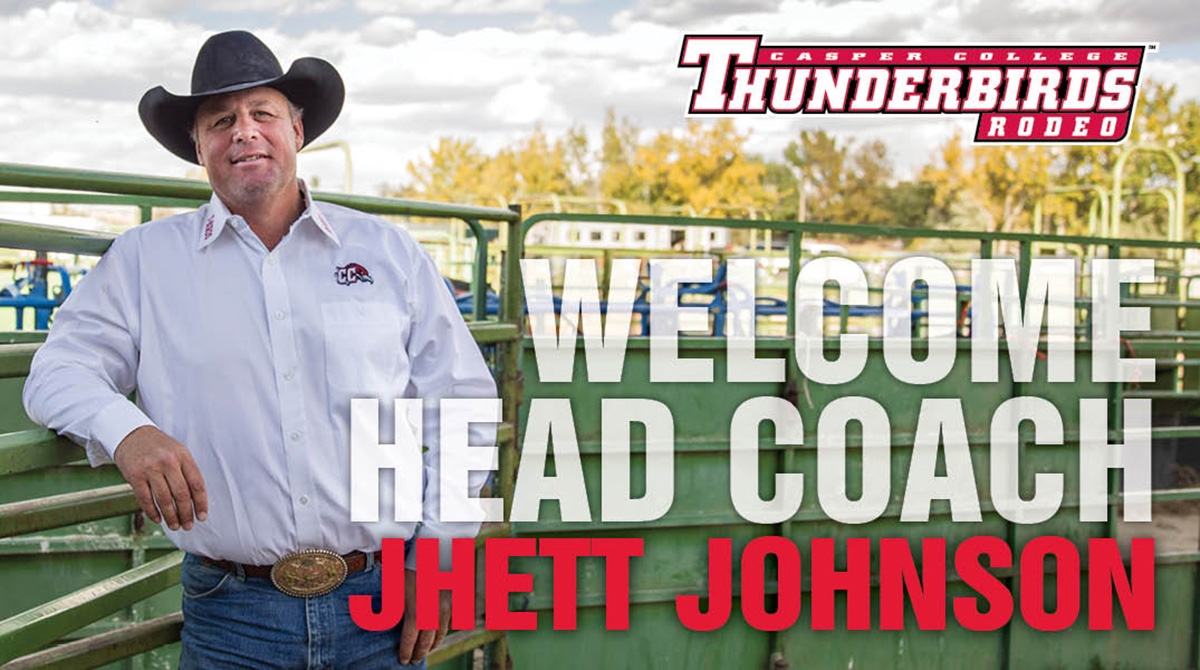 Jhett Johnson states simply that his objective as the new head rodeo coach at Casper College is "to have the number one rodeo program in the Central Rocky Mountain Region." Professionally, beyond becoming the head coach at Casper College, Johnson also wants to "provide opportunities for young people to enhance their ability to rodeo while getting an education."
Johnson, who had been the assistant rodeo coach under Tom Parker since August of 2012, took over as interim head coach in February of this year as Parker's health began to decline, (Parker eventually lost his battle with liver cancer on March 15, 2017).
Born on April 7, 1971, Johnson grew up on the family homestead in the Bates Creek area of Natrona County in Wyoming, approximately 30 miles outside of Casper. Johnson's family has a long history in the area, as his great-great-grandfather homesteaded the ranch in 1882, making Johnson and his older brother Justin sixth-generation ranchers on the family's 7,000-acre spread. "I grew up ranching and roping at brandings, and then started team roping in the arena at the age of 14," says Johnson.
Johnson graduated from Natrona County High School and then headed to Oklahoma Panhandle State University where he earned a bachelor's degree in psychology in 1994 because "people fascinate me." Johnson, who followed in his brother's footsteps, began competing in professional rodeo in 1992 and in 1993 he was team roping reserve champion at the College National Finals Rodeo.
In 1995 Johnson was diagnosed with testicular cancer and underwent surgeries that year and again in 1996. In 2006 he was declared cancer free. In June of 1996, Johnson married his wife Jenny, who teaches third grade in Casper. The couple has three sons, Kellan, Carson, and Kress. Just last year Kellan and Carson, following in their father's footsteps, finished second in team roping at the National High School Finals Rodeo in July.
Johnson, who is a million-dollar career earner in the Professional Rodeo Cowboys Association and a five-time National Finals Rodeo Qualifier, was the 2011 World Champion Team Roper along with Turtle Powell. When the team arrived in Las Vegas for the Wrangler National Finals Rodeo, they were at 12th place in the standings. According to the WNFR wrap-up report, "The pair placed in eight of the 10 rounds leap-frogging all the way to the top of the standings." Johnson ended 2011 with the championship and season winnings of $197,111.
The 6'4" 240 pound Johnson is an imposing figure in the arena, but the Casper College Rodeo team members have embraced him since he became Parker's assistant. For his 2016-2017 team biography, Johnson spoke of his mental toughness in the arena: "I'm very strong-minded, and I try to get the guys strong-minded. You have to be mentally strong."
Johnson continues to use that mental strength as a competitor as well, competing in about 10 to 12 rodeos a year. In 2015 Johnson was invited to join the new Elite Rodeo Athletes. According to the group, the ERA "is the greatest collection of rodeo world champions to compete in one arena in the history of rodeo." "It's kind of the next generation of rodeo, so I didn't want to pass up on the opportunity to do it. The ERA is going to be a spot where there's more money and less traveling," he says. The first season, the eight-rodeo event culminated in the 2016 World Championship in Dallas. On the final night of the championship, Johnson and his old partner Powell took the night's only under four second time with a 3.6, earning them gold ERA belt buckles and depriving the overall team roping champions of their potential three-night sweep.
In addition to his duties as head rodeo coach, Johnson will continue to work at his ranch, train horses, and coach Kellan and Carson.
Subscribe
If you enjoyed this story, receive more just like it: