Graphic Design Major Kline Submits Winning Logo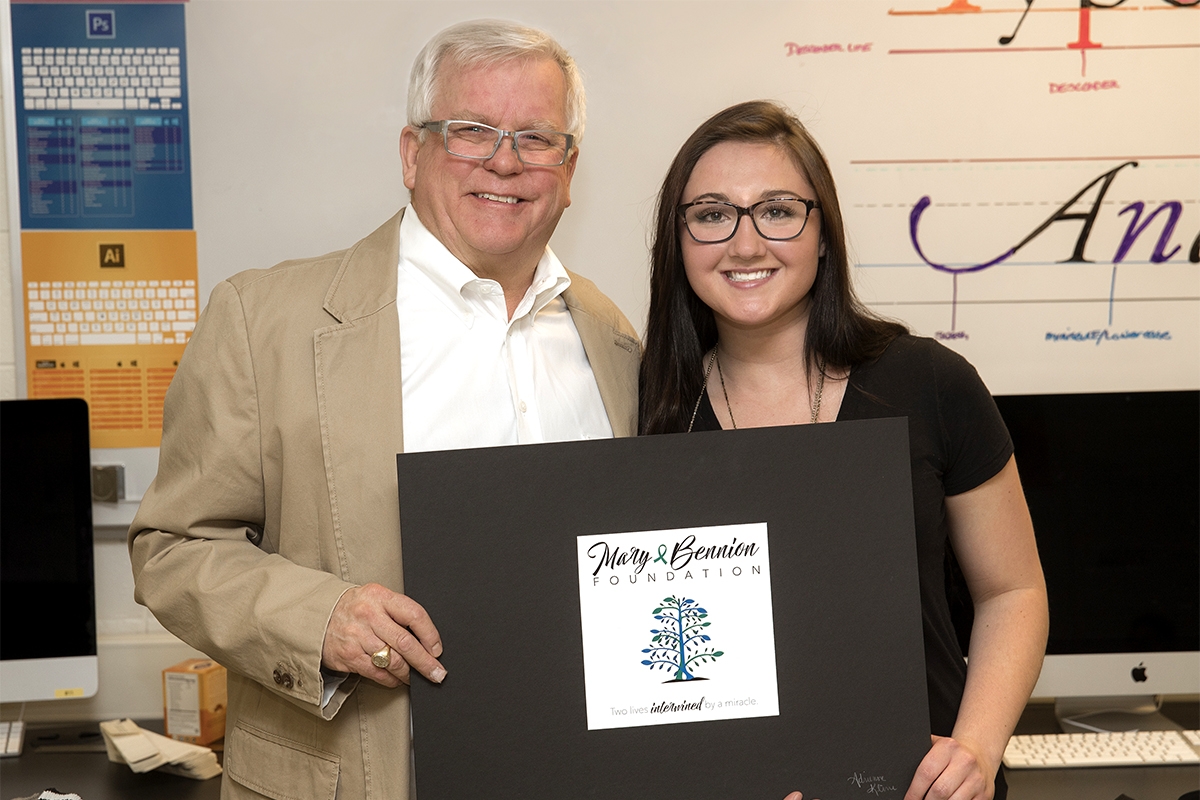 There was excitement in the air as Casper College graphic design students discovered whose design would be the official logo for The Mary Bennion Foundation. Dr. Scott Bennion had approached graphic design instructor Cynthia Harrison several months earlier with the idea to have Casper College students create a logo and a t-shirt design for the foundation.
On Monday, May 1 Bennion, foundation employee Cathy Green and sister-in-law Carrie Bennion, met with the class to announce the winner: Adrienne Kline. Kline's design consists of two trees, one green and one blue that have combined to form one with the slogan "Two lives intertwined by a miracle." "The winning logo is a wonderful representation of what the foundation stands for," said Scott Bennion, adding, "The students were eager to help and did a splendid job in developing logos and designs for the t-shirts."
According to the Mary Bennion Foundation's website, the nonprofit was established by Dr. Bennion "in 2001 to honor the memory of Mary Blanton-Bennion, daughter, wife, mother, sister, friend to many, and native Wyomingite who suffered from primary pulmonary hypertension." Mary Bennion "received a double lung transplant in August of 1994 in St. Louis, Missouri." The site goes on to explain that Mary's "transplant allowed her many extra, wonderful years," and that "Through their experiences with Mary, her family and friends understand the many concerns and emotions surrounding the organ transplant process."
According to Harrison, the experience proved invaluable for her students. "The Bennion Foundation was such a pleasure to work with and gave the students that extra drive to go above and beyond to please the client." Harrison noted that many nonprofit organizations like to work with graphic design classes and students at the college level. During the 2016-2017 school year, North Platte Walleye Unlimited had the Casper College's graphic design department work on their logo. The nonprofit chose the design work of Kes Adams. "This opportunity gave not only the class but Kes, real-world experience working with clients and boards on various changes," said Harrison.
For her efforts, Adrienne won a cash prize of $200. The other graphic design students who submitted a design each received $25 and are Benjamin Nicholas de Jongh, Casper; Bailey Gutierrez, Sundance, Wyoming; Nicole Smith, Casper; Kyle Hammond, Casper; Robert Weir, Menan, Idaho; and Ethan Potzernitz, Jackson, Wyoming.
T-shirts with the winning logo will soon be handed out at the Annual Mary Bennion Foundation 5k Run/Walk set to begin at 8 a.m. on Saturday, July 29 at Highland Park Community Church. "We invited the graphic design students to come to the event, and hopefully we will see a great turn-out," said Bennion. "The proceeds from the run will be used by the foundation to help transplant patients and their families with expenses associated with the transplant procedure," he added.
Subscribe
If you enjoyed this story, receive more just like it: