CC Forensics Team Places First in New Tournament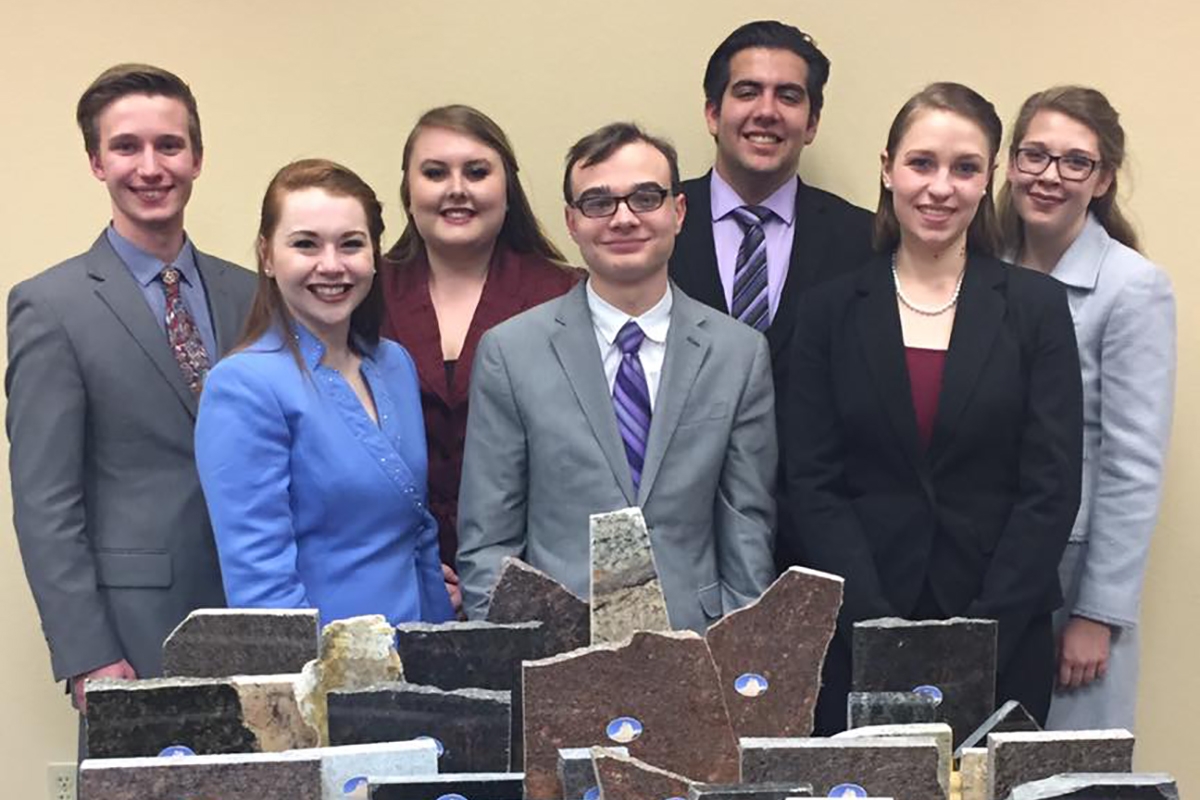 Members of the Casper College 2016-17 Forensics team. Pictured (l-r), back row: Lucas Davis, Elaney Elliott, Mark Caballero, and Mary Schroer. Pictured (l-r) front row: Scarlett Miller, Drew Stratton, and Katie Stock. (Casper College photo)
The Casper College Forensics team placed first in several events recently at the inaugural Monument Tournament hosted by Western Nebraska Community College and Eastern Wyoming College.
According to Jordan Johnson, assistant director of forensics, the tournament hosted International Public Debate Association (IPDA) debate and 11 individual events with two and four-year teams from Colorado, Nebraska, Wyoming, and South Dakota. The tournament consisted of two tournaments, including debate during the first tournament.
The team advanced four debaters to elimination rounds and comprised four of the five competitors in those rounds. Sophomores Scarlett Miller, Casper, Wyoming, and Lucas Davis, Loveland, Colorado, went undefeated during the IPDA tournament. Davis went on to win the top individual speaker award for both tournaments. "The students are focused on their path to nationals, and it's evident in their amazing finish at this tournament. We couldn't be more excited for their potential," said Doug Hall, director of forensics.
In part one of the tournament, which included IPDA, Casper College placed first overall and first in the community college division. In individual events, the team placed first in both overall and community college. Individually, Davis placed first in extemporaneous speaking, first in impromptu speaking, first in communications analysis, and sixth in prose interpretation. Miller placed third in extemporaneous speaking, third in impromptu speaking, and third in informative speaking.
Elaney Elliott, Casper, Wyoming, placed second in extemporaneous speaking, third in communication analysis, and fourth in impromptu speaking. Drew Stratton, Casper, Wyoming, took second in after-dinner speaking, fourth in dramatic interpretation, and fifth in prose interpretation. Mary Schroer, Casper, Wyoming, who placed second in persuasion, was the top novice speaker in the event, and also took third in dramatic interpretation, and third and top novice in poetry. Katie Stock, Douglas, Wyoming, took second in communication analysis and fifth in informative speaking.
Subscribe
If you enjoyed this story, receive more just like it: