A Tribute to Tom Parker, Casper College Rodeo Coach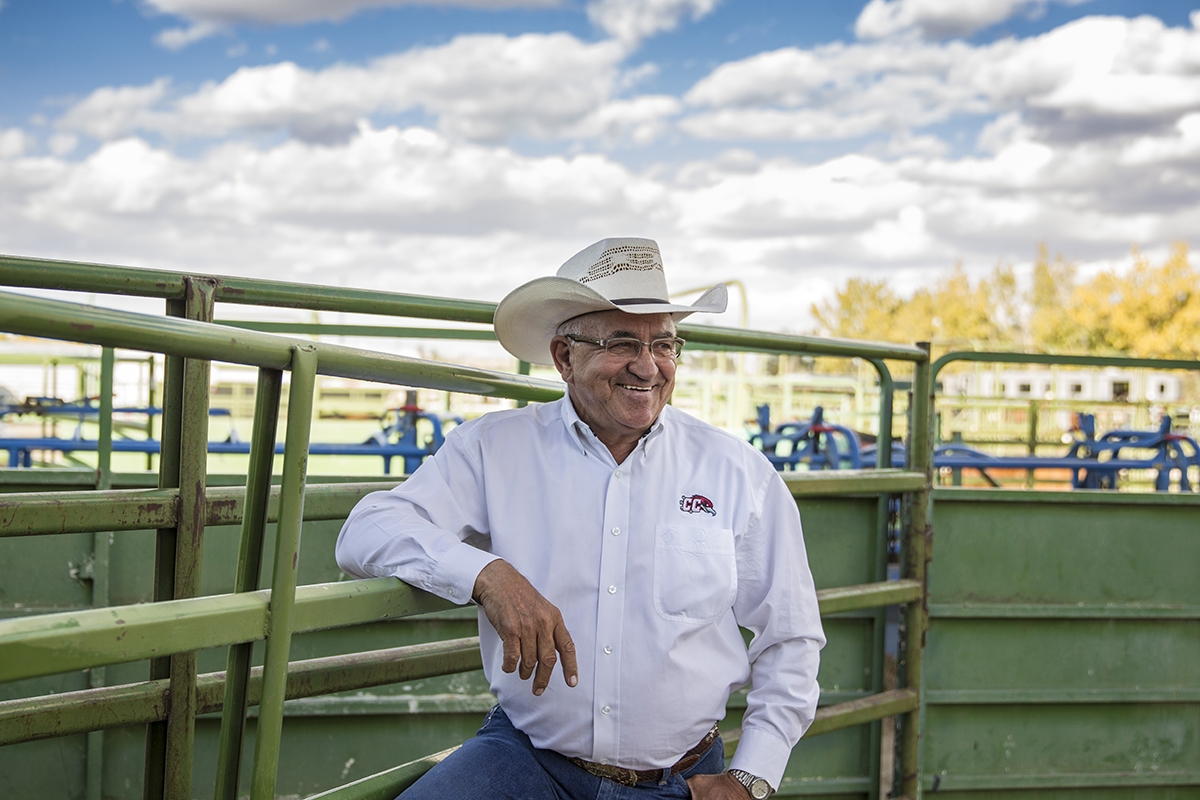 Tom Parker passed away Wednesday afternoon, March 15, and will be sorely missed by all who knew him. Tom spent his last 27 years coaching the rodeo team at Casper College and was a big part of our history and school pride.
Tom would probably chastise us for mourning him, so in an effort to celebrate his life, here's a story from last year's Ropin' & Riggin Days program. The photo is especially fitting as it captures Tom's personality, confidence and rock solid nature that we all appreciated so much.
The More Things Change the More They Stay the Same
The Casper College rodeo team has a history of winning. One huge contributor is none other than veteran coach, Tom Parker.
As he enters his 26th year coaching the Thunderbirds, he remembers the successes of the past while keeping an eye on the future of rodeo. One thing that has never changed, though, is his passion for seeing young people develop as competitors. "We've seen a lot of people improve this year," says Parker. He is most impressed as a coach seeing rodeo athletes blossom in college.
Ten years ago, one might have seen a huge number of roughstock riders on the coach's team. Though he still has an eye for impressive riders (including current members Dylan Wahlert, JW Meiers, and Drew Antone), he notes that a major change in his team in the last decade has been the rising number of timed event competitors. For good reason, too – his men's team has won the region three times in the past five years. "You can't win regional championships with just roughstock or with just timed event people. You've got to have a combination of both," says Parker.
Currently, the rodeo world is seeing a dropping number in roughstock riders. Coach Parker hopes to see an upswing of those numbers, due to organizations such as the Mini Bareback Riding Championship and the National Junior High Rodeo Association. For now, he'll take full advantage of a diverse population of timed event competitors on his team. To help him out, he's had 2011 World Champion Team Roper Jhett Johnson by his side for the last three years. Parker attributes the rising number of outstanding timed event athletes on his team to Jhett's presence. "Anytime you've got a world champion on your team; it improves everything."
This isn't the first time that Tom has had a world champion as his assistant. For several years, the World Champion Bareback Rider of 2004, Kelly Timberman, served his hometown college team.
The soil of Casper undoubtedly is home to outstanding world champions and outstanding coaches. It also draws an incredible crop of students to compete for Casper College. One such student is the bareback riding standout, Dylan Wahlert. He has dominated the event in the Central Rocky Mountain Region all year long. Wahlert concluded his fall at the top of the entire National Intercollegiate Rodeo Association. Parker is elated at his success and expresses that he has been one of the team's key players in the last two years. "Even though we had some really good bareback riders last year, he was right there with them,"
Parker says proudly. "This year he just picked up where he left off." Dylan was a large part of the men's regional title last year and is a huge contributor in the 2015-2016 season.
Though the men's team may have had a more modest start this year than previous ones, Parker has confidence in his boys' abilities. "It's just a matter of getting the job done. We're a little weaker than in years past, but we have the talent."
Tom Parker's team changes every year. It takes a flexible coach to deal with the ups and downs of rodeo. Nonetheless, he takes every new opportunity in stride. Some things never change…
Subscribe
If you enjoyed this story, receive more just like it: