Riding High: From Bates Hole to Houston on a Rodeo Scholarship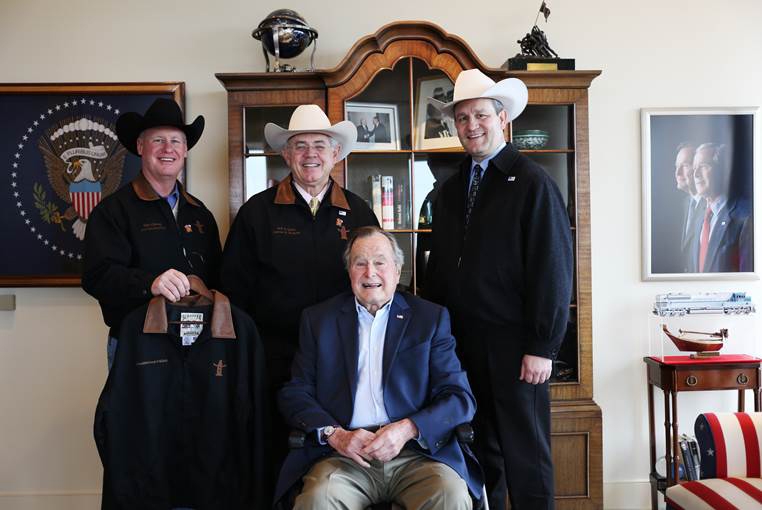 CC alum Dan Cheney with President George H.W. Bush.
"It was a pivotal moment in my life when I was offered a rodeo scholarship to Casper College," says Dan Cheney (AS, AAS, '87), vice-president and chief operating officer for the Houston Livestock Show and Rodeo.
The young steer wrestler had grown up on his family's cattle ranch "30 miles southwest of Casper in the community of Bates Hole," says the now older and wiser man. On his family's ranch Cheney was branding, calving, fencing, haying, raising market animals for 4-H and FFA, and doing anything else required on a ranch. "The animals I raised, showed and then sold were how I financed my first pickup truck," Cheney recalls.
During his senior year at Natrona County High School Cheney lived in town because there was no bus that came to the ranch. He wasn't a great student, he says, but that year he began competing in the National High School Rodeo Association rodeos. "My older brother Bob helped me out a lot with my steer wrestling, and between that, school and work, there wasn't time for anything else," he says.
He graduated in 1984 and his steer wrestling ability and grades were good enough for Dale Stiles, ag instructor and rodeo coach for Casper College, to offer him a scholarship for tuition and books at the school.
"My brother was a big influence in my decision to accept the scholarship and attend Casper College. Bob had been offered a scholarship to go to college, but he decided to be a rancher and take over the family ranch. He is one of the smartest people I know and he encouraged me to not pass up the chance that he had seven years earlier."
Had it not been for "the generosity of the Casper College rodeo program's scholarship offer," Cheney says, he would not have attended college. It was thanks to college that Cheney was able to take advantage of career opportunities that were afforded to him later in life. "Dale had a rough exterior and demeanor, but he was kind and really cared about the rodeo program and the student athletes. He always believed the athlete's education was the first and top priority. He told all of us that Casper College was an educational opportunity and not just a place to rodeo," says Cheney.
Stiles, the father of Casper College rodeo, was known as a tough coach and an even tougher instructor. "He was very encouraging, but he also demanded the best out of me and the others. Casper College was a great opportunity for me and I made the most of those opportunities," Cheney remembers. He stayed at the college for a total of three years and graduated in 1987 with two associate degrees: one in ag economics and the other in animal science technology, saying that he "took as many credits as I could that would transfer to the University of Wyoming."
In the fall of 1987 he started at UW, where he also was able to attend on a scholarship provided by the university's rodeo program. He completed his bachelor's in ag economics in 1989. It was during his senior year at the university that he was offered and accepted a job with Ciba-Geigy, now part of Novartis, a worldwide healthcare company. Cheney worked for the company for two years as a sales and marketing manager. "When I interviewed and was offered a job, I was told that it could be anywhere in the world. Instead, I ended up in Wyoming working a territory that included Wyoming, Nebraska and Colorado."
Along the way, Cheney was introduced through a mutual friend to ProRodeo Hall of Famer, steer wrestler Roy Duvall. Duvall became Cheney's mentor when he quit his job at Ciba-Geigy to hit the pro rodeo circuit. Cheney moved to Checotah, Oklahoma, and competed professionally from 1991-1993 and "made enough to keep going. Those were the best three years of my life; no boss, no cares, no bills, a different city all the time. That was the best, to do something I loved with a bunch of great guys."
Despite his love for the sport, Cheney found that marriage and being away nine months out of the year didn't mix and so he went to work for the Greater Baton Rouge, Louisiana, Parks and Recreation Department where he managed three equestrian centers. "I was 26 when I took that job, and it was my first job in a leadership role," Cheney notes. Thanks to his success and experience in that role the mayor of Shelby County, Tennessee, contacted him about an opening at the Shelby Farms Showplace Arena in Memphis. He applied and shortly thereafter was appointed by the mayor as the executive director and general manager of the arena. With the election of a new mayor seven years later Cheney's appointment was rescinded.
During this time Cheney decided to go to graduate school to earn his MBA degree, which he received in 2003 from the University of Memphis. "I graduated with a 3.89 grade point average and financed my education totally myself and had it paid off completely in 16 months." Cheney says his time at UM was "a great experience" and that thanks to the "great schools in Wyoming" he was able to successfully attend classes with "a lot of very accomplished peers."
Opportunity continued to present itself to Cheney when he was introduced to the owner of several western lifestyle companies. The year and a half he spent working in the western lifestyle field afforded him more valuable work experience. In 2008 he left and headed to Florida to start his own business and to pursue one of his passions, scuba diving. For someone who grew up on the high and dry plains of Wyoming, scuba diving may seem like an odd passion, but as Cheney puts it, "Everybody likes what they don't have. Like ranching, scuba diving allows me to interact with nature and enjoy a lot of solitude, no one can bother you."
Cheney's business, Forbes Capital Business Group, did well and he enjoyed the Florida lifestyle, but in 2010 Cheyenne Frontier Days called with an opportunity for him to become the president and chief executive officer of the largest outdoor rodeo in the world. He accepted and spent the next 14 months spending alternating weeks in Florida and Cheyenne. He eventually sold his company in Florida to the employees and gave "one-hundred percent of my time to Frontier Days."
His contract with Cheyenne Frontier Days was up for renewal at the end of 2014 when he was contacted by the Houston Livestock Show and Rodeo and offered the job of vice president and chief operating officer. He accepted and began his new job on October 1, 2014. Cheney was no stranger to Houston, having spent the prior four and a half years developing a partnership between Cheyenne Frontier Days and the Houston Livestock Show and Rodeo. Still, it was a big move for Cheney as he went from a business with an annual operating revenue of approximately $13 million a year and reliance on 2300 volunteers to one with an operating revenue of approximately $130 million a year and reliance on some 32,000 volunteers. "At either venue, without those volunteers we couldn't put on a show," he notes.
At Houston, Cheney still works at signing top-name entertainment acts, just as he did in Cheyenne, with the scope of the process notched up just a bit: This year the rodeo in Cheyenne will feature 10 days of rodeo and seven nights of concerts while the rodeo in Houston will feature 20 days of rodeo, 20 nights of concerts and the world's largest livestock show over 20 days. In addition, the Houston Livestock Show and Rodeo supports a large number of Texas youth with scholarships, something near and dear to Cheney, which he alluded to when he commented on his appointment in August of 2014: "I have a strong connection with the mission, as I was raised on a commercial cattle ranch and received a scholarship to attend college as a rodeo athlete. Promoting education and Western culture is my heritage," he said at the time.
According to Cheney the Houston Livestock Show and Rodeo have contributed more than $400 million to the youth of Texas since 1932; in 2016 the show has committed $26 million to the youth of Texas providing over 750 college scholarships to Texas high school seniors. "Casper College believed in me and gave me a chance at an education and now I can be a part of that same tradition, providing that same opportunity and helping a lot of kids, it helps me feel like I am giving back," Cheney says.
This story originally appeared in the Spring 2016 issue of Footprints.
Subscribe
If you enjoyed this story, receive more just like it: