A Passion for Casper College: A President's Story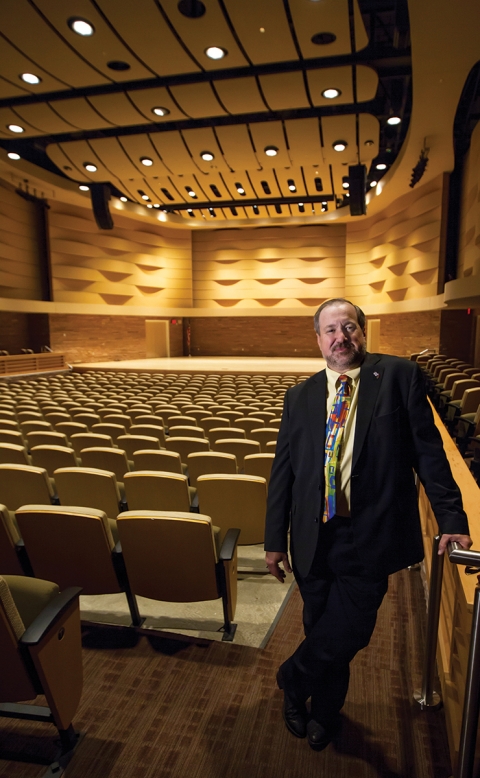 Dr. Darren Divine looks perfectly at home as he sits at the large meeting table in the president's office at Casper College.
He has populated the office with the artwork of his favorite artist, Fred Cleveland, and on a small table a carefully jumbled stack of coffee table-sized books on wildlife await his next visitor. At the meeting table two desktop Zen garden boxes sit next to each other. But these are not your ordinary Zen garden boxes. Instead they are filled with miniature construction vehicles: bulldozer, excavator, skid steer loader, and others. Divine created both Zen garden boxes not only for his entertainment but also for others who gather at the table.
The former Vice President of Academic Affairs at the College of Southern Nevada in Las Vegas, Divine took over as President of Casper College on July 1, 2015. With more than 18 years of working in higher education, Divine is the sixth president in the college's history. A career in academia, however, was not originally on Divine's radar. "I had planned to primarily study desert big horn sheep by the time I received my doctorate," he says.
Divine's path to that career choice started at the University of New Mexico where he earned a Bachelor of Science degree in Biology. From there, Divine went to New Mexico State University where he earned a Master of Science degree in Wildlife Science. He finished his career as a student at the University of Nevada-Las Vegas (UNLV) where he earned his doctorate. At the time, the biological science major belonged to The Wildlife Society Desert Bighorn Council and wrote his dissertation on "Habitat Patch Dynamics of Desert Bighorn Sheep Ovis Canadensis Nelsoni in the Eastern Mojave Desert." He was fully into the life of a wildlife scientist, or so he thought.
The career choice started to change when he happened to take a job as a lecturer at UNLV while working on his doctorate. Shortly after he received his doctorate and while still a lecturer, Divine also became a visiting assistant professor at UNLV. It didn't take long for him to realize that he really liked working in higher education, so much so that he applied for and was hired as a full-time biology instructor at the College of Southern Nevada (CSN), a community college located in Las Vegas.
"I just loved, and still do, that look people get on their face and their reaction when they learn something new. Discovery is recognizing something you didn't know existed. And that sums it up for me and my move to a career in education, that fascination when people discover something new, hooked me from the beginning," Divine says.
But there is a slight jump from faculty to administration and Divine had that experience when he became the faculty senate chair with "probably 400 faculty members that I represented." In that role, Divine was the intermediary between the administration and the faculty. He learned that there were some important similarities between teaching and administrating: "It's all about communication and the way things are framed and timed. It helps students learn the concept and, I found, it is much the same between faculty and administration, passing information, helping communicate ideas, decisions, and outcomes. I found teaching and administration to be on a very similar side of the coin."
Within about four years Divine received his tenure in the biology department at CSN, and just two years later he became the chair of the biological science department while still teaching at a reduced load. With his role as department chair Divine realized that his true course in education would be in administration and a year later he was named as the associate vice president of academic affairs at the school. A year later he was named the interim vice president of academic affairs and eventually became the vice president of academic affairs, a position that he held for a little over five years before being tapped as the new president of Casper College.
Susan Miller, Casper College Board of trustee member and chair of the presidential search committee, echoed the sentiments of the other board members saying, "Casper College is very fortunate to find such a qualified candidate as Dr. Divine. He has a passion for education and for the success of each and every student. He knows maintaining a superior college is an important element of a successful and vibrant community, and his broad experience as an administrator bodes well for his success at Casper College."
Indeed, Divine does have a passion for education and students and says that administrators, faculty and staff need to remind themselves "at the beginning and end of each day that everything we do is for students." And "everything" includes not only personal interactions but also the idea of maintaining and even increasing the quality of the product that each and every student received. "Everything we do is to support student success and is the genesis of why we are here, beginning and end," he notes, adding, "more than ever I am enamored with community colleges." 
Referring to himself as "a university kid" Divine never really knew what community colleges were all about until he began teaching in one. It was during the 2000-2001 school year that he found himself in a resource allocations meeting, and got a lesson on one of the big differences between community colleges and universities. "I wasn't sold on the idea of increasing the allocation of the automotive program and the director of the automotive program looked at me and said, 'You realize that in my program (service writer) students will have a job, most likely before they graduate starting at $40,000 a year?'" That comment not only stunned the relatively new community college instructor, but also opened his eyes "to a facet of education that I was not aware of: the different variances of opportunities that we (community colleges) can provide to students."
For now, Divine has one major goal: enrollment management. As part of that goal, Divine wants what he calls "a clear pathway" created that will help in the development of an enrollment management program that is not only strong but will also help all students, no matter what their goal is, to be able to complete that goal. And that, according to Divine goes from one end of the spectrum to the other; from a student seeking a degree to one just taking a class for personal enrichment. "Enrollment management should be about us knowing and managing not only the intake but the flow and outtake. This college needs to be able to make predictable assumptions about where enrollment is and should be," he says.
Another of Divine's goals, the creation of a strategic plan, during his first year at the helm, is nearly complete. For Divine, his strategic plan will consist of team building and the creation of a vision that both employees and the community support. "Where do the community and employees want the college to go in the next five years and beyond? As the community grows and changes flavors, we need to make sure that we are supporting those needs," he says. This ties in nicely with Divine's other goals as president of Casper College, which include helping the school to "achieve what it wants to become, continue to evolve to best meet the needs of students," removing obstacles and adding "copious amounts of support for those out their serving our students." Divine almost sounds like a parent when he says, "I want to help the college achieve what it wants to become." In doing that, he also realizes that the path to achieving that goal and all the other goals will consist of not one but many changes because, as he says, "there will always be new targets" and the need to continually change and adapt "is a really important concept."
Now that they have been in the community for nearly a year, both Divine and his wife are happy with their new community: "Terry and I just absolutely fell in love with it here. It is an extremely comfortable community and people have been very welcoming and extremely kind. Casper is a place that is very easy for us to call home," he says. It is also a place where the two avid ATV drivers can hit the trails for fun and relaxation and where Divine can practice his marksmanship and hunt.
In talking to the president, it's apparent that Divine appreciates the symbiotic relationship between the college and the community. "Casper College supports the community and the community overwhelmingly supports the college." He pauses for a brief moment and then says, "Now here is my 'squishy' answer to the goals question, but one that I feel is just as important as the others. I want to be comfortable in understanding the specific culture and relationship between this college and the community, that I am comfortable knowing the background and understanding the nuances. Success (for me) will be that the learning curve has flattened out," adding, "There will always be a learning curve and there better be until I take my last breath."
This story originally appeared in the Summer 2016 issue of Casper College Magazine.
Subscribe
If you enjoyed this story, receive more just like it: