Five Questions: From Grad to Director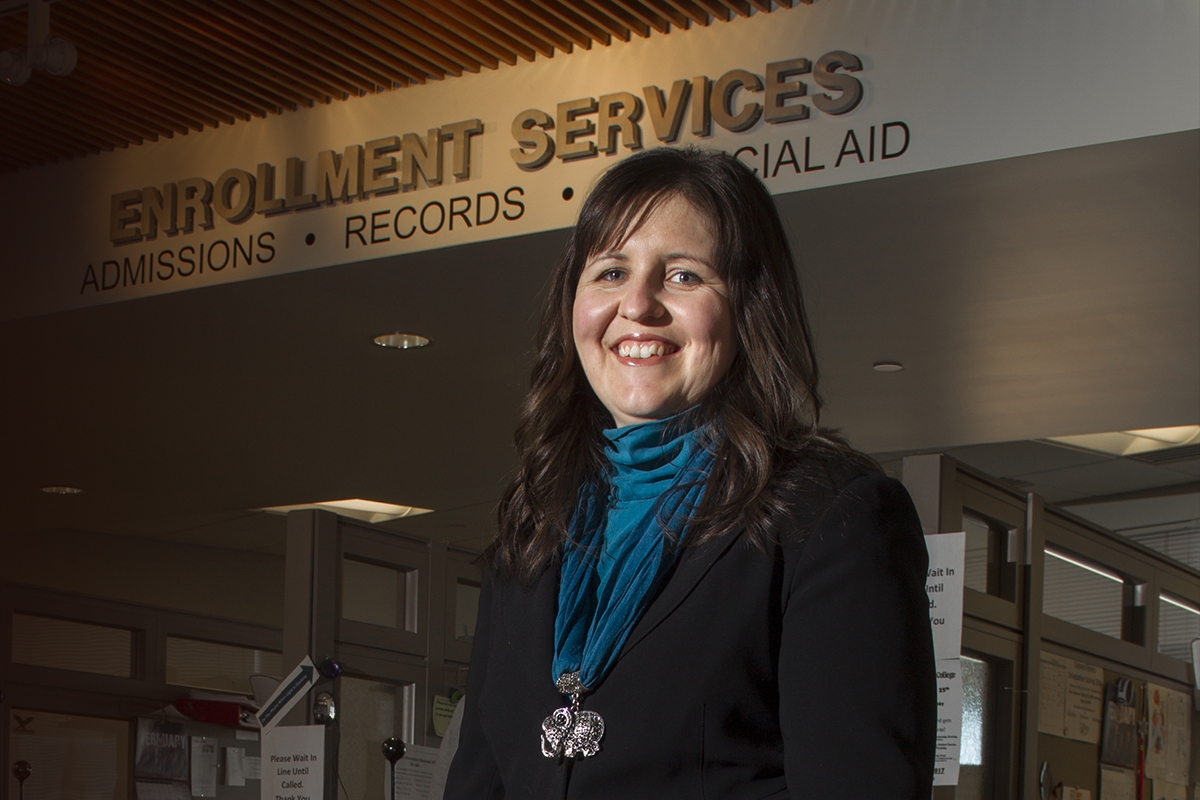 Kyla Cochran Foltz ('02) attended Casper College, graduating with an A.S. degree in secondary education. During that time she was a work-study student in the office of college relations, now public relations. She studied at the University of Wyoming/Casper College Center, now the University of Wyoming at Casper. From there she headed to the University of Wyoming where she graduated with her B.S. degree in secondary education. That same year she married her high school sweetheart Casey Foltz (AAS,'03) who was already employed in Casper. Moving back to Casper she secured a job at the college as a recruiter. Ten years later she is now the director of admissions.
Question: Why did you choose to attend Casper College?
Answer: I originally considered CC because of its reputation in the ag community. If you wanted to judge livestock and be competitive you came to CC. I applied for scholarships and received the Honors Scholarship the Casper College FFA Scholarship, and the Alumni Association Outstanding Student Scholarship. In the end, I had more scholarship dollars offered to me from Casper College, so this is where I came to school.
Q:  With a degree in secondary education you must have had aspirations for a career other then your current one, true?
A: Well, no one goes to college to become the director of admissions at a college; that is definitely an unknown career path. Actually I wanted to be an ag instructor at the high school level, and had wanted that since I was in elementary school. I wanted to have an impact on student's lives and be an instructor who mentored students. With my husband's career in Casper I was somewhat site bound, so I took the job as admissions rep thinking that it would be easy to sell the institution that I believed in.
Q:  So, how is it to work at your alma mater?
A: Someone once said that a good director believes in the institution they work for, has a zeal for education and enjoys meeting new people. Well, I believe in Casper College, I have a zeal for education, I love to learn, and I enjoy meeting new people, which makes it easy for me to come to work here.
Q: Do you have some funny stories to share from your days as an admissions representative?
A: Doing classroom presentations as a rep is the ultimate test of extemporaneous speaking. One time in a classroom I had a student who was trying to be funny, but very seriously asked me if he could go to school to become a sex therapist. In another school I had a student who told me that he didn't need to go to college because he already worked as a s**t sucker, pumping out septic tanks.
Q: When you aren't working, what are you doing for fun?
A: Well, I like to take classes and learn new things, take care of my 11-month-old son, Cody, help my husband with his hobbies and projects and work with my schnoodle, Buddy. I also garden, sew, and can still fix fence at my parent's ranch should the need arise!
This story originally appeared in the Spring 2016 issue of Footprints.
Subscribe
If you enjoyed this story, receive more just like it: