By: Mary Kubichek, Paralegal Instructor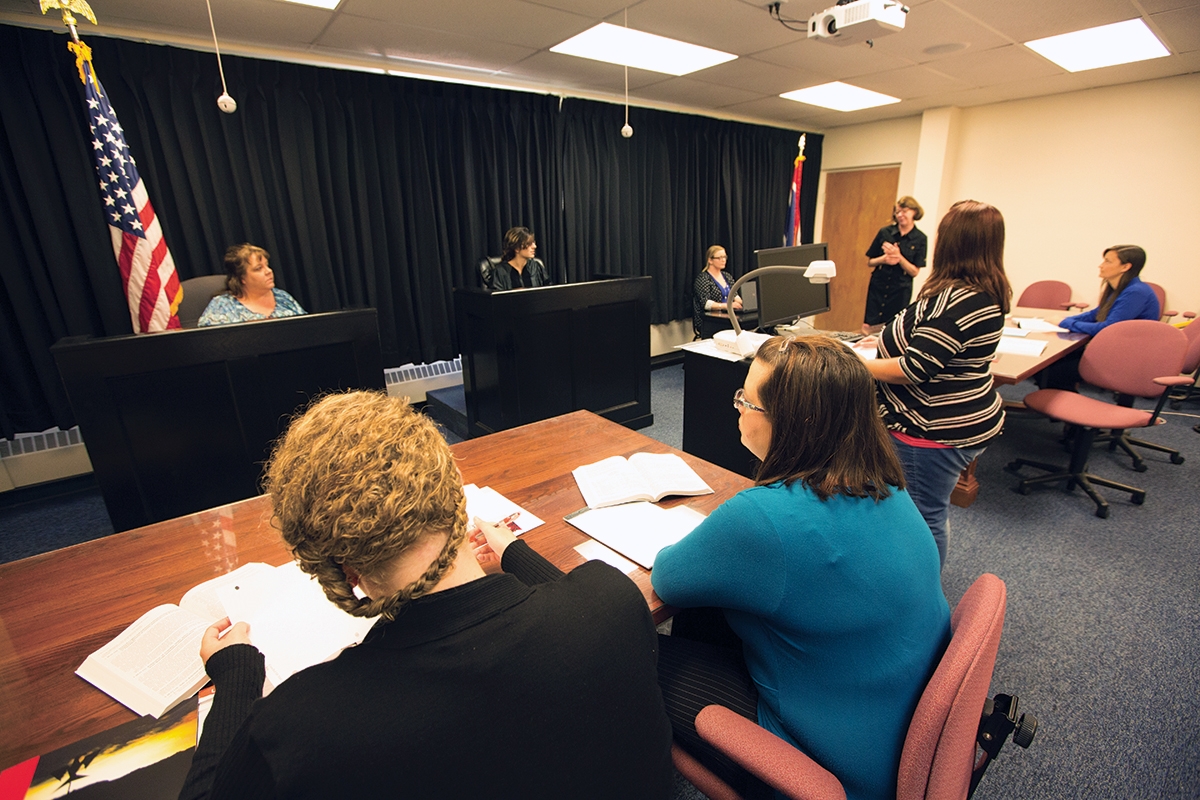 Casper College's new courtroom offers students a chance to build on their legal skills.
As the judge enters the room, all rise. The gavel is struck, and court is in session. Soon, the plaintiff's and defendant's attorney present their openings. The plaintiff's attorney asks her first question of the witness as the jury of 12 look on. Twenty minutes later, the defendant's attorney makes his first objection and arguments are offered. A casual observer might think she is sitting in the county courthouse in the heart of town. The truth, however, is she's watching from Casper College.
Our mock courtroom opened this year for students in the paralegal program. Designed to look as real as possible, the setting gives my paralegal students a feel for where they might work after graduation. In helping to design this new room, my goal was to offer students a visual learning experience and a sense of how intimidating a courtroom can be.
We offer an associate of arts degree in Casper College's Paralegal Program that prepares my students for transfer to bachelor programs. We also offer a post bachelor's Legal Assistant Certificate. The coursework builds legal research skills, fact investigation skills, and computer assisted legal research skills. Other courses teach students how to digest depositions, organize case files, and draft discovery documents, wills, contracts, corporation forms, and family law documents.
The new mock courtroom greatly assists with that learning. In the last 10 years, more than 50 studies conducted in public schools and colleges have shown an improvement in student understanding when hands-on learning techniques are used. The use of mock trials in a courtroom will increase each students creative, problem-solving and public speaking skills.
The courtroom is open to other Casper College students as well. For instance, we have worked with our respiratory therapy and paramedic technology students during the last two semesters to help build their charting skills. We also host our mock trial each spring with 30 fifth grade students from St. Anthony's School.
If you'd like to see the courtroom or learn more about our paralegal program, please contact me at 307-268-2618, 800-442-2963, ext. 2618 or email me at kubichek@caspercollege.edu.
This story originally appeared in the Summer 2016 issue of Casper College Magazine.
Subscribe
If you enjoyed this story, receive more just like it: