2019 Spring President's Honor Roll at Casper College Announced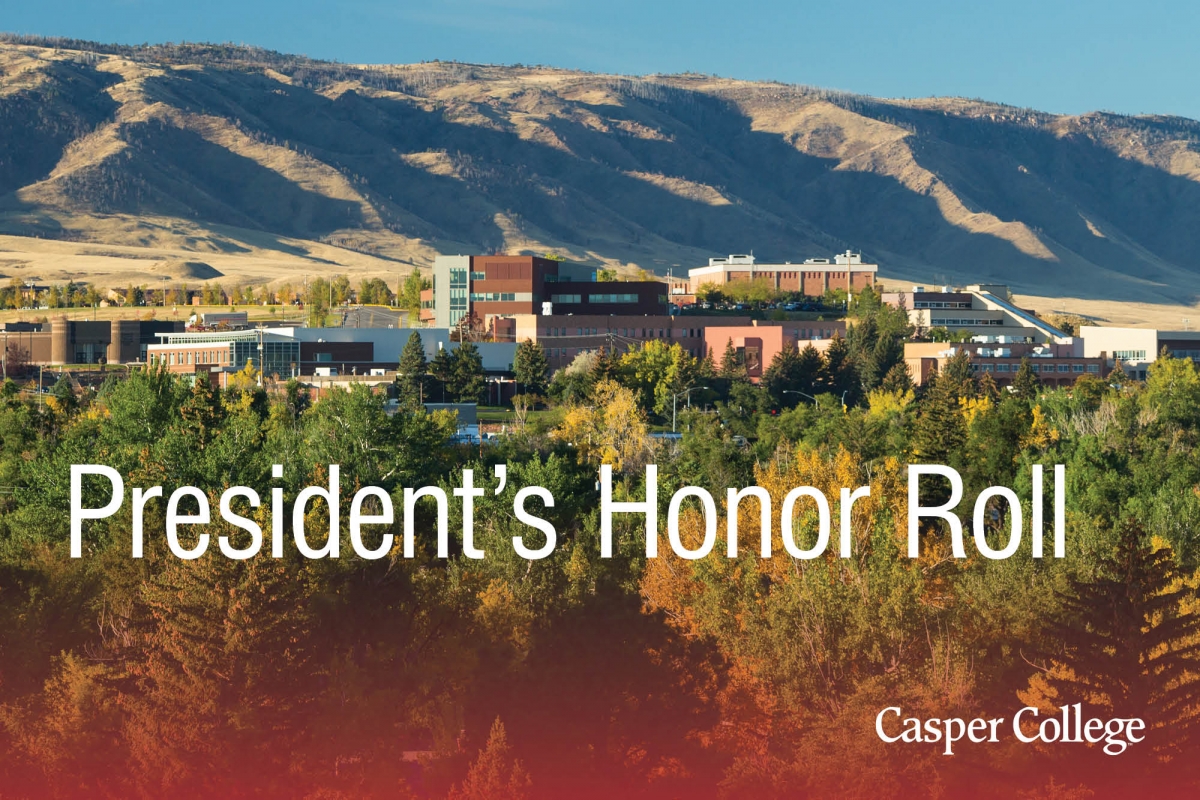 Casper College officials have released the names of the 422 students who made the President's Honor Roll at Casper College for the 2019 spring semester. To qualify, a student must take at least 12 hours and receive a GPA of 3.5 or better. They are:
International
From Barcelona, Spain: Nerea Baena Criado.
From Christchurch, New Zealand: Tasmyn Fahey.
From Brno, Czech Republic: Lucie Hoskova.
From Torun, Poland: Julia Kucko.
From Moose Jaw, Canada: Milo Laycraft.
From Oslo, Norway: Selma Saetre.
From: Bradford, West Yorkshire, England: Zion Tordoff.
United States
From Arizona: Emma Rogers, Flagstaff.
From Colorado: Bethany Casali, Aurora; Claire Hamilton, Broomfield; Vivica Stewart, Colorado Springs; Stratton Wotowey, Fort Collins; Megan Humphreys, Holyoke; Kyle Morgan, Loveland; Emilia Albright, Montrose; and Hallie Myhre, Steamboat Springs.
From Iowa: William McIntosh, Onawa.
From Idaho: Whitney Waddell, Driggs; Samuel McFarland, Homedale; Jaxson McPherson, Paris; and Kimberly Berg, Shelley.
From Maine: Abigail Joyce, Stonington.
From Montana: Jess Moody, Big Timber; Ashlley Nelson, Billings; Danielle Raya, Bozeman; Kennedy Tooke, Ekalaka; and Kailey Lambert and Blaize Wegner, Great Falls.
From Nebraska; Latisha Gardner, Atkinson; Emily Knust, Burwell; Amanda Dinneen, Exeter, Cindy Mansfield, Harrison; and Racheal Davis, Lewellen.
From North Dakota: Andrew Alfstad, Fargo.
From South Dakota: Tessa Kauffman, Belle Fourche; Natalie Leisinger, Highmore; Allison Goodpaster, Hill City; Bailey Johnson, Rapid City; and Alicia Pritchard and Grace Rhoden Spearfish.
From Texas: Wyatt Corson-Clostio, Hondo and Ana Rangel, Socorro.
From Virginia: Cole Reeves, Churchville and Michael Twiford, Falls Church.
From Washington: Lucas Mauro, Seattle.
Wyoming
From Alcova: Dustin Smart.
From Baggs: Trenton Jeannerett, and Addie Stanley.
From Bar Nunn: Kristen Cooper, Jared Daniels, Erin Ferebee, Mariah Hartgrave, Samantha Hermel, Bridgit Hort, Kaycee Hurless, Justin Keller, Caitlin Mann, Tondra Plunkett, Adam Ratcliff, Joshua Robinett, Gloria Whajah.
From Basin: Michael Gesch and Tayla-Jean Stevens.
From Bedford: Judah Hardesty.
From Buffalo: Cadence Johnson, Cole Reiner, and Taylor Rives.
From Casper: Phillip Accardo, Francesca Allen, Karmen Allen, Bailey Anderson, Cayley Anderson, Kaysia Armijo, Anthony Ashley, Clayton Atkinson, Wyatt Atkinson, Tatianna Baldwin, Holly Banister, Carolee Bates, Jeralyn Baysinger, Breanna Beagles, Michelle Belt, Austin Belveal, Nalani Bennett, Joleen Benson, Zachary Beran, Taylor Berg, Brittany Bertagnole, Sondra Billman, Cole Bina, Nicole Borden, Dia Boutte, Riley Box, Chance Brauburger, Mickaela Brent, Nathan Bristow, Katelyn Broome, Emma Brummer, Lydia Buckingham, Joshua Burd, Miranda Caldwell, Clayton Calkins, Gina Cameron, Caleb Cash, Connor Catus, Caitlinne Chenoweth, Kristen Cheser, Virginia Christensen, Sierra Clark, Aaron Clifford, Olivia Cole, David Coleman, Levi Connell, Jolene Conner, Eric Conyers, Sasha Cook, Taylor Cool, Leron Corson, Meghan Cruickshank, Chloe D'Arcy, Katie Daigle, Anthony Deflavis, William Defuentes, Laura Delano, Cassidy Delozier, Ashlyn Devore, Felicia Dickerson, Melissa Dimas, Carter Dunn, Joaquin Durgin, Kassandra Dutro, Madeline Eathorne, Nicole Eckhart, Dakota Edmondson, Caitlyn Edwards, Jerald Elsberry, Ericka Elton, Zacharie Engberg, Isaiah Findley, Amanda Flanagan, Sheila Foley, Matthew Frias, Franklin Froehlich, Amanda Funderburk, Trisha Gail, Veronica Garcia, Alan Gardner, Justin Garriott, Benjamin Garvin, James Gerhart, Marquel Gibson, Ashley Gilstrap, Manuel Gonzalez, Jarred Grant, Tiana Griffith, Lisa Gunyan, Grady Haeffelin, Cody Hall, Kaylee Hanisch, Kyllie Harris, Molly Harshman, Madison Hartnett, Brandon Haverlock, Melanie Heard, Rebecca Hebert, Alannah Hendricks, Shea Hensley, Texi Herrick, Jacob Heyer, Kyle Hickman, Abbigail Hinkle, Cynthia Hlavka, Brittany Hoffman, Skylar Holmquist, Marcus Holscher, Annicka Hoover, Hunter Hout, Denise Hull, Rachel Hutchison, Megan Jackson, Harley Jackson, Grace Jaques, Shannon Jarrard, Claire Johnson, Sean Johnson, Maddox Johnson, Nancy Johnson, Micah Jones, Maggie Justinak, Cory Keating, Jessica Keith, MacKenzie Kern, Brenda Koehn, Elizabeth Kuhnel, Michael Kyte, Bailey Lacey, Michaela Lambert, Kristen Lambsdown, Paige Lane, Leslie Leclair, Kassandra Lesco, Marcel Loya, Ashley Lundblade, Kathleen Lutnes, Samuel Mabey, Lindsey Maestas, Kylee Magee, Maddison Mahlum, Elizabeth Malone, Hannah Malson, Savannah Masters, Madison Mayhew, Steven Mayo, Malia McCarthy, Amanda McClain, Eric McClay, Morryah McCurdy, Katie McGlade, Madison McLimore, Sierra McOmie, Ethan Mesecher, Seth Meyer, Ethan Miller, Megan Miller, Alexandra Mills, Angela Mock, Maxwell Moore, Sierra Moser, Kierra Muehler, Limpo Mukelabai, Cassandra Munoz, Mischa Music, Natalie Neuenschwander, Vanessa Newman, Katie Noomen, Richard Orndorff, William Owens, Mark Owens, Seth Ozaki, Charity Palmer, Lucas Patton, Brayden Peak, Grace Peterson, Bailee Peterson, Ernesto Piedra Jara, Devin Pike, Shauna Plunkett, Lauren Podjun, Kendall Pollat, Michael Pongah, Jennifer Prisbrey, Daisy Quesada, Natalie Rasmussen, Traci Raymer, Keith Reau, Wade Reau, Tristan Redding, Melissa Reilly, Haley Rhyan, Wesley Rice, Katie Richards, Aurelius Rizzi, Mattie Robinson, Kaelan Rodriguez, Tanaya Rohrer, Richard Rose, Ryan Roth, Kirsten Roussel, Anthony Rush, Ingelin Saestad, Chloe Sale, Jennifer Sanchez, Jesse Sanchez, Sarah Saulsbury, Bryanna Schiller, Robert Schlautmann, Robert Schmitt, Rebekah Sechrist, Hezekiah Sexson, Emma Shutts, Amanda Sisco, Haleigh Skiles, Joel Sorensen, Luke Sorenson, Jack Spillers, Vanessa Stakes, Dana Starken, Clarissa Stephenson, Emily Stewart, Mark Stokes, Zachary Taylor, Jacob Thompson, Cassandra Tippit, Rebecca Travers, Kylie Trembath, James Turman, Lauren Tyson, Andrew Underwood, Thao Vang, Paige Vanhouten, Vincent Vanvugt, Michaela Wallace, Heather Walock, Kevin Walsh, Kylie Watson, Andrew Wayland, John Webb, Benjamin Wilder, Holly Wilhelm, Savannah Wilkinson, Brian Williams, Benjamin Williams, D'Maerik Wilson, Payton Wirtz, Ronald Yanaga, Diana Yanez, Christian Yeager, Jinyu Yin, Traer Young, and Katlynn Zimmerman.
From Cheyenne: Molly Burns, Abigail Byrd, Jodi Flath, Aspynn Gholson, Sheena Joelson, and Aaron Kersh.
From Cody: Katrina Shiveley.
From Cowley: Kelly Baugus.
From Douglas: Kendra Hinckley and Nathan Romberg.
From Dubois: Autumn Cummings.
From Evansville: Lee Banks, Matthew Bare, Kaitlyn Birkle, Amila Brown, Bryce Carter, J Jacobsen, Debborah Martinez, Emmanuel N'tula, Bryan Noel, Angella Perry, Corrie Petersen, Cari Pruismann, and Janet Tucker.
From Fairview: Sadie Smith.
From Gillette: Emerald Clark, Wyatt Geis, Laci Parish, Alexis Saucedo, Paxton Smith, Wyatt Tarver, Makayla Tucker, and Delaney Werbelow.
From Glenrock: Corbin Blanton, Dalton Davies, Colton Davis, James Eisele, Christina Maas, Lori Palmer, and Piper Steinmetz.
From Greybull: Wendy Araiza.
From Hudson: Ryann Koivupalo.
From Hulett: Austin Butler and Wade Monnens.
From Jackson: Kevin Espinoza.
From Kaycee: Ian McGivney and Kiley Shepperson.
From Kemmerer: Aubree Burris.
From Lander: Allie Bone, Logann Cooper, Kiley McConnell, and Flint Pokomy.
From Laramie: Colleen Ricci and Tanner Wright.
From Lusk: Joseph Barcus, Dylan Miller, and Monte Wade.
From Meeteetse: Owen Burbank, and Jamey Olson.
From Midwest: Coulter Anderson.
From Mills: Kasidi Bumgardner, Sarah Crook, Taylor Hatcher, Kari Hayes, Amber Johnson, Morgan Lipes, Emily Newman, Libby Palmer, Amanda Rhodes, Kapri Scoffield, Kenneth Vroman, Charles Wilson, and Chantel Wright.
From Moorcroft: Miami Leeper.
From Newcastle: Huldah Weeg.
From Powell: Sadie Hogan, Katelyn Lang, and Mariah Lang.
From Rawlins: Shae Belford Lexie Michel, and Madeline Mika.
From Riverton: Aubrey Ducharme Brown, Jackson Hiatt, Emma Mumme, and Connor Wilkinson.
From Rock Springs: Larissa Olsen.
From Sheridan: Kathryn Knabenshue and Kenneth Thomson.
From Ten Sleep: Aften Peterson.
From Thermopolis; Sierra Harvey, Daniel Leonhardt, Jared Little, Lauren Reed, and Mary Ryan.
From Upton: George Bondora.
From Wheatland: Rebecca Sowers, and Abbigail Suko.
From Worland: Hailey Schumacher.
From Wright: Heather Rubis and Cole Thomas.
Subscribe
If you enjoyed this story, receive more just like it: