2019 Spring Dean's Honor Roll at Casper College Announced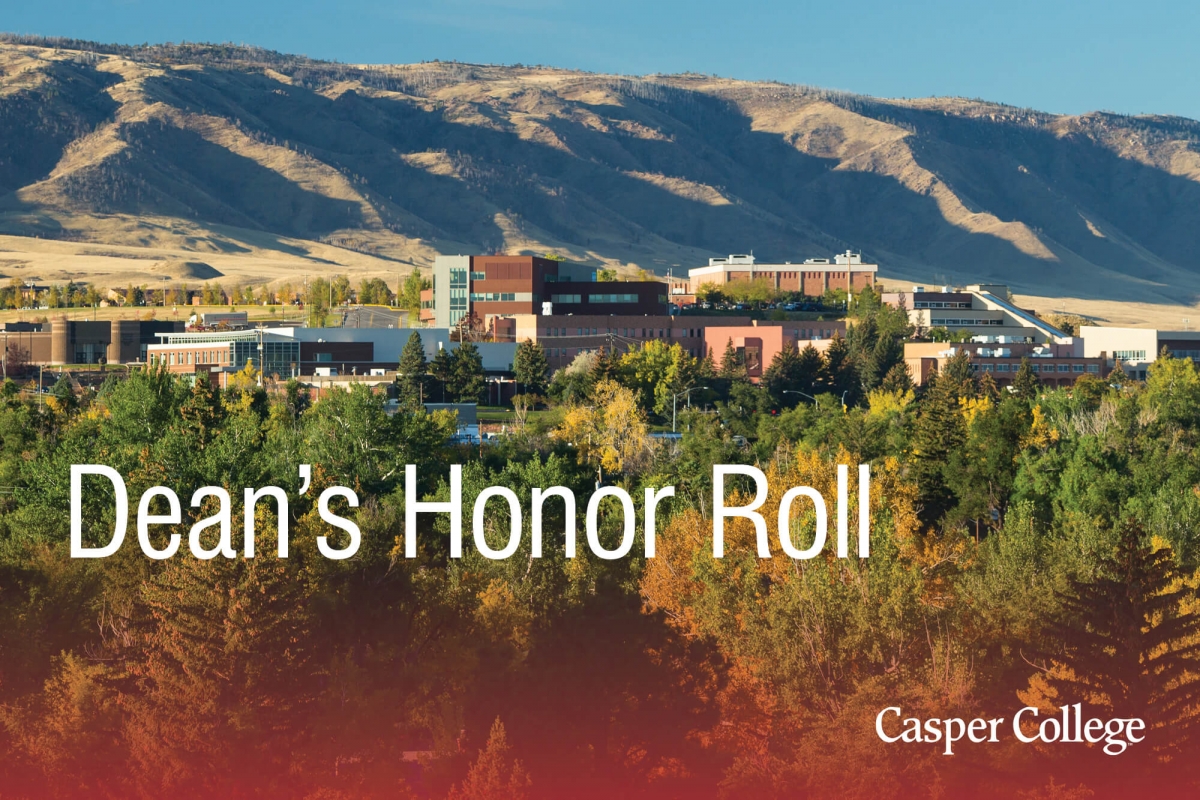 Casper College officials have released the names of the 354 students who made the Dean's Honor Roll at Casper College for the 2019 spring semester. To qualify for the award, a student must have a semester GPA of 3.5 or better. The recognition is for part-time degree-seeking students (those taking six to 11 credit hours per semester) and nondegree-seeking full-time students taking a minimum of 12 credit hours.
International
From Abu Dhabi: Mome Roestorff.
United States
From California: Yamile Robert Leon, Bakersfield, and Ronald Enokson, Hanford.
From Colorado: Thomas Wallace, Firestone.
From Florida: Jane Slee, Tarpon Springs.
From Idaho: Grant Hosking, Idaho Falls.
From North Dakota: Courtney Slattery.
From South Dakota: Andrea Duffield, Rapid City, and Coleman Quinlivan, Sioux Falls.
Wyoming
From Albin: Reata Beck.
From Bairoil: James Gould.
From Banner: Katherine Thiel.
From Bar Nunn: Juli Fowles, Kaylee Glanz, Thomas Gonzales, Kiya Guseman, Candice Lugibihl, Tyler Sweeney, Doran Wade, and Rachel Wright.
From Buffalo: Kaylee Crosby.
From Casper: Apple Abesames, Richard Adamson, Staci Alvey, Demi Andrews, Shelly Ann, Meagan Ashcraft, Freedom Authement, Brandon Balch, Ashley Barkley, Marcie Bartholomew, Michael Bays, Emerson Beck, Sophina Begay, Melissa Behringer, Christopher Bender, Katherine Bennett, Malachi Bennett, Hannah Beran, Zachary Bergen, Tess Bjorksten, Laura Black, Jazmyn Blackford, Lynette Boatright, Richard Bonds, Bailey Bonner, Emily Bradley, Wes Bray, Heather Brewer-Nelson, Colin Brooks, Morgan Brooks, Tina Brooks, Jacob Brown, David Bruce, Brandy Bryan, Josephine Buffa, Kassidy Bunn, Kelle Burger, Katlyn Buus, Kevin Cadogan, Cassy Campbell, Tehl Campbell, Alexis Church, Linda Clark, Falon Cole, Sean Collister, Rebecca Conway, James Cooler, Evan Corson, Vincent Crolla, Jaycee Curtis, Kendra David, Sage Dobby, Heidi Donaldson, Elisabeth Dooley, Aubrey Dort, Jody Downs, Daniel Druse, Jeremy Duran, Tatiana Durgin-Brown, Joseph Dutro, Libby Edwards, Ryan Edwards, Sara Eklund, Illeana Elder, Hannah Elkins, Katelyn Elston, Soren Engstrom, Katelynd Faler, Kalyn Felstet, Jamie Ferguson, Anneleya Finch, Lorissa Finchum, Alexis Finkle, Yarely Flores, Matthew Floyd, Rebekah Foix, Sarah Fromva, Gabrielle Garris, Skyler Gassman, Margaret Gazda, Lisa Gentile, Mehdy Ghaffari, Maille Gray, Sarah Green, Patrick Griffiths, John Hall, Matthew Hall, Michal Hansuld, Amanda Harris, Morgan Harshman, Angelica Harvey, Harper Hatch, Austin Haupt, Marc Hayden, Alesha Hayes, Alexcis Hecker, Kaitlynne Heyer, Joel Hilde, Tatum Hlavacek, Stephanie Hoover, Zachary Hopkins, Tiffany Horne, Savannah House, Maranda Huss, Amanda Isabell, Christopher Isennock, Jordan Janski, Madison Jaquez, Julie Jarrard, Leah Jensen, Taylor Jereb, Angela Johnson, Garrett Johnson, Jayla Johnson, Mistie Johnson, Isabelle Jones, Kayla Jones, Neil Kaiser, Rachel Katzmann, Tyamiekea Kaul, Nadine Keller, Kaytlen Kidney, Sarah Koehn, Emerson Kopp, Ayla Kottwitz, Quinn Kurka, Chase Leinonen, Robert Leyba, Nathaniel Loepp, Hannah Long, Jennifer Ly, Sarah Ly, Dominique Maestas, Katelyn Magee, Laurel Mahoney, Carry Martin, Taylor Mason, Zane Mathson, Thomas McClure, Erin McDaniel, Nathan McGregor, Karlina McIntosh, Mindy McIntosh, Ethan Mead, Brennah Meade, Mariah Melendez, Sandra Mena Stuntebeck, David Miller, Kendra Miller, Sarah Miller, Courtney Minsaas, Katherine Moerke, Logan Moller, Kati Mooney, Keith Moore, Peta-Gay Moore, Kimberly Moran, Connie Morgan, Alexandria Morris, Randall Myers, Madilynne Nading, Skyler Nelson, Daniel Nesterenko, Nicholas Noblitt, Jenna Nostrum, Megan Odom, Tyler Padilla, Christine Palmer, Shauna Palmer, Danae Parker, Jacie Peden, Abby Phillips, Chelsea Phillips, Troy Phillips, Karson Potter, Sandra Preisler, Maddison Reed, Nichole Regnier, Ashlee Reno, Rachel Retherford, Jacob Ricketts, Rebecca Rimel, Jessica Robson, Jolene Rod, Christopher Rodgers, Brandon Rodriguez, Elizabeth Romsa, Melissa Rutzer, David Saine, Mariana Salas, Robert Sanford, Rachel Savage, Cassandra Schade, Melody Schneider, Tamara Schroeder Crolla, Terry Seifert, Jenna Shaffer, Lauren Shaffer, Howard Shaw, Gretchen Shutts, Haylie Sienkiewicz, Merissa Sierra, Katherine Singer, Beth Skidmore, Timberlyn Slaugh, Travis Smith, Mercedes Spenneberg, Lacy Spruell, Garret Steinert, Ashley Stephens, Tayler Stephenson, Mary-Virginia Stevens, Belynda Stiles, Adrienne Stockton, Elizabeth Storkamp, Ashleigh Suko, Mary-Rose Sweeney, Madison Tennant, Zachary Tenney, Erika Terry, Michael Trostle, Ty Tucker, Samantha Turcotte, Steven Turman, Kylie Turner, Brianna Turville, Makayla VanOordt, Johnnatan Varela Meneses, Tilynn Vega-Rush, Alexandra Vincent, Karl Von Buettner, Debra Walczak, William Wallace, Alexandra Wallis, Qi Wang, Liberty Warner, Seth Wheeler, Autumn Whipple, Stefanie White, Amy Wickstrom, Rebecca Wiggins, Kathleen Wille, Ashley Williams, Danielle Wilson, Jarett Wing, Bailee Wistisen, Liza Womack, Tiffani York, and Derick Young.
From Cheyenne: Denne Boykins, Emily Davis, Lucy Earley, Katelyn Grant, Kellsey Kimmel, Jeremy Kleinhans, Kenzie Merritt, Jamie Mills, Deahna Wiganowsky, and Amber Woody.
From Cody: Brooke Gordon.
From Dayton: John Masters.
From Douglas: Robyn Ferris, Samuel Mittleider, Jennifer Spletzer, and Shelby Weeks.
From Evansville: Mallory Clark, Dacia Edwards, Emily Erdahl, Johnathan Jensen, Tavee Meisinger, Elisa Parton, Tiffany Sanders, Bailey Wall, Brooke White, Mariah Willis, and Logan Wood.
From Gillette: Hailey Carlisle, Matthew Devries, Rebecca Haskins, Amber MacKenzie, Sarah Mesa, Cody Okray, Niccole Sassman, and Zanna Thomas.
From Glenrock: Tiffany Larramendy, Morgan Schwindt, April Szymanski, and Tyler Young.
From Jackson: Paul Boice and Gabriela Otanez.
From LaGrange: Chole Haas.
From Lance Creek: Steven Kellett and Patricia Miller.
From Lander: Sabrina Lawrence.
From Laramie: Daniel Dilullo, Phoenix Farnham, Christopher Haefner, Cyndil Hall, Elizabeth Hiatt, Brady Merritt, and Steven Summerhays.
From Mills: Lauren Burgardt, Jaycie Cox, Caryn Hampton, Pricylla Hershberger, Kaylee Hicks, Angela Mossman, Karen Rawhouser, Alixandra Smith, and Sariah StClair.
From Moorcroft: Kirstin Everhard.
From Newcastle: Taylor Spain.
From Pinedale: Kassidy Williams.
From Rawlins: Stacey Michel and Hannah Mika.
From Riverton: Robert Caballero, Tamira Marshall, and Karleen VonKrosigk.
From Rock Springs: Kristen Brough-Rondinelli, Kaitlyn Hren, and Brian Ronick.
From Sheridan: Makenna Balkenbush, Kellen Phillips, and Callie Wilson.
From Sundance: Shelby Garoutte and Jaslyn Seeley.
From Thermopolis: Bryce Jennings and Trinity Thomas.
From Torrington: Anna Schmick.
From Upton: Isabel Nissen.
From Wheatland: Heather Bontrager.
From Worland: Adeline Miller.
Subscribe
If you enjoyed this story, receive more just like it: