"Just like I did, nontraditionals who decide to go back to college will find a great atmosphere at Casper College."
— Scott Johnson, Casper College graduate ('95). He later received his bachelor's and doctorate degrees before eventually returning to Wyoming as an instructor at Casper College.
Choosing a career and going to college can be overwhelming. Our trained career counselors are here to help you, as an adult student, focus on your educational and career opportunities. They'll show you what college programs and opportunities Casper College offers and help you:
Explore your career options and salary expectations!

Select and review the college degrees that fit with your career plans.

Learn about financial aid options and planning.
Scott Johnson: Second try at college leads to successful academic and professional life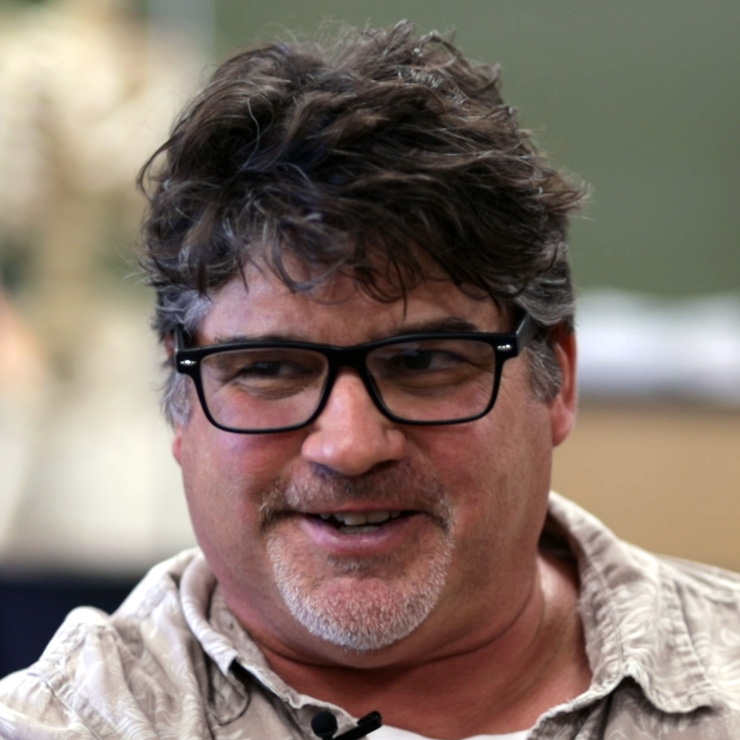 At 25, Scott Johnson began his college education. Today, he is an instructor of anatomy and physiology and chair of the Casper College Biology Department.
Johnson, who graduated from Kelly Walsh High School in Casper in 1984, then enrolled in two classes at Casper College that fall. He soon discovered that working three jobs and trying to go to school wasn't working. He dropped out at midterm.
Fast forward a few years and Johnson was managing a lawn and landscaping business. While he was making good money, the 12-hour days began to take their toll on his life professionally and personally. "I was in a relationship, and I didn't know if I could continue to work as hard as I was into the future. I was quite perplexed at 25," he said.
He knew he needed to change things, and the only way would be through higher education. But first, he decided that he needed to read a book, several in fact, all the way through. "I had never done that before, and because I knew I would be reading in school, I wanted to prepare myself in some way as I was scared of academics," Johnson said.
With encouragement from family and his own determination, Johnson began classes at Casper College. "I didn't do well that first semester and ended up with a 2.5 GPA despite not working," said Johnson. He knew that what had tripped him up was a lack of time management. The next semester he had a job and budgeted his time. He ended up with a 4.0 GPA.
Keep reading Scott's story
Johnson credits his biology instructors with his success. "Jim Howard is somewhat responsible for the direction my life took. And Tom Clifford was a big influence; he took me on as an advisee, and I was very successful after that," Johnson noted.
Initially, Johnson was enrolled in the radiography program but found he did not want to do that. "I knew I wanted to be in medicine, and a friend told me about the occupational therapy degree available from the University of North Dakota's program at Casper College," said Johnson.
Johnson realized that there were many different areas for an occupational therapist in health care and that OT would be a perfect fit for him. After earning his degree in pre-occupational therapy at Casper College, Johnson began working on his Bachelor of Science in occupational therapy.
Johnson successfully graduated from the OT program in 1999. He went to Creighton University for his Doctorate in occupational therapy. "When I graduated, I was one of 27 individuals in the U.S. with that same degree, and Creighton was one of only three doctoral programs available at that time," Johnson recalled.
During his doctorate studies, Johnson interned at the University of Maryland Medical Center and the National Rehabilitation Hospital in Washington, D.C. After he graduated from Creighton, he went to work for NRH, which he called "… an exceptional experience."
But Casper was calling him back. "I left Maryland to come back to Casper where I grew up because it has the amenities I like, including plenty of outdoor activities," said Johnson.
Upon his return in 1999, Johnson began working at Casper College's Centrum Clinic, which helped organizations become compliant with the Americans with Disabilities Act; it also helped individuals by creating devices to help them with their occupational disability needs. He also began teaching at UND at Casper in the fall of 1999.
Five years later, the Centrum Clinic closed. Johnson continued to work at UND, where he became a coordinator recruiter as well as an instructor. He also taught a class or two for Casper College. "I had a futon in my office so I could rest. I was teaching 13 courses a year, so there was lots to do," he said.
After two years, a full-time position opened in the Casper College Biology Department. He applied and was hired. "It was a better move for me, and I already had an office there," he said. Johnson also gave credit to Clifford: "Tom was largely responsible for me applying for the position."
Back in his mid-20s, Johnson wanted more for himself. "I am thankful for the encouragement I received at the time to go back to college. I was scared of academics but found that I was able to overcome that and succeed at Casper College. Every faculty member cared, then and now, about the students. We want to know what our students want to achieve and help them with their goals," said Johnson.
"I really believe that if I could go back to school and succeed, then anybody can. Just like I did, nontraditionals who decide to go back to college will find a great atmosphere at Casper College."
Karol Santistevan: Casper College helps local resident pivot throughout varied career
Successfully attending college long after you have graduated from high school is possible. "You just need visualization. Really dream it, and it can happen," Santistevan says. "I started with a business plan that showed me how to make it happen. The more you can see the vision, the more likely it will happen. Everyone at Casper College helped me make it happen, and I know they can help others in making it happen, too."
Colton Sasser: Military veteran finds value in Casper College education during return to civilian life
"There is a real sense of community at Casper College, just a bunch of people who want to help you. I was taken back by the support available to veterans and nontraditional students trying to achieve their higher education goals at Casper College and how diverse these students were. I was able to meet a lot of other veterans."
To get started:
Schedule an appointment by signing up online or calling 307-268-2446. There is no cost, and no commitment is required.
We can meet with you in-person, but telephone and Zoom appointments are available, too!
What are you interested in?
Choose from over 140 degree and certificate options.
A full-time student's class schedule is typically equal to 12-15 credits. If you just want to take a class or two, on average each course is about 3 credits. View tuition and fees.
We strongly encourage all students and families to apply for financial aid, regardless of what you think you might receive. By filling out the Free Application for Federal Student Aid, commonly referred to as the FAFSA, you'll find out if you are eligible for valuable grants, student loans and work-study jobs. Never assume that you won't qualify! Fill out the FAFSA form and get informed about your real options (be sure to use the Casper College School Code: 003928).
Below, we've provided links to information on the available types of aid. You might not be eligible for all of them, but it's worth taking the time to learn about each one.
We are happy to walk you through the admission process. It can be done in five simple steps.
Talk with one of our Admissions Representatives; they'll help you find the program that's right for you.
Apply online. (It's free!)
Submit your transcripts. We can help guide you through this part of the process and, if applicable, let you know how many of your previously earned credits can transfer.
Finalize your enrollment. Once again, our support team is available to ensure you understand your degree plan and financing options.
Start learning!