Casper College Forensics Team
Some people fear it more than death — the Talking T-Birds do it for fun!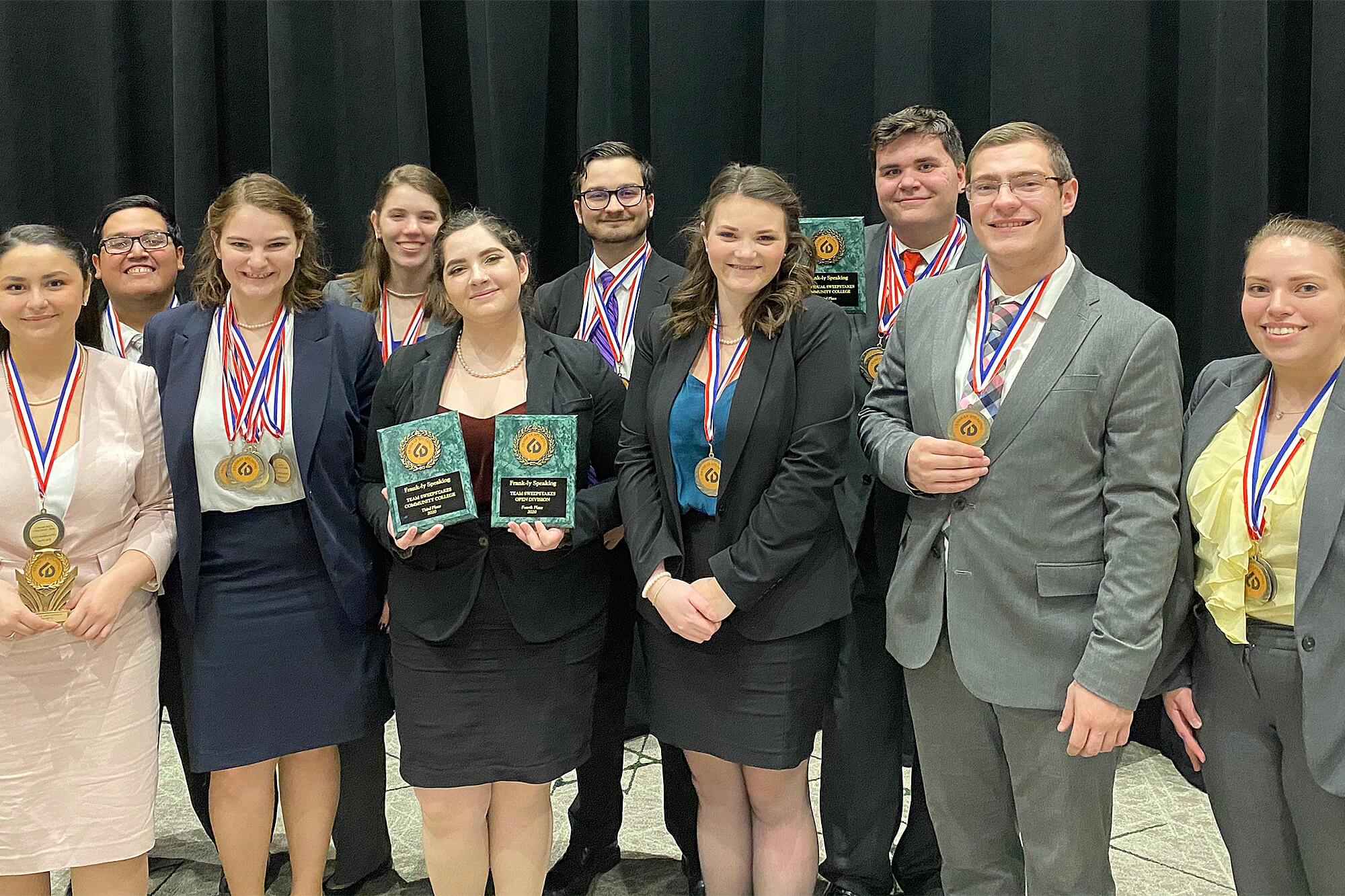 Award-Winning Speech & Debate Team
Members of the Casper College Forensics Team compete in a variety of events sponsored by the American Forensics Association (AFA), Phi Rho Pi (PRP), and the National Parliamentary Debate Association (NPDA).  Members of the team range from very experienced to those who have never competed in forensics.  The team travels to approximately 4-5 tournaments per semester in the Rocky Mountain region (Montana, Wyoming, Colorado), culminating with competition at the Phi Rho Pi Community College National Tournament in April.  The team also participates in competition at the International Forensics Association tournament.  These tournaments have been held in locations such as Spain, the Czech Republic, Agentina, England, and Germany.
Students have the opportunity to compete in Limited Preparation events (Impromptu, Extemporaneous Speaking), Platform events (Persuasive Speaking, Informative Speaking, Communication Analysis, After Dinner Speaking), Interpretation events (Dramatic Interp, Prose Interp, Poetry Interp, Program Oral Interp, Dramatic Duo Interp), Lincoln-Douglas Debate, and Parliamentary Debate.
Become a Member of our Team
Who can join the forensics team?
Any Casper College Student, with twelve or more credits. No prior experience is required. Talk to the coaches about securing your spot on the team!
Why would I want to join the forensics team?
Speech is an excellent way to develop interpersonal communication skills
You will be able to meet many people from all over the United States
Employers look for people who can demonstrate good communication skills
You will be able to see many college campuses around our region
Are there scholarships available?
Yes! Fill out the scholarship application form.
Are there academic requirements to be on the team?
Team members are required to maintain a 2.5 GPA, with a minimum of 12 credit hours per semester, and enroll in CO/M 1060 for the first semester of participation (CO/M 2060 in the second year).
How do I join the forensics team?
Contact a coach.
Awards and National Competition Results
Gretchen Wheeler Season Sweepstakes Award
2022 – Jayden Roccaforte – 180 pts
2021 – Stephanie Barella – 68 pts (Virtual Season – Covid-19)
2020 – Jae Fletcher – 89 pts (Covid-19 Shortened Season)
2019 – Charli Blu – 141.5 pts
2018 – Charli Blu – 207.5 pts
Gale Alexander Fellowship Award
2022 – Markie Whitney
2021 – Kaelan Rodriguez
2020 – Hannah Arnold
2019 – Charli Blu
2018 – Mary Schroer
2022 Phi Rho Pi Individual Results – St. Charles, MO
Alex Walters – Impromptu Speaking (Gold), Persuasive Speaking (Gold), Informative Speaking (Silver), Bovero-Tabor (3rd)
Brax Allen-Sambrano – Prose Interpretation (Bronze)
Violet Wright – Informative (Bronze)
Emma Kellick – Impromptu (Gold), Informative Speaking (Bronze), Warren-Dahlin Student Fellowship Award Recipient
Markie Whitney – IPDA (Gold)
Shelby Davis – IPDA (Gold; Top Speaker)
Pearl Taylor – Poetry Interpretation (Bronze)
Emma Rudell – Poetry Interpretation (Bronze, Program Oral Interp (Bronze), Duo Interp(Bronze)
Jayden Roccaforte – Program Oral Interp (Gold), Duo Interp (Bronze), Prose Interp (Bronze)
Team – Wyman Division – Overall (Bronze), Individual Events (Silver), Debate Events (Silver)
2021 Phi Rho Pi Individual Results – Virtual "Phi Rho Pi In Space"
Kaelan Rodriguez – Speech to Entertain (Bronze)
Izzy Garcia – Impromptu Speaking (Bronze)
Alex Walters – Impromptu Speaking (Bronze), Informative Speaking (Silver), IPDA (Silver) Bovero-Tabor (5th)
Brax Allen-Sambrano – Impromptu Speaking (Gold)
Stephanie Barella – IPDA (Silver)
Markie Whitney – IPDA (Gold)
Shelby Davis – IPDA (Bronze), Impromptu Speaking (Silver)
Emma Kellick – IPDA (Silver)
Team – Wheeler Division – Overall (Silver), Individual Events (Silver), Debate Events (Gold)
2020 Phi Rho Pi Results – Albuquerque, NM
2019 Phi Rho Pi Results – Reno, Nevada 
Charli Blu – IPDA (Gold), Extemporaneous Speaking (Gold), Impromptu Speaking (Gold), Informative Speaking (Bronze)
Chloe Adkins – IPDA (Gold) Jae Fletcher – IPDA (Gold)
Thayne Macy – IPDA (Bronze) Extemporaneous Speaking (Bronze)
Izzy Garcia – Impromptu Speaking (Bronze)
Team: Wheeler Division – Overall (Silver), Debate (Bronze), Individual Events (Silver)
2018 Phi Rho Pi Results – Daytona Beach, Florida
Mary Schroer – Speech to Entertain (Bronze), Prose Interpretation (Bronze), Program Oral Interp (Bronze)
Carter Dunn – Extemporaneous Speaking (Bronze), IPDA (Silver)
Chloe Adkins – Extemporaneous Speaking (Gold), IPDA (Gold)
Team: Overall (Bronze), Debate (Silver), Individual Events (Gold)