"There are so many resources at the college. There are so many people willing to help get you to your goals."
— Liza Womack, A.S. respiratory therapy.
Choosing a career and going to college can be overwhelming. Our trained career counselors are here to help you, as an adult student, focus on your educational and career opportunities. They'll show you what college programs and opportunities Casper College offers and help you:
Explore your career options and salary expectations!

Select and review the college degrees that fit with your career plans.

Learn about financial aid options and planning.
Liza Womack: Graduated this past May with her Associate of Science in respiratory therapy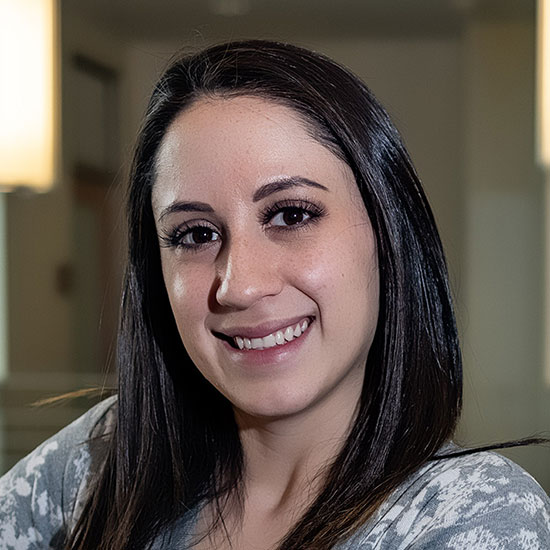 Liza — pronounced LEE-zah — Womack wasn't a great student. In fact, she was on auto-pilot through junior and senior high, earning Cs and Ds in class, except for an A in PE. She was done with school when she graduated from Kelly Walsh High School in Casper, Wyoming.
"I was kind of at a point in my life where I was just, you know, kind of making bad decisions and wanted to hang out. I didn't even attend my graduation. I knew I had all the credits I needed to graduate, so I stopped going to school, moved out of my parents' house, and just kind of fell into the wrong lifestyle for a couple of years," she recalled.
​
Keep reading Liza's story
Womack spent a month in jail and then was sent to rehab for 90 days. For those 120 days, she was addiction-free. "Getting that window was huge for me because it's tough to try to quit using when you've been using for three years every day. I think that break was what I needed to regain my head and thoughts and just realize where I wanted to go. Rehab was also a huge thing for me to make me want to change," she noted.
Womack and her daughter moved in with her parents. She attended both Narcotics Anonymous and Alcoholics Anonymous meetings. "Those helped me out quite a bit because I was able to meet other recovering addicts, and we were able to be there for each other and help each other out. That helped me get through drug court," Womack said.
Womack was now on an entirely new trajectory. "I always knew I didn't want to live like that. I felt that I always was made to do something great. But at that time, I just didn't know what it was," said Womack. She also knew that she wanted to be a good mother. "I grew up with a good mom. And through my addiction, I'd seen so many mothers that weren't very great to their children, and I didn't want to be like that."
Back home with her family, Womack found encouragement through her mother, who suggested she attend college. Womack had always wanted to be in the medical field, so after visiting with a Casper College representative, she enrolled in the radiography program. However, she found the perfect fit career-wise after listening to a presentation by Doug Neubert, the director of the college's respiratory therapy program. "I felt like it was more me," Womack said.
When she graduated this past May with her Associate of Science in respiratory therapy, Womack had a 3.98 GPA, and her confidence was at an all-time high. "I think it's very important for single mothers to know like, yeah, it's scary, but there are so many resources at Casper College. There's so much help. There's a daycare; there's a single parents program. There are so many people at Casper College willing to help get you to your goals."
Karol Santistevan: Casper College helps local resident pivot throughout varied career
Successfully attending college long after you have graduated from high school is possible. "You just need visualization. Really dream it, and it can happen," Santistevan says. "I started with a business plan that showed me how to make it happen. The more you can see the vision, the more likely it will happen. Everyone at Casper College helped me make it happen, and I know they can help others in making it happen, too."
Scott Johnson: Second try at college leads to successful academic and professional life
Back in his mid-20s, Johnson wanted more for himself. "I am thankful for the encouragement I received at the time to go back to college. I was scared of academics but found that I was able to overcome that and succeed at Casper College."
To get started:
Schedule an appointment by signing up online or calling 307-268-2446. There is no cost, and no commitment is required.
We can meet with you in-person, but telephone and Zoom appointments are available, too!
What are you interested in?
Choose from over 140 degree and certificate options.
A full-time student's class schedule is typically equal to 12-15 credits. If you just want to take a class or two, on average each course is about 3 credits. View tuition and fees.
We strongly encourage all students and families to apply for financial aid, regardless of what you think you might receive. By filling out the Free Application for Federal Student Aid, commonly referred to as the FAFSA, you'll find out if you are eligible for valuable grants, student loans and work-study jobs. Never assume that you won't qualify! Fill out the FAFSA form and get informed about your real options (be sure to use the Casper College School Code: 003928).
Below, we've provided links to information on the available types of aid. You might not be eligible for all of them, but it's worth taking the time to learn about each one.
We are happy to walk you through the admission process. It can be done in five simple steps.
Talk with one of our Admissions Representatives; they'll help you find the program that's right for you.
Apply online. (It's free!)
Submit your transcripts. We can help guide you through this part of the process and, if applicable, let you know how many of your previously earned credits can transfer.
Finalize your enrollment. Once again, our support team is available to ensure you understand your degree plan and financing options.
Start learning!